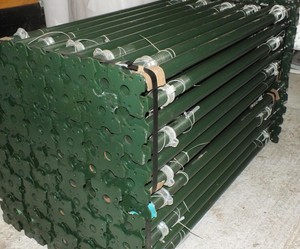 We import acrows and manufacture Propmate Wall Supports
View details
Size 1 Acrow Prop - Brand New. Order push pull props, trench struts, builders trestles, handrail systems, propmate wall supports, scaffold boards , hessian and more from us.
| | |
| --- | --- |
| Condition: | New |
| Time left: | 9d 10h 6m |
| Postage: | £9.95 |
| Item location: | Swadlincote |
| Sold by: | |
Collections you might like
About Acrow Props
Acrow props, also known as acrow jacks, are essential pieces of construction equipment. Used to temporarily support weights up to 35 kilo-newtons, they come in British Standard sizes from 0 to 4 and are extendable, so size 0 starts at 1.1 m or 3.5 ft and extends to 1.8 m or 6.0 ft, and size 4 starts at 3.2 m or 10.5 ft and extends to 4.9 m or 16 ft. The other sizes fit between. Both the top plate and the base of an acrow prop are relatively small in area, so for maximum safety and effectiveness, they should ideally be used in a perfectly vertical position. At any time that they are not exactly vertical, they should be strutted with scaffolding poles for extra support. Acrow jacks or props are normally used to shore up horizontal beams and sometimes masonry during building alteration or repair work. It is now, however, possible to buy acrow props that have been designed to support concrete moulds; these have a baseplate that swivels. It?s also possible to purchase props specifically for shoring up trenches. These are used horizontally, and have ?claw? shaped footplates. Originally invented in 1935 by a Swiss engineer called William de Vigier, they didn?t become popular until about 1939, when their use was adopted by large builders in the UK, such as Sir Robert McAlpine. The basic design hasn?t changed much in 80 years, but recently the company altered the baseplate, shaping it with notches so that the props could be more easily and neatly stacked on pallets, instead of being piled up together.