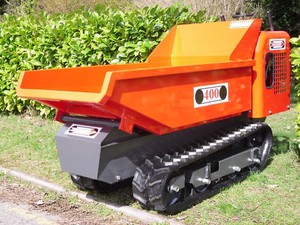 400kg capacity, hydraulic tip, 12month warranty, 2013
View details
Low loading height makes easy loading by either mini digger or by hand. Own from only £29.50 perweek over 2years! The new Track Barrow 400a is a cost effective solution for moving large or bulky items...
Collections you might like
About Tracked Dumper
A tracked dumper is designed for carrying bulk material over awkward or uneven terrain. Unlike a dump truck, a dumper usually (but not always) sits the operator behind the skip area, providing excellent visibility when dumping. Some may also have an ?eye? fitted for towing activities. Dumpers are also usually painted in brighter colours to aid visibility on noisy, busy, or difficult to manoeuvre work sites. You may also find some, especially more compact models, styled as skip loaders. You will find different sizes and capacities of tracked dumpers for operation in a range of locations and conditions. Loads may vary from 350kg to more than ten tons. Depending on the work being undertaken, some mini-models are compact enough to find their way through a standard door frame. These are operated from a standing position, quite like a typical lawn-mower, rather than the more usual seat. Lifting facilities allow a variety of materials to be easily loaded into a waiting skip or truck-bed. You?ll find examples of a body tipping system via a double acting hydraulic ram and operator control valve. Occasional models will also feature a reversible seat for added manoeuvrability. Some of the dumpsters may be available for spare parts to facilitate repairs and keep your own model operational (or to provide a valuable back-up in case of emergencies). You will also find spare parts such as sprockets, idlers, and top or bottom rollers. Valuable purchase information you may find can include actual hours of use and recent or full service history.