We recommend using Internet Explorer 9 or other standard browsers to get the best experience on this site.
TIPP Comic & Film 1910 - 2015 persönliche EMPFEHLUNG www.heComic.de
Unsere aktuellen Lieblinge in COMICs & MOVIEs! Ein Streifzug durch die Welt der Bilder, Genres und Stilepochen 1920 -2015! Comix und Filme, die wir euch nicht vorenthalten möchten, weil wir Sie für KLASSE erachten und den Daumen steif nach oben halten! ... hier ein Auszug unserer persönlichen Favoriten. Deine heComic Redaktion H.G-S und A.S.
List of items in this collection
Wunderschön triste Farben unterstreichen diesen stimmungsvollen Roman, der zum Thema Lebensbruch, wie "Faust auf Auge" passt. Es ist selten, dass Comiczeichner sich an die Aquarelltechnik wagen, da das Stilmittel wenig zur Formgebung beiträgt. Was hi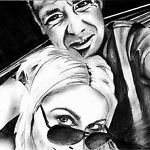 Loading more items...