Collecting diecast cars is a hobby enjoyed by many. The problem can be keeping a direction in what you are collecting if you are to have any chance of completing the set. This is a guide and I don't claim to be an expert in the field.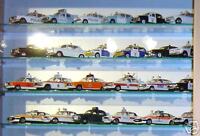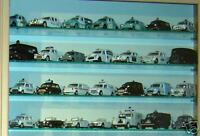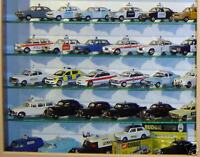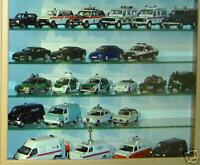 Before you place a bid on an item check the condition of what is being offered for sale is what you expect to receive. If the seller doesn't say mint boxed condition, ask them. Reputable sellers provide good descriptions and are happy to field questions about their items. Check the feedback of the seller, this is the quick way to check out a seller's reputation. Items should be sent promptly and suitably wrapped to reach you in a reasonable time in the same condition the seller sent it.
I personally have set a basic rule of only collecting 1:43 scale models of British Police cars although there are quite a few German Polizei that have crept in and the odd Japanese with Aston Martin's to give them something to chase and an AA livery Reliant three wheeler in case of breakdowns. There are many manufacturers in the Police field but the Corgi / LledoVanguards range are the most prolific producers and in my opinion have struck a good balance between quality of detail and price. Some of the earlier models are worth upto £60 mint boxed with unattached wing mirrors and tax discs. But while I keep the boxes I display my collection in rotation.
Ixo have made a Greater Manchester Police Range Rover and looking at the quality it's a shame they they haven't made more Police cars.
Lansdowne make superb heavy white metal models but at around £50 they are a luxury addition.
Dinky Police cars can still be found out there for sensible money. There are Land Rovers, Rover, Transit and Range Rovers at the cheaper end, Minis for about £30, through to a Motroway Police Jaguar which often commands £100.
Eligor have made a couple of models there are Mini's in three colours and a beautiful Ford Cortina in navy blue.
CSM make Ford Transit in various British and Hong Kong Police liveries.
Corgi made many mass produced Police models in the eighties and nineties which can still be found for £5 mint boxed, Morris Minor, Traveller, Mini, Jaguar and Bedford vans to name a few. Then there are limited edition sets of paired models. Purists beware though, the twin sets with a car and a van have a 1:43 car and 1:50 scale van. To my eyes the van just doesn't look right in the smaller scale alongside the cars.
Trofeu have only made a handful of models, all of excellent quality. Subaru Impreza's and Ford Escorts.
Vitesse have only made a handful, there's a beautiful Austin 1300 and from 20 years ago two variations of the Mini. There is a Landrover SWB in Metropolitan livery, but that's now rarely seen.
Universal Hobbies have made Police MGB GT in both white and black and are excellent quality.
Cararama, Hongwell and Schuco Junior - these are on the one hand incredible value at just a couple of pounds, but on the downside are mainly plastic and often have opening doors with horrible shutlines. They have improved over time - but check the pictures carefully before you bid. They are the only manufacturers of a Police S type Jaguar though.
Altaya and De Agostini - There seems to be a flood of these ex magazine Police models around at the moment, manufactured by Cararama or Hongwell or Schuco or even Ixo these were part work sold at around £5 each including a collectors magazine, mounted on a plastic plinth with a bubble pack lid. Again, it's your choice, but you get what you pay for - there is no other manufacturer for a BMW X5 in battenburg though.
Aston Martin - There are numerous Corgi variations spurred by the James Bond 007 collection mainly in 1:36. In 1:43 scale check out the fabulous DBS from Spark in three colours, Vitesse DB4 and DB7, and Minichamps DB7 and DB9. As mentioned above beware of the listing for Cararama Aston - you get what you pay for.
There are plenty of Police cars out there, I've managed to collect 150 or so, some of which are shown in the pictures. None of them are currently for sale. There are a few more I am looking for but I don't want to mention them here just yet, not until I have bid for and won them! Good luck and happy bidding.