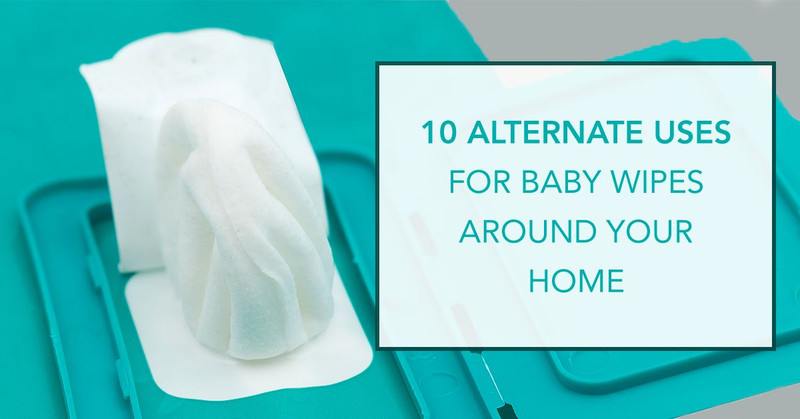 Baby wipes are used for, well, you know, the obvious task of wiping a baby's bottom. But even after your kids are out of diapers these wipes are an inexpensive and versatile cleaning tool with many uses around your home. Here are 10 alternate uses for baby wipes that just may convince you that even if you don't have a child in nappies you still want to keep these little wipes on hand in your home at all times.
Make Up Removal
Using
baby wipes
to remove your make up is simple, inexpensive and extremely gentle on your skin. They work great for eye make up and mascara, and they're gentle enough for most skin types. If you have an issue with allergies, especially when using commercial make up remover wipes which often have an extra scent added, consider giving non-scented wipes a try instead.
Use In Place Of Napkins When Out Of The House
Keep baby wipes on hand in your handbag or
nappy bag
to use as napkins or wet wipes when out of the house. You can use them in the car for on-the-go snacks or anywhere else you get something sticky or dirty on your hands but don't find a convenient place to wash them. I also like to use a couple to wipe off tables at restaurants if needed.
Wipe Down Bathroom Counters & Other Hard Surfaces
Almost any hard surface that needs a quick wipe down or light cleaning is a great place to use a baby wipe. Keep them in the bathroom to use on counters, sinks or even toilet seats for little guys who aren't so careful when using the potty and miss their target. They are also great for wiping down handles, doorknobs and even fixtures easily.
Stain Removal On The Go
Baby wipes are great for removing spills and stains right away when you are on the go. While they may not take all of the stains out of clothing, they can help spot treat a stain right away so it doesn't set into clothing.
Stock In Your First Aid Kit
Baby wipes are ideal for
first aid kits
for cleaning minor cuts and scrapes, especially before adding a bit of antibiotic ointment and a plaster, when washing with water is not a convenient option.
Wipe Down Dust From Your Car Interior
Grab a baby wipe or two while you're stopped at a long red light, or waiting in the pick up line at school, and clean up your dusty dashboard and grimy steering wheel. You'll be amazed how dirty these items get with normal wear and tear, but it wipes right off with a baby wipe.
Dust Baseboards & Other Hard Surfaces
Just like you can wipe down and clean many hard surfaces with baby wipes, they are also great for removing dust. Give your kids, who are much lower to the ground than you, a few baby wipes and have them wipe down your skirting boards to keep them occupied and remove dust and small scuffs all at once.
Replacement For Wet Mop Pads
Cleaning your floors can get pricey when using a Sweeper with wet wipes, or a similar product. To cut down on cost of buying those replacement sheets you can use a couple of baby wipes instead. It can be just as effective but with a much lower price tag.
Clean Leather Furniture
Just like any other sofas and chairs, leather furniture accumulates dirt and grime, but you have to be careful what you use to clean it. Surprisingly, baby wipes are a great way to do a quick clean up.
Clean Shoes & Boots Easily
A baby wipe is an excellent choice to wipe off shoes as you come into your home to get rid of dirt, mud, grass stains and more. They easily take off the grime and can even remove some light stains from white trainers with ease.
How do you use baby wipes around your home? I'd love to hear what you do with them in the comments.
In addition, don't miss even more tips and tricks I've shared by
following Household Management 101 here on eBay.
Here are some of my additional guides below. (Check my profile for the full listing.)
Add a caption
7 Ways To Use Ice Cube Trays {Beside For Making Ice}