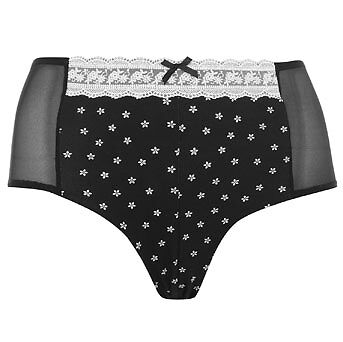 Shopping for knickers can prove a tad bewildering. Knickers come in a variety of fabrics such as silk, satin, nylon, lace and polyester, and in styles from briefs to bikinis. The biggest mistake a woman can make is to put too great an emphasis on fashion and ignore the importance of comfort. A designer label does not compensate for a pair of knickers that is two sizes too small. Knickers should neither be too big nor too small. A woman should carefully consider the choice of material, as well as what knickers are appropriate for wearing under what types of clothes.
There are five definite 'do's' and five definite 'don'ts' when it comes to buying knickers. Knowing what these are will ensure a proper fit and lasting comfort. If a woman is having a hard time finding that perfect pair of knickers in her size on the high street, she should consider the wide selection of knickers available on eBay, or other online retailers such as La Senza.
1. Do Know Your Size
It is important to wear the correct size knickers. This ensures that the clothes worn over them will feel comfortable and lay correctly. Knickers that are too small, as well as those that are too big, will affect the appearance of outer clothing. Underwear that is too small will cause bumps and lumps under clothing and reveal the bulges that a woman would rather keep concealed. When knickers are too large, one's clothing will not fit snugly and will slide, causing gaping and a poor fit.
To measure one's proportions, a measuring tape, paper, and pen are required. Before consulting a sizing chart, a woman simply needs to follow these three steps to determine the correct measurements:
Step 1
Take the measuring tape and lay it against the skin at the natural waistline. Wrap the tape around the waist and overlap it in the front.
Step 2
Note the number that lines up with the zero at the end where the tape overlaps. This is the waist measurement.
Step 3
Wrap the tape around the fullest part of the hips next, and following the same procedure as in step two, and write down the number.
Step 4
After measuring one's body proportions in the knicker area, compare them to a sizing chart to determine the size needed. On the packaging, there should be a sizing chart that allows the shopper to determine the correct size:
| Knicker Size | Dress Size | Waist | Hip |
| --- | --- | --- | --- |
| 5 | 8 - 10 | 66 - 68 cm | 92 - 95 cm |
| 6 | 10 - 12 | 71 - 74 cm | 97 - 101 cm |
| 7 | 12 - 14 | 78 - 82 cm | 105 - 109 cm |
| 8 | 14 - 16 | 86 - 90 cm | 113 - 116 cm |
| 9 | 16 - 18 | 93 - 97 cm | 120 - 124 cm |
Buying the right size knickers will ensure comfort and a better look to outer clothing. Losing or gaining weight will affect the measurements, so any time weight has fluctuated it might be a good idea to re-measure and purchase knickers that are the appropriate size.
2. Do Try on Knickers Before Buying
Before committing to a specific size knicker, try on a pair to determine whether the size is accurate. Even if the size chosen has been selected due to the measurements taken at home, remember that different manufacturers' sizes may vary. Trying on a pair will ensure that the knickers are neither too large nor too small. It does not look attractive when knickers bunch or create bulges at the leg or waist bands.
3. Do Buy Knickers at Thrift Stores or Online
It is a personal preference as to whether one feels comfortable buying from an online venue. However, due to the fact that knickers purchased from eBay are much less expensive, are new, and can be easily researched, buying them in this manner a very good idea. At times the difference in price when compared to traditional retailers can be quite significant. Although knickers can be bought at traditional shops, with the diverse selection, good deals and easy access, eBay is an excellent choice when shopping for knickers.
4. Do Shop for Your Body Type
A woman with a more ample belly should consider wearing briefs, rather than boy shorts or hipsters, as briefs will cover the body better, lessening the possibility of unwanted bulges forming under clothing. A woman should always choose a style of knickers that suits her body type. Knickers are categorised according to the amount of cloth covering the bum, the width of the sides of the knickers, and the rear coverage.
Classic Brief Knickers
Classic briefs are standard briefs that feature sides that cover the body up to the area just below the hip. The waistband of this brief will lay against the body just below the bellybutton, and these knicker will cover the bum completely.
High-Cut Knickers
High-cut, or French cut knickers are designed so that the sides are narrower than a classic brief, and extend up the side to just below the hip.
Boy Short Knickers
Boy shorts are modeled after men's briefs. This style of knicker has short legs that end just below the crotch and covers the body very well, both front and back.
Control Knickers
Control knickers (or briefs) are designed to support the abdomen with stretchy elastic material. This style of knicker provides firm control and and affords the wearer a visually slimmer appearance. Control knickers extend up over the hips to the waist, much like briefs.
Hipster Knickers
Hipsters are comparable to briefs, but are made so that the band rests lower down the body around the hips.
Bikini Knickers
The Bikini brief waistband rests at hip level, not unlike hipsters. However, bikinis have sides that are narrower than other types of briefs.
String Bikini Knickers
With string bikini knickers the sides are absent and the waistband is made from string as well. The bum is not concealed as with other types of briefs. This style of brief is reported to be the most popular and widely worn type of knickers on the market.
5. Do Wash New Knickers
New knickers that have just been taken out of the packaging should always be washed before being worn for the first time. The reasoning behind this rule is that some manufacturers chemically treat fabric to enhance colour, shine or texture, and these chemicals could irritate sensitive skins, causing rashes. Washing new knickers will remove the chemicals and prevent any unwanted irritation.
6. Don't Wear Knickers That Are Too Tight
If one's knickers dig in at the crotch, they are clearly too small. A pair of knickers that does not fit at the crotch properly or does not lay against the body smoothly and evenly will be a constant irritation. The crotch should not roll on the sides or bunch up, and the leg bands should never leave any red marks. The waistband should lay against the body nicely with no grooves that will advertise a visual panty line, and worse, a 'muffin top'.
7. Don't Wear Knickers That Are Too Big
If the knickers are too loose at the bum or thighs they are definitely too large and a smaller size needs to be purchased. Most waistbands will fit the waist, but sometimes other parts of the knicker may be ill-fitting, especially knickers that are extremely low priced, or cheaply made, as they are mass produced for for a large market of just one or two body types.
8. Don't Wear Spandex Knickers
Although it may be tempting to wear spandex knickers because they conform to the body snugly, they are actually not a good idea. Spandex does not breathe like cotton does. Wearing knickers that fit too tightly, like a second skin, is not healthy. This can cause myriad health problems, including infections. Spandex does not absorb moisture or wick moisture away from the body. Therefore, most doctors recommend that women should wear knickers made from a breathable material such as cotton.
Another problem with spandex knickers is that many women choose to wear a size smaller than their actual size to better hold in their belly, but after wearing and washing them only a few times, spandex knickers can start to lose their shape. When looking for more support for an ample belly, a better choice is to wear cotton briefs with light stomach support that still provide a breathable cotton crotch.
9. Don't Mix Fabric Types
The first step to determining which type of knickers to buy is to assess the types of fabrics in one's wardrobe. Lightweight knickers go best with lightweight clothing. Clothing made from silk or other finely textured materials should always be worn with knickers of the same texture. When cotton knickers are worn under a silk dress, the fabric may cling to the cotton or rutch up, creating visible lines or bumps.
10. Don't Show Visible Panty Lines
To avoid showing panty lines, opt for a boy short that covers the bum more completely and extends far enough below the bum so as to prevent constriction from the elastic band. Another option is to wear a thong. However, the style of thong should be loose, because if the edges of the thong dig in, those pesky lines will still be there, just higher up the bum. One very important point is that a low-rise style of knickers should be worn with low-rise trousers. No one wants to see someone else's knickers peeking out.
How to Find Knickers on eBay
To begin searching for knickers of any style or size, start on the eBay ' s home page. At the top of this page, and every page on eBay, is a search bar where you can enter keywords. For example, if you enter 'purple satin knickers' into the search bar, a results page with just listings for that type of knickers will appear. If you have your heart set on getting a few pairs of hipster knickers, simpler enter that description into the search bar. You can then sort the listings by size, material, and colour. If the seller does not specify a size in the item description, you should contact them by clicking on their username. This will take you to their profile where you can click on their contact link and ask any pertinent questions. Don't be shy about asking the seller questions. If you end up buying the wrong style or size, you may find it very difficult to exchange the knickers you've purchase. Sellers are reluctant to exchange knickers for hygiene reasons.
Conclusion
Knickers are an important part of a woman's wardrobe, and as such, certain steps should be followed when purchasing them to ensure that they fit perfectly and exceed expectations. An essential first step toward making sure knickers fit just right is to measure the body to determine the right size. When choosing knickers, fabric is a huge consideration for fit, breathability and ease of wear under clothing, but regardless of the style, colour or fabric, knowing the do's and don't when buying knickers will save time and money. When determining the style of knicker to buy, choose a classic brief, in any colour of the rainbow, that provides maximum coverage, or a lacy string bikini knicker that leaves a lot more skin uncovered, and will make one feel naughty and nice while wearing them. Most types of knickers are available from shops that sell women's clothing and lingerie, but if you're having no joy on the high street, you will find a greater selection on eBay.