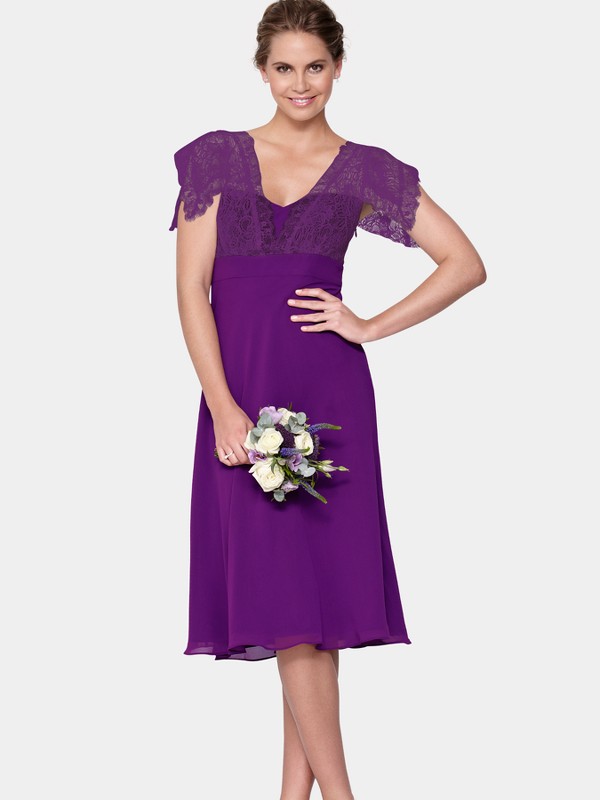 Bridesmaid dresses are one of the most important considerations of the wedding preparation. While the central figures of the wedding ceremony are the bride and groom, bridesmaids draw a large part of the attendees' attention as well; therefore, the bridesmaid dresses have a lot of relevance.
There are a million and one little things to take care of when planning a wedding, and choosing a bridesmaid dress style is just one of a slew of things that have to be done as soon as possible. No wonder a good number of bridesmaids suppress shudders when they finally see the dress they are to wear for the event.
Bridesmaid dresses can be purchased at bridal shops, department stores, and the online auction site, eBay. It is a good idea for brides and bridesmaids to get an idea of the bridesmaid dresses do's and don'ts before choosing a dress, which ensures that everyone is happy with the dress choice.
1. Do Allow Enough Time to Plan and Choose
Planning a wedding takes time. Choosing initial styles and fabrics early in the wedding planning process allows room for planners to input their opinions or make alterations to the dresses. Questions, such as whether ruffles are better than pleats or lace are answered definitively. Because the bridesmaid dresses, more often than not, have to complement the bridal gown, it is imperative to choose carefully. Well-chosen bridesmaid dresses only enhance the wedding ceremony, not to mention, they look better on the bridesmaids, themselves.
2. Do Focus on the Entire Picture
Considering the whole picture means everything from the colour of the bridal flowers to the venue of the wedding must be taken into account. Cohesiveness is the mark of a well-thought out wedding, and attire should reflect this. For example, a wedding planned for the open beach would look odd if the bridesmaids wore full-length dresses and closed-toe pumps. A better alternative for a beach wedding may be summer dresses and sandals.
3. Don't Skimp on Comfort
Women do not always wear dresses, shoes, or accessories that are comfortable for them. Bridesmaids that are not comfortable cast a pall on the entire gathering. Despite only being worn once, bridesmaid dresses should be made of material that is comfortable for the women wearing them. Modern bridesmaid dresses consist of different and popular styles though, and that means the dresses can be worn again to occasions that can be casual or formal.
Fit is also a major consideration for comfort. A dress that is the wrong size may be too restrictive or too loose, which could make the bridesmaid self-conscious. Self-consciousness shows in pictures, videos, and in person. It is worth the extra effort to find dresses that fit and are comfortable for bridesmaids, if only so they do not look awkward in captured memories.
4. Do Allow Some Freedom in Style
An option to make buying bridesmaid dresses easier is to choose a general theme and style, then allow bridesmaids to make individual choices for a dress that works well for them. Not all bridesmaids have shapes and figures that a chosen dress style may flatter. A bridesmaid party with different colour tones yet matching styles brings added depth to the procession. Doing this helps the bridesmaid to acquire a comfortable dress while still adhering to the wedding theme. Some guidelines provided to a bridesmaid help to keep the dresses from straying too far from the theme and ruining a chosen wedding motif.
5. Don't Ignore the Shoes
Just because a pair of high wedge heels are the perfect accent to a certain skirt colour or style, it does not mean that a bridesmaid would be comfortable when forced to wear them. On the other end of the scale, considering comfort does not mean that a bridesmaid could wear flip flops or canvas shoes in front of the altar.
Even shoes and sandals should be chosen based on overall themes. Specify the type of shoes, or types of footwear allowed, including colours. There are many styles of shoes that can complement any style of bridesmaid dress, but for formal weddings stick with heels if sandals are warranted. Leave flat sandals for more casual ceremonies.
6. Do Be Circumspect with Dress Accessories
Necklaces, rings, earrings, and other jewellery are all acceptable additions to a bridesmaid ensemble but make sure that the bridesmaid does not go overboard. Facial and tongue piercings should, in general, be removed during the event. Belts or scarves that stand out too much are also discouraged, instead try appropriate, more toned-down embellishments to wear with the dress instead.
Bridesmaids can decide together what kind of jewellery, or accessories, to wear or the types of acceptable accessories may be decided beforehand by the bride. Many brides get around this by gifting their bridesmaids with jewellery or other appropriate presents that can be worn at the wedding.
7. Do Remember Appropriate Underwear
With bridesmaid dresses made of sheer material, or light coloured fabrics, there is a possibility that underwear could be visible, particularly in hot weather when the fabric clings to the body. There are many quality undergarments that are appropriate for weddings; in fact, there is an entire industry built on bridal undergarments.
Underwear can also shape the body, like corsets, corselettes, and bustiers. Use underwear as a foundation for an outfit, and the end result is a shapely figure. Make sure that thongs and brightly-coloured underwear do not show through the dress fabric.
8. Do Think of Finances
Not every bridesmaid can afford a dress, especially when specific fabrics or styles are specified. In these situations, the bride and groom can help out or, if the friend still wants to assist with the wedding, ask her to fulfill other roles. Those who do the initial choosing of styles and fabrics should take finances into account and not choose overly expensive options.
Silk is a popular fabric, but chiffon and satin can be just as visually stunning. There are many styles that make more affordable fabrics stand out or show the best of their qualities.
9. Do Make Alterations
Bodies change all the time. When a bridesmaid dress is chosen early in the planning stages, it may not fit the woman for whom it was intended months later. This is why alterations should be scheduled at a time closer to the actual event.
Body shapes and heights are not the same. A dress that is the appropriate length or fit on a tall woman would be disproportionate on someone shorter, more buxom, or taller. A scheduled fitting takes into account these details. Also, when choosing dresses, they should not be too short. Ideally, they should be the same length or shorter than the bride's dress.
10. Don't Forget Propriety
A wedding is, more often than not, a formal event and a solemn ceremony. Some of the things that should be avoided by bridesmaids at a wedding, include: dresses that are too short, too much cleavage, inappropriate underwear or even the lack of it, and accessories that are too sparkly. There are types of weddings where these may be fitting, but in general, a bridesmaid dress should be appropriate to the solemnity of the occasion.
There are dresses that are strapless or show bare shoulders. In buxom women, these may show an excess amount of cleavage, but dresses can be altered to add extra fabric. A buyer should choose features and styles that look appropriate on all of the bridesmaids.
Buying Bridesmaid Dresses on eBay
Bridesmaid dresses are available in many styles, and therefore, can be found in many shops online or offline, not just in bridal boutiques. Searching for a dress on eBay also allows access to the many types of dresses that would be available for bridesmaid wear. It is an easy thing to search eBay; simply enter your keywords into the search bar and the site offers all the results that match your keywords.
There are site tools that help narrow down your initial results by categories or preferences. Of course, typing in more specific keywords narrows down the list of items you are shown immediately.
Remember to carefully evaluate the sellers and items that are presented. Checking a seller's return policies saves you some trouble if you find that the dress you have ordered does not exactly fit your specifications. The extensive selection of dresses on eBay makes sure that every style and colour is represented, and that means every search provides results.
Conclusion
Bridesmaid dresses are easy to choose and purchase when the wedding planners know how to go about getting it done with the least amount of hassle. Early planning allows the input of ideas from the bridesmaids themselves, which lessens the chance of them looking uncomfortable or awkward in dresses that are not so flattering or are incorrectly sized. Loosening strictures on personal customisation of bridesmaid dresses can also be a good thing, as it lowers anxiety for both bridesmaids and planners.
It is impossible to choose a dress that everyone and their dog loves, but knowing the various do's and don'ts can help the people involved purchase dresses that are that much closer to perfection. Bridesmaid dresses can come in all styles and materials, many examples of which can be found on eBay. Searching for a dress on eBay is as easy as typing in what is needed and getting results that are relevant.