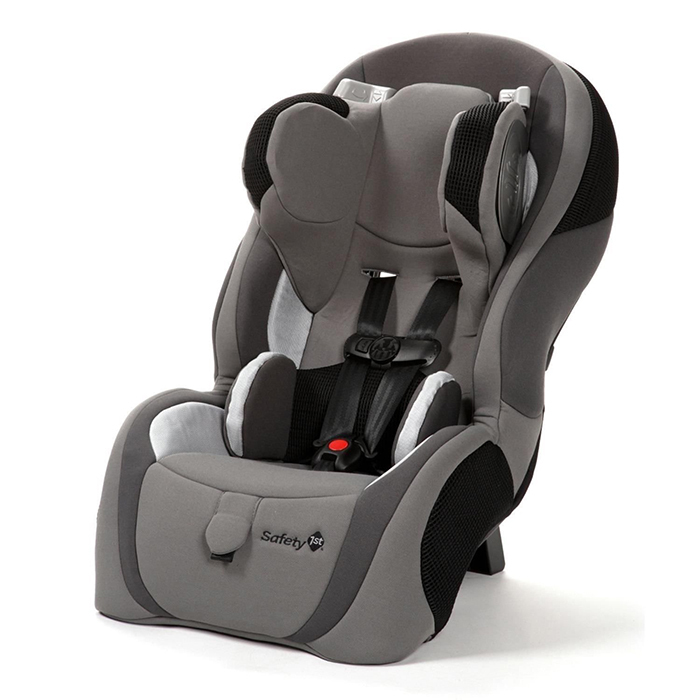 Parents who are expecting a baby need to invest in a car seat before the baby arrives. Likewise, parents who already have children may need to replace an old car seat or purchase one that better suits their needs. Car seats are important not only for the comfort of the child in a car ride, but also for the child's safety. For this reason, parents should take their time and shop wisely before making a car seat purchase. While finding the cutest baby gear that matches the interior of the car is fun, it ranks low on the list in terms of important characteristics to look for in a car seat. Following a few dos and don'ts when it comes to buying a car seat ensures that a parent find the best car seats for the safety of their child. Parents who are looking for a great deal on car seats of all types can find them on eBay.
1. Do Choose the Right Type of Seat
There are several different types of car seats to choose from. When shopping for a car seat, it is important for parents to make sure that they purchase the right type of car seat to meet their needs, as well as the needs of the child. The types of car seats differ in their shapes, how they are secured in the car, and the size of the child that can ride in the car seat. The most common types of car seats are rear-facing, forward-facing, and booster seats.
Rear-Facing Car Seats
Rear-facing car seats are designed for small babies, usually up to 10 kg. These car seats provide greater protection for the fragile muscles and bones in a newborn baby's neck. When a child rides in this type of car seat, he faces the back of the car. For maximum security, this type of car seat should be installed in the back seat of the car. When necessary, it can be installed in the front seat, but it should never be in the front seat if the front seat has airbag that cannot be turned off. Many times rear-facing car seats double as infant carriers. In this case, the entire seat can be easily removed from the car without having to unbuckle baby.
Forward-Facing Car Seats
Forward-facing car seats are for children who are one year old or older. By this time, the baby's neck muscles are strong enough to hold the the baby's head up. Additionally, baby's legs may be too long to comfortably ride in the rear-facing position. Most forward-facing car seats cannot be removed from the car easily, and the child must be unbuckled first when removing the child from the car.
Booster Seats
Children who are under 12 years of age and 135 cm in height must sit in a car seat when riding in a car. Older children do not need the extra security provided by the harnesses on rear-facing and forward-facing car seats. A booster seat raises a child's height enough so that he can comfortably and safely wear the seatbelt in the car. High-back boosters are needed for cars that do not have headrests. If the car does have a headrest, then a booster cushion is all that is required.
2. Do Choose a Car Seat With a Five-Point Harness
The five-point harness is a type of safety harness that is used in most infant and toddler car seats. This type of harness secures the child's shoulders, chest, and legs into place for maximum protection should the car suffer an accident. Because of how the straps are positioned, the energy from an impact is evenly distributed across the child's torso to reduce injuries. When shopping for a car seat, shoppers should look for car seats that employ this type of harness. Fortunately, most forward-facing and rear-facing car seats are equipped with this type of restraint system.
3. Do Evaluate Weight Limits
In addition to considering the type of car seat, shoppers need to be sure to evaluate the weight and height limits for the type of car seat they are looking at. As the child grows, so should the car seat. Many manufacturers classify the various types of car seats in stages. Each of these stages refers to a certain weight range. The table below lists the different stages and the corresponding weight limits.
| | |
| --- | --- |
| Car Seat Type | Weight Range |
| | Up to 10 kg |
| Stage 2 | 9 to 18 kg |
| Stage 3 | 15 to 25 kg |
| Stage 4 | 22 to 36 kg |
A shopper should always check the weight limits to ensure that their child is the right size for the car seat that they have chosen. If the child is too big or too small for the car seat, then it won't offer maximum protection. If the weight limit is not listed on the car seat or its packaging, the shopper should look for labelling denoting the stage to determine the proper weight range.
4. Do Choose a Car Seat With a Removable Cover
Babies and kids are messy. When riding in the car with children, spills are inevitable. Additionally, children may get car sick or have a toilet accident. For this reason, parents would be wise to invest in a car seat that has a removeable cover. These are often secured to the car seat with elastic straps or snaps and can be pulled off and thrown in the wash.
5. Do Make Sure That All Parts are Present
Parents should exercise caution when purchasing a car seat that is in an open package or was used by another family previously. In order to ensure that the car seat provides maximum safety, all parts must be present. Inspect the car seat, or read the description when shopping online, to be sure that all of the car seat's parts are accounted for. In particular, make sure that the five-point harness and attachment system are intact. These parts are important for securing the child to the seat and the seat to the car.
6. Don't Buy a Car Seat That is Too Big
Kids grow quickly and parents like to buy items that kids can grow into. While this a great way to save money, this is not a great way to ensure that the child is safe when riding in the car. A parent who needs a car seat to use right now should not buy one that is too big for the child. Parents who want to get maximum usage out of a car seat should look for combination or convertible car seats. These usually have the widest weight range and can accommodate children of all sizes. While these types of car seats tend to be more expensive up front, they change and grow with the child. Therefore, it is not necessary to buy another car seat in the future.
7. Don't Buy a Used Car Seat
Parents are always on the lookout for ways that they can save money on items for babies and children. One way to do this to purchase used items for their babies. However, when it comes to car seats, buying brand new is the best. Car seats should not be used again once they have been involved in a car accident. The plastic and other materials in the seat are weakened and can no longer offer effective protection against a future accident. Unfortunately, there is often no way to tell if a car seat has been in an accident unless the seller discloses that information. Since most sellers are not willing to do this, it is best to steer clear of used car seats altogether.
8. Don't Ignore the Expiration Date
Car seats do have expiration dates. Although they do not spoil like food does, the plastic does weaken over time. The constant temperature and moisture changes in the car over the course of the year take a toll on the car seat. Typically a car seat should only be used for up to six years after its manufacture. Most car seats have the expiration date printed on the bottom. Shoppers who follow the advice of avoiding used car seats do not usually have a problem with the expiration date; however, it is always best to make sure that date has not passed. Additionally, parents should be sure to evaluate their current car seats to make sure that they are still within the usable date.
9. Don't Ignore Reviews and Recalls
When shopping for a car seat, parents should be sure to check for recalls and evaluate the reviews. Shoppers should read reviews from publications as well as from parents who have used the product. Various publications rate car seats based on their safety and features. Parents who have used particular car seats provide information about how well the car seats perform on a day-to-day basis. This gives shoppers insight into how easy the car seat is to use and whether or not it is truly worth the investment.
Manufacturers often issue recalls when there is a safety issue with a car seat. Parents should make sure that the car seat they are looking at has not been recalled by the manufacturer. If it has, they should follow the manufacturer's instructions to have the car seat repaired or replaced before allowing their child to ride in it.
10. Don't Install the Car Seat Incorrectly
While the car seat itself is an excellent piece of safety equipment, all of that is for nothing if the car seat is installed incorrectly. Some car seats have special attachment systems while others use the car's seat belt to secure it into place. A shopper should be sure that the car seat is compatible with the seat and belt system in their car before committing to a purchase. Most car seats do not work in cars that do not have seat belts, have lap belts only, or have side-facing seats. If the car seat is not installed in the car correctly, then the child's safety is at risk.
How to Buy a Car Seat on eBay
If you are looking for the best deals on gear for babies and children, then look no further than eBay. This large online marketplace offers a wide selection of new and used items for children from all over the U.K. Car seats and accessories are included. Because all of the items for sale on eBay are listed by private sellers, you can often find the lowest prices on some of the most popular items. In order to find the best deals on eBay, you need to know what to look for and how to search the site effectively.
Conclusion
A car seat is one of the most important pieces of gear needed for a baby or child. Not only do car seats ensure that the child rides comfortably in the car, but it also reduces any injuries that the child may incur if involved in a car accident. There are several factors to consider when buying a car seat. These include the type of car seat, weight limits, condition, reviews, and the nature of the restraint system. With so many factors to consider, it can be hard for parents to find the best car seat to meet their needs. Fortunately, by following a few do's and don'ts, the process becomes easier. Knowing what to look out for allows parents to determine which car seats to avoid and which ones to invest in. No matter what kind of car seat shoppers are looking for or what kind of budget they are working with, a large selection of car seats can be found on eBay.