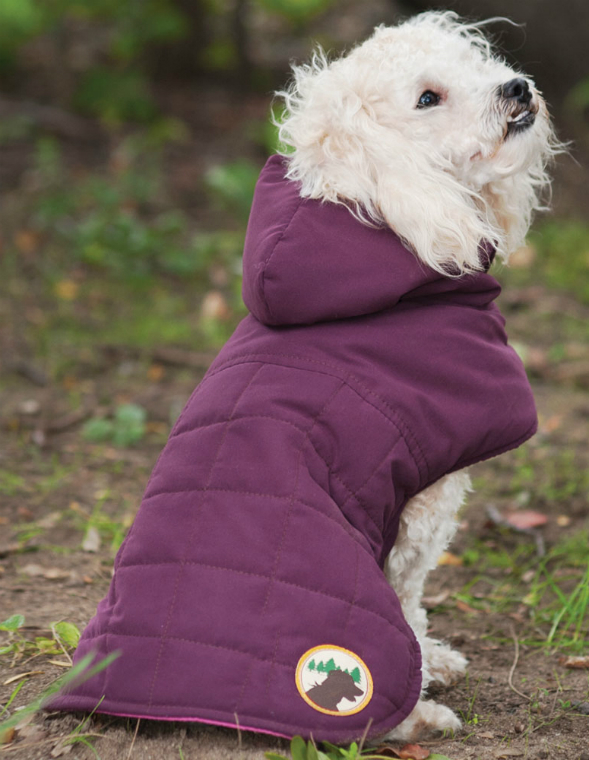 Many people love to dress up their pets, especially their dogs. Some dedicated dog lovers take this to extremes and have a complete range of outfits for their dogs. And why not? It's fun, and if your dog is happy to be dressed up, there's absolutely no issue of cruelty involved. There are various items of clothing that are both cute and practical for dogs to wear, as well as being appealing to owners.

Winter coats, cosy jumpers and t-shirts are all ideal to protect a dog's coat from the elements, and most dogs enjoy wearing these – they can be found on websites such as eBay for very reasonable prices. There is a fine line between ensuring a dog is comfortable and warm and making him look silly, so it is important to choose clothing that the dog is happy wearing.
Why Buy Clothing for Your Dog?
Just as humans like to layer up in cosy clothes on a chilly winter day, dogs enjoy keeping warm too. So purchasing a winter coat or knitted jumper for a dog is a great way to protect them from the elements and ensure that they stay warm and dry whether they are walking in the park or running across a field.
Dog clothing can protect a dog's coat from mud, rain and snow, and save money on shampoo and expensive grooming appointments, and because dog coats are usually very durable, they will last for a long time. In addition, dog clothing is a lot of fun – it is possible to find personalised clothing and items with logos such as 'Princess' on websites such as eBay, and it is a great way to brighten up a dog's (and owners) day!
10 Essential Clothing Items for Your Dog
There are many items of dog clothing available to buy, but here are ten essential clothing items for any dog:
| | |
| --- | --- |
| Type of Clothing | Why to Buy |
| | A practical quilted coat will keep any dog warm and dry, but is particularly good for dogs who feel the cold, or to protect long haired breeds from the elements. A wide range of quilted coats is available to buy on eBay. |
| | A cosy, woollen jumper can add an extra layer under a quilted coat – perfect for very small dogs such as Chihuahuas – or can be worn in the house for dogs who feel the cold. |
| | These are very practical for dogs who don't like the rain and snow as they protect delicate pads from the cold. Also ideal for dogs that have paw injuries. |
| | Ideal for showery spring days to keep the rain off longer haired breeds and eliminate the need for time consuming grooming after a walk. |
| | A t-shirt is a cute way to dress up any dog – personalised t-shirts can be found on eBay for very reasonable prices. These can be worn in place of lightweight coats for spring or summer walks. |
| | For street-wise dogs who like to look cool, a hoodie is the perfect option. These not only keep dogs warm, they protect them from rain and snow when the hood is up too. |
| | Whether choosing a lightweight hat to protect small dogs from the sun or a woolly hat with co-ordinating jumper, dog hats are a cute and fun way to keep any dog warm. |
| | Perfect for fashionistas and their dogs, these are all the rage with celebrities who want their dogs to look as stylish as they do – it will also help to keep the dog cosy. |
| | More fun than practical, every owner needs a superhero outfit for their dog – a Batman outfit will ensure any dog looks cool. |
| | Every dog needs a personalised coat or jumper with their name on – both practical and fun for owners. |
Why Dogs Need a Winter Coat
Every dog should have a cosy, quilted, waterproof coat for winter to keep them warm and dry. Winter coats are fun for owners to choose and a whole range can be bought in different styles and colours. But they are also practical for dogs, particularly long haired breeds whose coats can get matted in the rain and snow.
Small dogs such as teacup Yorkshire Terriers and Chihuahuas often get very shivery in the cold, particularly on long walks when it is raining or snowing. By purchasing a winter coat for small dogs on websites such as eBay, there is no need to worry about them being chilly and uncomfortable.
Beautiful Booties
Tiny dog booties are one of the cutest things a small dog can wear. On websites such as eBay, it is easy to find dog booties in fleece, leather and waterproof materials that are ideal for long country walks or short walks in the city. Not only are dog booties extremely cute, but they are also practical. Some dogs have very sensitive pads on their paws and do not enjoy walking in cold, wet or snowy conditions. By purchasing booties, the dog's pads can be protected from the cold so that they can concentrate on having fun outdoors.
Booties are also a practical choice for any dog with an injury to their paws. If the dog has a bandage or dressing on their paw, protecting this with a waterproof bootie means that they can still enjoy their usual walk.
Novelty Clothing
There are many owners who enjoy dressing their dogs in novelty clothing. Whilst it is okay as an occasional treat, it is best not to do this all the time, to prevent the dog from becoming pampered and spoilt, or overly nervous. There is a wide range of fun, novelty dog clothing available to buy online, and eBay has everything from ballet tutus to superhero costumes and even Halloween costumes for dogs.
These items of clothing are designed to be worn for short periods of time and are a fun way to interact with a dog. But they are not always comfortable for animals to wear for longer periods, and the dog should never be forced to wear something if he is unhappy.
How to Ensure Your Dog Looks Stylish Not Silly
There is a fine line between dressing a dog for comfort and warmth and making him look silly. Whilst bumble bee costumes are very cute, they are not a practical or stylish choice for a poor dog to wear on his walk! Just as humans do not want to be dressed as a pumpkin for work every day, a dog does not want to wear a batman outfit on a daily basis.
A dog needs comfortable, cosy clothes such as a winter coat and jumper, to ensure he is warm and dry during his walks. Practical items such as waterproof booties and a Barbour coat will ensure he has as much fun as possible whilst keeping mud and anything else he might want to roll in off his fur, and saving his owner a lot of money on shampoo and expensive grooming appointments. Fun, novelty dog outfits are cute but should only be used occasionally rather than as an everyday event.
Choosing the Perfect Clothing for Your Dog
It is easy to choose the perfect clothing for any dog by shopping online – eBay has a wide range of dog clothing available, from quilted coats to fleecy booties and velour tracksuits. The type of dog clothing purchased will depend on the owner's taste and budget and the size and breed of the dog in question.
By choosing practical, durable items such as a quilted dog coat, waterproof booties, cosy hat and summer t-shirt, it is easy to build up a wardrobe that is perfect for any type of dog.
How to Buy 10 Essential Clothing Items for Your Dog on eBay
The easiest way to buy 10 Essential Clothing Items for Your Dog online is to explore eBay. Just visit eBay and go to the drop-down menu of categories which you will find at the left hand side of the page. Click on Pet Supplies and a menu will pop-up – select Dogs. From here you can choose Clothing and Shoes from a range of options under Sub-Type in the left hand menu.
There are many different types of dog clothing and accessories to choose from, and searches can be narrowed using a certain term if looking for something specific. Just type the words related to the search, such as 'Princess Dog Outfit', into the main search box. For further tips on how to search eBay, go to the Search Tips page.
Conclusion
There are some clothing items that are essential for any owner who wants their dog to look stylish and stay warm. Whilst novelty outfits are a fun way to accessorise a dog for a special occasion, they should not be used every day. Instead, cute clothing such as a padded winter coat, woolly or waterproof booties and a personalised knitted jumper are a great way to make sure any dog feels warm and cared for.
eBay has a great range of clothing and accessories for dogs of all sizes and breeds, from tiny Chihuahua puppies to fully-grown Alsatians, and it is easy to find any type of dog clothing for a very affordable price.