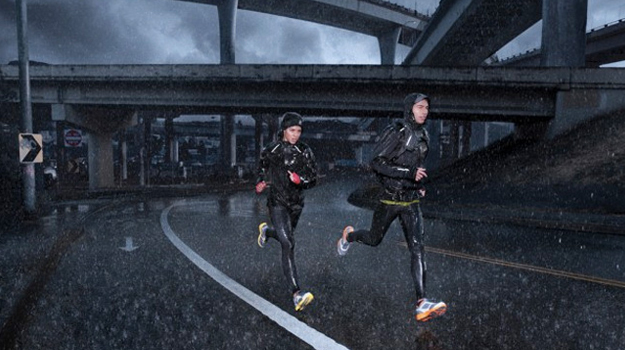 The Best Winter Running Gear to Buy in 2014
As winter takes hold, the morning's get frost and the nights gets colder you you need to insulate your body and keep yourself warm. But wrapping up snug doesn't mean you have to sacrifice looking good. We've rounded up ten essential bits to help you keep running right through the winter.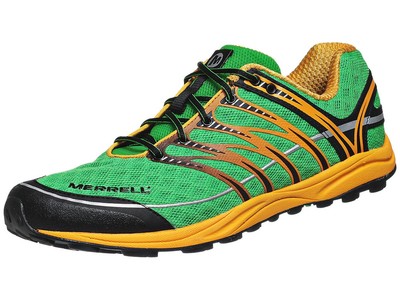 1. Slip on Some Waterproof Shoes
Are there many things worse than cold, wet feet just when you've hit your stride on a trail run? We think not. It not just leads to you feeling uncomfortable, but it doesn't do your feet any good either.
Our advice is to pick up a pair of rain repellant shoes, like the
Merrell Mix Master 2
, which feature a waterproof membrane that not only keeps the water out, but lets your feet breathe too.
Price:
£100 |
More running shoes and accessories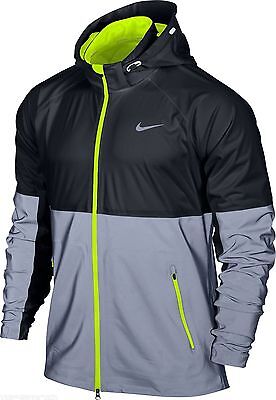 2. Be Seen in the Dark
If you're taking to the streets for a run after dark, then you'll need to wear something that ensures you'll be seen.
We're not talking about your typical high-vis jacket though; we've got something a whole lot cooler. This Nike Vapour Flash Jacket is lightweight, water-resistant and constructed from Storm-Fit fabric, but most importantly it can be seen in the dark. Dri-Fit tech helps reduce perspiration build-up, keeping you fresher throughout your run.
Price:
£99 |
Find hi-visibility running gear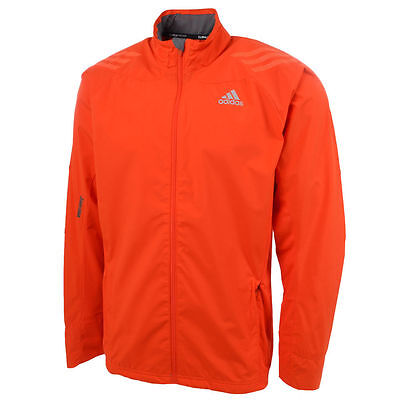 3. Stay Warm and Dry and Beat the Wind
Wind can put an end your run even before it gets going, so it's always best to be prepared for that inventible gust, especially as we enter the colder months of the year.
This
Adidas windstopper jacket
helps you beat the wind, while also keeping you warm, dry and comfortable. It's the Climacool tech that works to keep the rain out, while the wind is taken care of thanks to the Gore Windstopper fabric, which is made from a breathable and stretchy layer. Your skin will still be able to breathe, but the wind will be kept at bay.
Price:
£79 |
More winter running jackets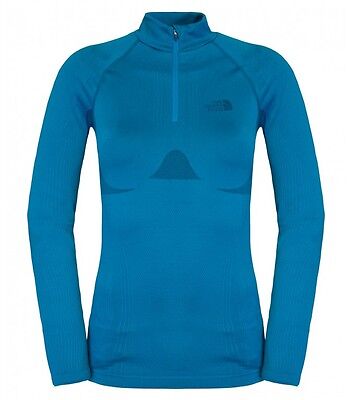 4. Feel the Base Layers
If you're thinking about running in winter, then you really need to invest in some quality base layers. Why? Well base layers give extra protection from the elements, keeping your body temperature regulated and most importantly you warmer.
Available for both men and women, North Face's Hybrid base layers utilise a clever HyActive fabric that provides both ventilation and insulation, keeping heat in when you need it, and getting rid of it when you don't. It's odour resistant – important for a garment that sticks so close to your body and it's also quick drying.
Price: £45 |
Find the best base layers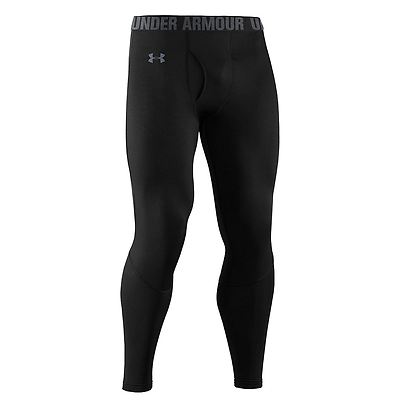 5. Tights, Camera, Action!
Along with your base layer top, you'll need something else to keep the temperature in your legs regulated too. The answer is pair of leggings. Yep, leggings for both men and women.
This pair from Under Armour
uses the brand's ColdGear tech to hold in the warmth by getting rid of excess moisture. They won't hamper your movement, something that would instantly put us off, and the infrared printer interior actually traps in heat, which is nifty.
Price: £30 |
More super-warm running leggings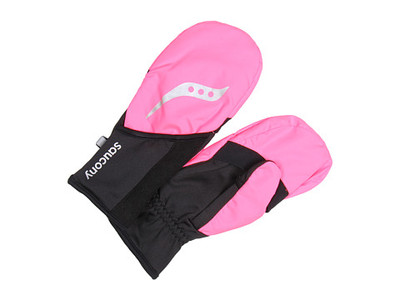 6. Feel the Glove
Along with freezing toes, another thing that always puts a dampener on any run is that moment when your fingers lose all feeling because they've got so cold. It's an easy problem to avoid though, just remember to pop on a pair of these
swish looking Saucony Ulti Mitt gloves.
Combining both a mitt and a regular fingered glove, this hybrid pair is constructed from wind and water resistant DWR fabric with a thermal interior. Reflective logos on the side give you increased visibility when its dark or dank while a conductive thumb covering lets you use your touchscreen phone, without having to take the gloves off.
Price:
£9.99 |
Find gloves to keep your hands warm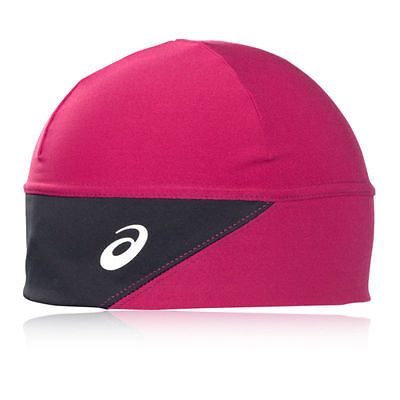 7. Be a Beanie Baby
While we now know that we don't lose quite as much heat through our heads as was once suggested, it's still important to keep your noggin, and your ears, cosy when you're out on a run.
Asic's Performance beanies
look great, come in a number of bright colours that aid visibility and is available for both men and women. They're designed to fit ergonomically, so they won't be flapping around when you pick up speed and the front acts as a wind block, another key selling point.
Price:
£11.99 |
Search for snug-fitting hats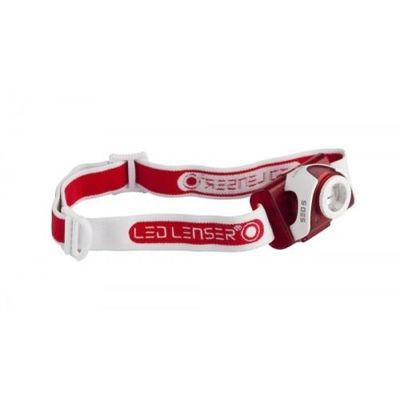 8. Light Up Your Life
Dark nights bring with it one major problem for runners – how do I see where I'm going? Well, this head torch will solve that problem. Pumping out 180 lumens of brightness, the LED torch can light the way for about 130m, while also keeping you visible to others.
The light can be altered, either giving you a wider view or something much more focused and it runs on four AAA batteries. Unlike a lot of head torches out there though, this colourful option actually looks good, with a sporty style that won't leave you embarrassed to wear it.
Price:
£43.99 |
Best head torches to buy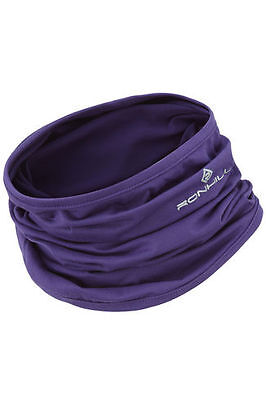 9. Neck It
The neck is often a part of the body that gets left out when you're getting your running kit sorted. But keeping it warm and sweat free can go a long way to making sure heat stays in and around your body.
This
simply styled Ronhill neck gaiter is available in both black and purple and is designed to wick away sweat, which keeps you cooler, while the thermal inside keeps your body heated. Thanks to a Thermalite fabric, the gaiter won't misshape in your bag, plus it's stretchy, for added comfort.
Price:
£11.99 |
Scarves and neck warmers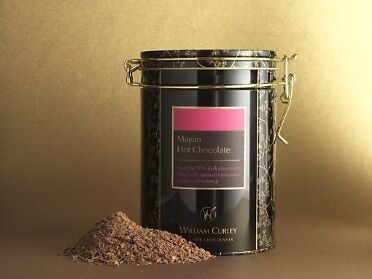 10. Post-Run Hot Chocolate
You've just completed a treacherous run in the British winter. You need something to warm yourself back up again. We recommend this chili-flavoured artisan hot chocolate from London brand William Curley.
It's made up of 70% Toscano chocolate and the chili adds an extra warming kick. Oh and go on then, why not pick up a classy (ahem) mug to sip your indulgent treat from, we won't judge you.
Price:
Hot chocolate: £10 | Mug: £14.95 |
More hot chocolate treats