As Christmas is nearly upon us we thought we'd give you a bit of a rundown of what's hot this festive season to provide you with some last minute gift inspiration or maybe even an excuse to treat yourself!
White Stylish Bodycon Love Crop Maxi Dress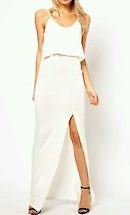 For a slightly more formal look this white maxi dress is simply perfect, it has a bodycon design meaning it provides a very comfortable, flattering fit. Complete with a scoop neckline which has adjustable straps to get the fit just right. With a thigh high split at the front to show off your legs. It's simple, yet elegant making it ideal for any occasion, whether formal or casual. Maybe just the thing for your work Christmas party?!
---
Stylish Black & White Ladies Lacy Neck Short Skater Dress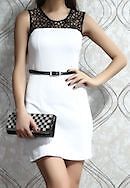 Another white dress, but this time something a bit more casual. It has a very flattering design and is in a skater style. The black lace neck offers a striking contrast to the rest of the dress, which when combined with the included black belt offers your entire outfit a good balance which is pleasing on the eye. For that final finishing touch why not add a small black clutch bag?
---
Blue Peplum Bodycon Dress with U Neckline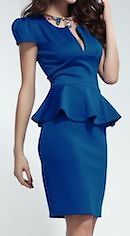 Peplum is the look to be seen in at the moment and this stylish, blue peplum dress is an ideal choice for anyone who hasn't quite been convinced that they'll be able to carry off the look. It has a bodycon design, which when combined with the peplum will help give that perfect hourglass shape. Maybe an ideal choice for your New Year Eve parties, making it effortless to disguise the effects of a bit of Christmas excess!
---
Black Faux Leather High-waisted Leggings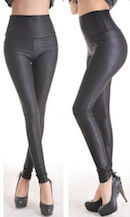 Leggings have been a really popular seller this year and these high-waisted ones are no exception. They provide a reasonably neutral look that can be combined with any style of top to give you a simple, yet attractive outfit. They are made from faux leather with a matt snake skin effect. A perfect gift, which we're sure she'll love.
---
Cream Soft Open Back Sheer Peplum Top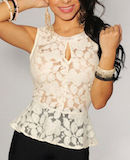 This top is made from a patterned lace and has a peplum style hem, with a small cutout key detail on the back and a snap back closure. It's a simple, yet stylish top which will look good for casual when worn with a pair of jeans, but being equally as well suited to a more formal affair. It really is a truly versatile addition to any wardrobe.
---
Hollowing Carved Short Necklace in a Beautiful Antique Finish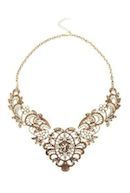 This short necklace has a hollowed out carved design which is accentuated perfectly by it's beautiful antique finish. It is a well made, durable piece of jewellery that will be as at home when worn with your day-to-day outfits as it is when used to give a formal outfit that finishing touch.
---
Orange Zebra and Leopard Print Long Scarf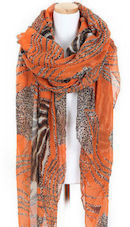 A nice addition to any look, this vibrant scarf is ideal for that final flourish to your outfit. It is made of breathable cotton so you don't need to worry about it becoming clammy as often happens with synthetics and isn't what you want from a scarf! At 170cm x 110cm it is versatile enough to be used both as a scarf or a shawl, so you're effectively getting two garments for one! An ideal gift.
---
Burlesque Bustier Rouge Blue Floral Corset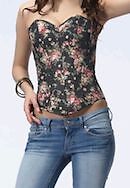 This floral cowgirl corset has some elegant features, including a flattering sweetheart neckline, a lace-up back and a stainless steel front opening clasp. It has boning and streamlining panels through to provide you with that sculpted hourglass figure. It comes complete with a matching G-String to give a truly unforgettable look.
---
Black Babydoll with a Red Bow Detail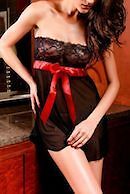 A slightly saucier choice, this black babydoll is an ideal gift for that someone special in your life. It has a stretchy mesh around the bust area and a nice red bow detail, making it the perfect gift for the festive period. As an added extra it also comes supplied with a matching G-String. What's not to love about this stunning piece of lingerie?
---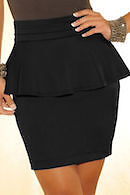 Our final choice is this simple black peplum skirt. It's perfect for wearing on a night out but simple enough to be just as well suited to the office. The peplum design highlights the hips helping to create that perfect hourglass shape. It has a zipped back and a high waist. A perfect item to treat yourself with this Christmas.
That's it, our rundown of what we think are this year's must have items. We hope we've been able to give you a bit of inspiration as you make your finishing touches to your Christmas gifts. If you want to see more items then please drop by our
store
to browse our extensive range of items.