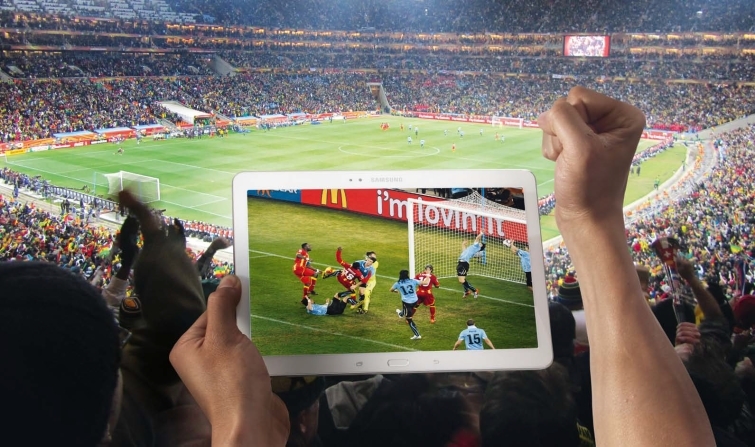 Whether you're still dreaming of getting your hands on the FA Cup or just happy to watch from the stands, the hat, scarf and replica shirt are no longer the most important items in the football fan's locker. When it comes to making the most of match day, there's an array of gadgets and technology to make sure you don't miss a kick and can keep up with the goal flying in around the grounds. Here are our top ten essentials for any supporter.


Samsung JS95000 65-inch SUHD Smart TV
While they're not cheap, there's nothing quite like a massive television to bring the beautiful game to life. There are few better than Samsung's 2015 flagship stunner.
With
the curved-screen JS9500 SUHD
(that's Super Ultra High Definition), you'll not only achieve the best quality available right now, you'll be future proofed when broadcasters begin showing games at the next generation 4K resolution. The only snag is the £6,000 price tag.
Football Manager 2015
It's one of those odd numbered years where there's no international football tournament to quench the summer drought of domestic action. If you feel like you could have done better than Brendon Rogers and helped Liverpool into the Champions League or out-though Jose Mourinho to ensure Manchester City retained the title, then you can test your management skills with the latest version of the greatest management simulator there is -
Football Manager
.
It's available for Mac, PC, iOS and Android so you can wheel and deal and make slight tactical alterations anywhere you go.
Apple Watch
While there's an absence of intriguing football games for smartwatch owners,
the Apple Watch
and Co are super handy for keeping up with the scores without spending too much time on your phone (and annoying your significant other).
The ESPN Score Centre app will give you a little vibration every time there's a significant event during your fixtures of choice.
Adidas MiCoach Ball
While its claim to be the world's smartest football doesn't really say that much, the
Adidas MiCoach Smart Ball
sets a standard for intelligent footies that'll take some beating.
The clever ball has built in sensors that can detect speed, spin and flight path. You can pinpoint your foot strike and get coaching tips back from the companion smartphone app. All of the data is synced back to the iPhone app thanks to the Bluetooth connectivity. The app gives you feedback, video based challenges and the chance to compare and compete with friends.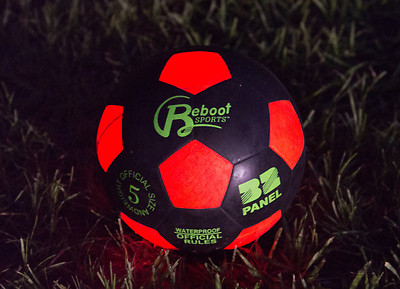 Reboot Sports Magma Light Up Soccer Ball

The Adidas MiCoach Ball might have all of that highfalutin Bluetooth tech and powerful array of speed and spin sensors, but can you use it in the dark? We wish the Reboot Sports ball was around during our youth, when we'd play until you could no longer see the ball (or you were called in by your mum, whichever came first).

It is fitted with two powerful LED lights, which are activated when the ball is struck. It'll stay lit for 30 seconds until struck again, meaning you can keep playing all night. Plus, at about £20, it's way cheaper than the Adidas ball.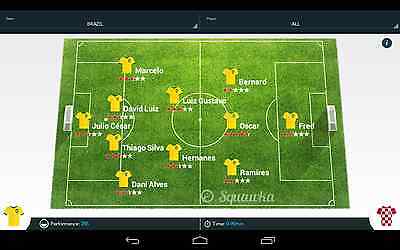 The Squawka Football App for iPhone and Android

The Squawka stats app is the ultimate way to win any football related argument in the pub or the office. Why, you ask? Well you can back up everything you say with cold hard facts.

For example, if you think Cesc Fabregas is the best midfielder in the league, you can back that up with pass completion, assists and duels won/lost stats. It also offers real time stats from the major leagues and generates unique performance scores for players. Best of all, it's free.


Sony Pocket Size AM/FM Radio with built-in speaker

The original gadget for football fans is still one of the most essential. Rather than wasting time, and missing the on-field action, checking the other scores on your smartphone, this brilliant portable radio lets you listen to the drama unfold on 5Live with you eyes firmly glued to your team's plight out on the park.

It also keeps the days of one bloke with a pocket radio in the stands telling everyone the scores alive.



Sky Now TV Set-Top Box
Not the first thing you think of when you think football fan gadgets but this
Sky Now TV set top box
can be a godsend for anyone without a full Sky subscription. Thanks to the Sky Sports Passes, you can get 24-hours access for £6.99 and entire week of access to Sky Sports for £10.99.
That means if there's a particularly packed weekend of footy you can watch all the big games via your internet connection, without committing to a £50 a month subscription. The box itself is just £10 too!
Oculus Rift

You'll have to wait a little while for this one, but when the Oculus Rift gets here, it could revolutionise the way we watch football and play beloved video games like FIFA. The Virtual Reality headset will allow users to jump into immersive 360-degree worlds, so it feels like you're actually there, rather than watching on a screen.

From a gaming perspective, the possibilities are even more exciting. You'll be able to play games through the eyes of your favourite players and watch on as they smash that beautiful volley into the top corner. Look for it to present a new football reality in early 2016.



Google Nexus 9 Tablet
A big part of the fan experience these days is second screen activity. Whether it's tweeting along and following the commentary from reporters and fellow fans, or watching the Barcelona that's being shown simultaneously on the other channel, a touchscreen tablet, like
the Google Nexus 9
, enables you to create your very own, impenetrable digital football fortress.
If the better half or the kids have commandeered the TV then you can also watch live matches though various mobile apps. Oh, and then of course there's Football Manager, FIFA and Sensible Soccer too.