Reflect your cherished moments with a Pandora bracelet containing any combination of unique charms. But with more than 600 charms available, where do you start? Allow us to help you out.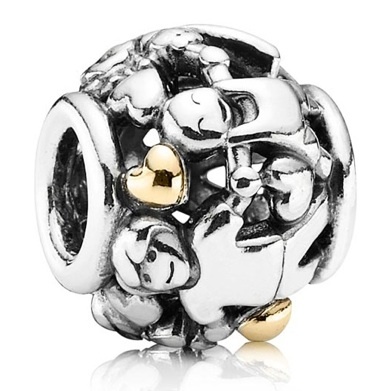 Table of Contents
Buying charms
10. Pandora Club
9. I Love You
8. Sparkling Heart
7. Monkey Charm
6. Green Clover Murano
5. Union Jack Bus
4. Openwork Cone Flower
3. Bride & Groom
2. Waving Cat
1. Family Forever
Caring for your Pandora charms
Making sure they're genuine













Buying charms
It's easy to customise jewellery with these charms. Choose a new piece, screw it onto a
bracelet
and slide it into position. Using a combination of pendants, spacers and clips, you can make a brand new bracelet to show off just a few of your favourite charms, or you could thread all of your charms together to make one extremely memory-packed accessory.
With new charms released every season, they are highly collectable and ideal for marking a particular event, such as a wedding or birthday. And don't worry if you've missed that special, must-have charm. Although popular charms are regularly retired, you will often see them pop up for sale right here on eBay.
10. Pandora Club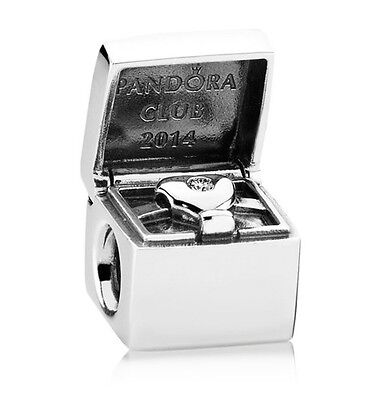 Catalogue no. 791188D
Designed especially for Pandora Club members, this charm is a tiny gift box to add to your bracelet. Cast in sterling silver, at first glance it looks like a normal, albeit shiny, gift box. Flip up the little lid however, and a sparkling diamond can be found sitting inside.



---
9. I Love You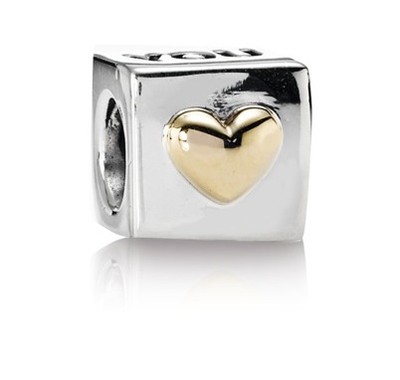 Catalogue no. 790200
The name says it all. There have been many variations on this charm from Pandora, but this sterling silver version, complete with a 14-carat gold heart, says "I love you" the best. You can say the words to your other half, yet a quick flash of this classic charm will do the job just as nicely.
---
8. Sparkling Heart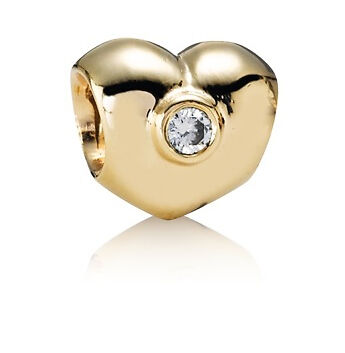 Catalogue no. 750294D
Want to let someone close to you know how you feel? Then why not slot this glittering, 14-carat heart charm onto your bracelet? Its 0.12-carat diamond will ensure it catches the light in dazzling fashion – as well as your attention.
---
7. Monkey Charm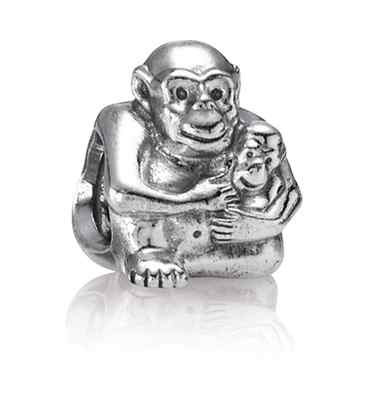 Catalogue no. 790422
Got a wild side? Perhaps it's better to show it with this charm rather than letting it out for real. Sterling silver and with a monkey and its baby detailed, this would be a fitting match with other animal charms to create a nature-themed bracelet.
---
6. Green Clover Murano Charm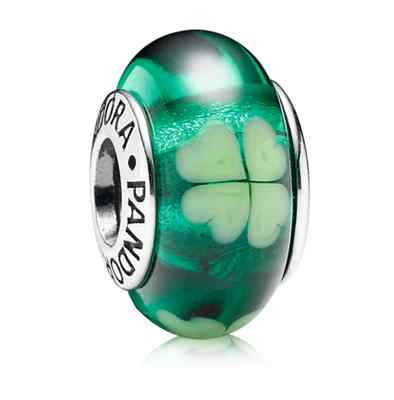 Catalogue no. 790927
As well as sterling silver and gold, Pandora also crafts charms from finest Murano glass. One especially popular piece is this green, four leaf clover inspired charm, featuring sterling silver detailing. You'll surely double your luck if you pair it with the Waving Cat charm.

---
5. Union Jack Bus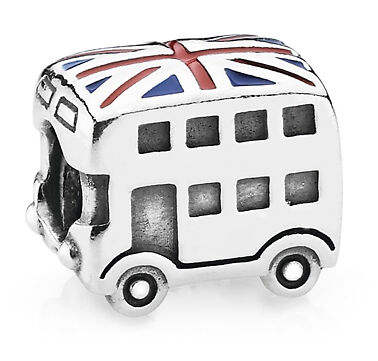 Catalogue no. 791049ER
Iconic, colourful and something to remember any trip to London by, this sterling silver bus features the red and blue of Britain's Union Flag picked out in enamel upon its roof. Just the thing for a homesick Brit overseas, or a smitten tourist longing to come back.

---
4. Openwork Cone Flower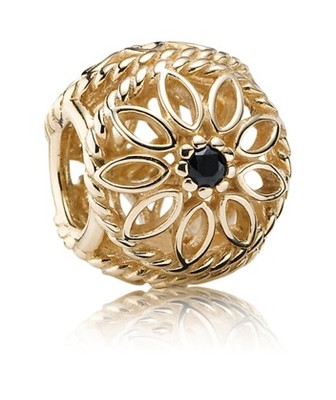 Catalogue no. 750821SPB
It's one of the most desirable Pandora charms, and even the briefest glimpse of it will show you why. Fine craftsmanship, an elegant floral design and a black spinel centrepiece are set off by 14-carat gold metal work. It's far too stunning to give away, and will make your bracelet truly eye-catching.

---
3. Bride and Groom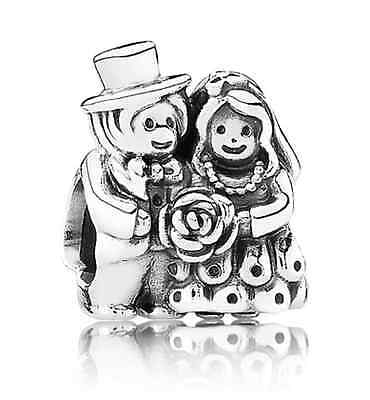 Catalogue no. 791116
Without a doubt a wedding is one of the happiest times for any couple. Commemorate a day of laughter, love and bad dancing with this charm, showing two newlyweds cast in sterling silver. It could also be the perfect wedding favour for your bridesmaids.

---
2. Waving Cat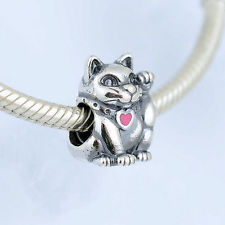 Catalogue no. 790989EN05
Maneki-neko, the happy cat, is often displayed in doorways to Japanese restaurants and businesses to bring good luck. By adding Pandora's own take, the Waving Cat, to your bracelet, you'll take a symbol of good fortune crafted from sterling silver and featuring a pink enamel heart with you wherever you go.


---
1. Family Forever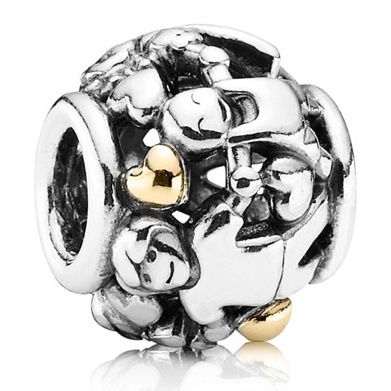 Catalogue no. 791040
Created from pure sterling silver to embody the everlasting love of a family, this charm has tiny hearts picked out in 14-carat gold. Perhaps you know someone who has just started their own family. Maybe you'd like to show off your own priority in life. Whatever the reason, this charm will last longer and make more of a statement than any card.

Thanks to the quality of the materials used and the skill of the craftspeople employed by
Pandora
, each charm you buy should last you a lifetime. There are a number of steps you can take to ensure your charms stay in the best condition for as long as possible.
For instance, all sterling silver will tarnish a little over time, but by reducing the amount of perfumed products it comes into contact with, its shine can be preserved for longer. Avoiding the chlorine found in swimming pool water will also help, as will reducing exposure to salty sea air.
Try not to leave your charms in the bathroom or wrapped up in polyvinyl plastic bags such as bin liners, as these contain harmful chemicals which will increase tarnishing.
Making sure they're genuine
Because they are so popular, it may be difficult to tell the difference between genuine Pandora charms and copies. It's very simple to check though – just look for the "ALE" trademark stamped onto all bar the smallest bona fide Pandora charms. Per Enevoldsen, the founder of Pandora, chose the letters "ALE" because they are the initials of his father, Algot Enevoldsen. These form the trademark stamp on Pandora products.

If you are buying charms made from sterling silver or 14-carat gold, be sure to look for the hallmark, too. An "S" denotes sterling silver; the following number states the metal's purity. For example, "S925" would signify a charm made of 92.5 per cent pure silver. Gold charms, meanwhile, are stamped with a "G" followed by a number such as "585", meaning it is 58.5 per cent pure gold. Note also that charms made before June 2011 are stamped only with numbers, not letters.

Finally, check the catalogue number of any Pandora charm you are interested in online. Some discontinued charms may not be listed on Pandora's website, but there are plenty of forums and collectors' websites around that can provide you with answers.