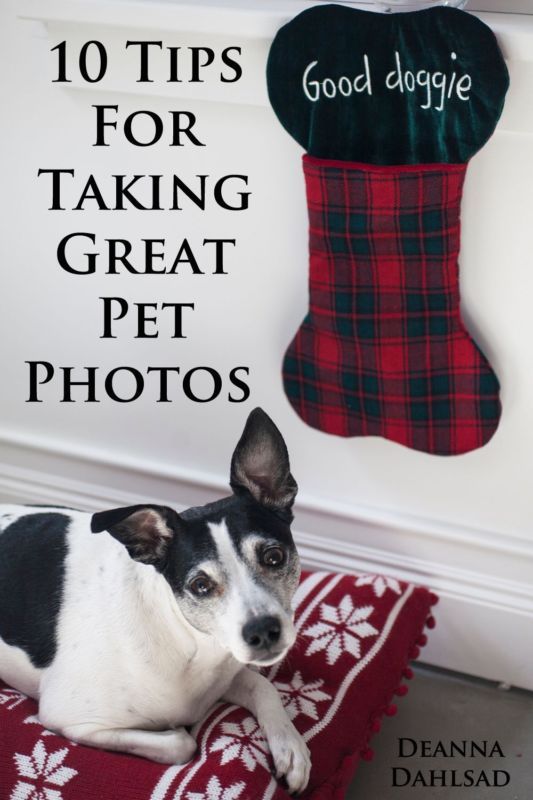 Some of the most popular images on the Internet are photographs of cats, dogs, and other pets. Any proud pet owner would love to show off pictures of their best friend, especially at holiday time.. But it is not always easy to get photographs of our pets. There's a reason W.C. Fields said, "Never work with children or animals." Of course, some actors say that because they don't wish to be upstaged by a child or animal's too-cute behavior -- but this famous show business rule also applies to pets and their behaviors in front of the camera. Unlike humans, our animal friends do not understand "posing" or just what it is that we are trying to do!

Here are 10 tips for taking better photographs of your pets.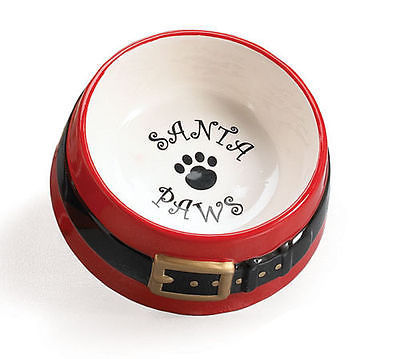 1. Keep your pet safe & comfortable.
The location for your photoshoot with your pet should be a place that is safe. It should be a place that both you and your pet have been to previously and are familiar with. If this is a place that is new to you, then take the time to be aware of potential safety concerns. If it is new to your pet, allow your pet to become familiar with their new surroundings before attempting to take any pictures. Investigating the area will make both of you more relaxed.

Activities such as investigating and playing will increase your pet's thirst. Paying attention to your commands, especially in new environments or having to deal with "that thing you keep putting up to your face" may increase your pet's anxiety too. Be sure your pet has access to plenty of fresh water.

When outside in warm weather, the best time for your photography session with your pet is in the early morning or late afternoon, when the temperature is likely to be cooler. During the holiday season, stick to early afternoon, when it more comfortable for your pet.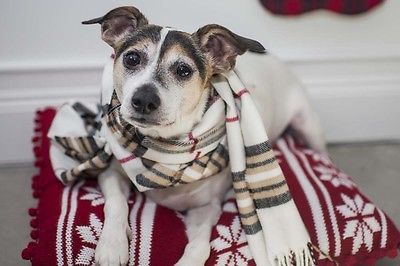 2. Remove background clutter.
Yes, if indoors, this means
vacuuming
. (While we all know pets shed, even a few stray hairs can really distract horribly in photographs.)
Identify which
toy
your pet is to be engaged with in order to get their attention, and remove all the others. (This not only removes clutter, but helps keep your pet's attention primarily focused on one thing.)
Consider the colour of objects in the photo. This also includes the colour of the pet bed, carpeting, sofa, pillows, etc. that your pet will be posing on, along with any props to be included in the photo. Wherever possible, have items match or coordinate so that there's not too much colour, clashing colours and patterns, etc. that look too "busy" or otherwise distract attention away from your pet. For example, get a holiday stocking that matches the pet bed with, a scarf that coordinates with the winter pillow your fur baby will be laying on. That way, while the new gifts for your pet will be noticed, they will not distract from your pet.
When inside, especially, beware of any "hot spots", such as lights or shiny areas that may create white spots of glare in the photo. If there are undesirable or distracting items in the way, such as trash cans, brightly coloured chairs, etc., move them out of the room or slide them out of the frame of the camera.
You can also remove clutter with your camera simply by getting close to your pet and opening the aperture of your camera as much as possible to "blur" the clutter out.
3. Use natural light.
Whenever possible, use natural light when photographing your pet. If possible, and safe, take your pet outside for the photo session. If you must be inside the house to photograph your dog, cat, or other pet, do it in a room that is well-lit by a sunny window. Avoid flash and you'll not only avoid red-eye, but avoid frightening your pet.
However, if the lighting in your home isn't bright enough, you can try the following: Increase the aperture setting.
Diffuse the flash by putting some tissue over the flash.
"Bounce" the flash by aiming the flash up into a ceiling so that the light from the flash is indirect.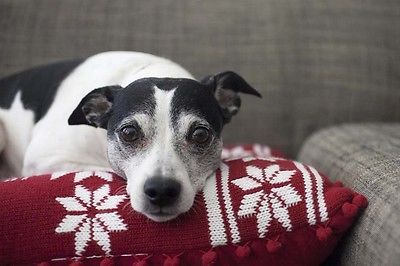 4.Get on their level.
Sit on the floor, or lie on your belly, and take a photograph of your pet at their eye level or below. This avoids that "top down" look of how we most often see our pets and allows for a real portrait to be taken.

Doing this also removes or reduces the number of things in the background.

Also, because you are going to your pet, he or she will not be stressed out having to be called to come over to you continually.


5. Be creative, but not complicated.
Think of natural ways to see and photograph your pets. When outside, foliage, tall grass, etc. can be used to frame your pet. For inside holiday photos, you can use the Christmas tree in the same manner. (Just be aware of those lights and any glare from ornaments!)
To get great side-views and silhouettes, have a family member or friend squeak a move your
pet's toy
or otherwise get your pet's attention looking away from you. This is also a great way to get your pet to perk their ears up, open their eyes wide, and get away from the standard "smiling" pet pose.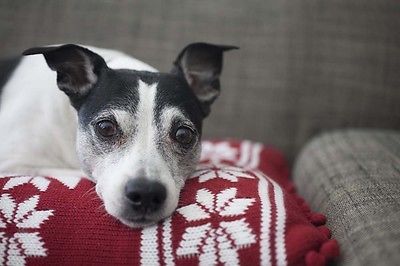 6. Your subject should fill as much of the camera frame as possible.
Even when you are outside, consider whether or not the sky or other scenery is important for the picture. To avoid unwanted scenery, including signs, lamp posts, etc., zoom in on the subject for a tight crop.


7. Pay special attention to facial features, especially the eyes.
.Having a crisp, sharp, focus on the eyes makes for a great pet portrait.


8. Remain patient and alert.
Beautiful and even humorous photos are best achieved when your pet is in a natural, comfortable state. Don't commit the sin of over directing and giving your pet too many commands. Instead, you should be the one who is especially alert and anticipating the action. Don't worry, just patiently anticipate what your pet might do and be prepared to click that camera a split second before the action actually happens. Good photos come to those who wait -- and respond quickly with the camera.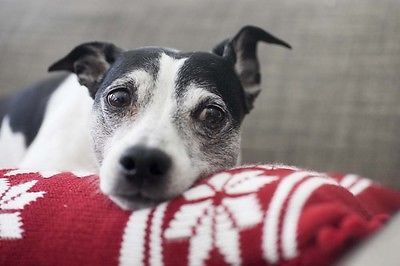 9. Always take lots and lots of photos.
As professional film photographers have long known, you'll shoot rolls of film trying to capture than one moment. It's all part of the process. With today's digital cameras, there's no waste. And with digital photo frames, you can display as many as you want!


10. Remember to take breaks -- and have fun!
Your dog, cat, bunny, ferret, bird, etc. is not going to understand what you are trying to do, or how special it is, and likely will find all this stressful. Taking breaks just to play with him, give her some cuddle time, will keep it more fun for both of you.