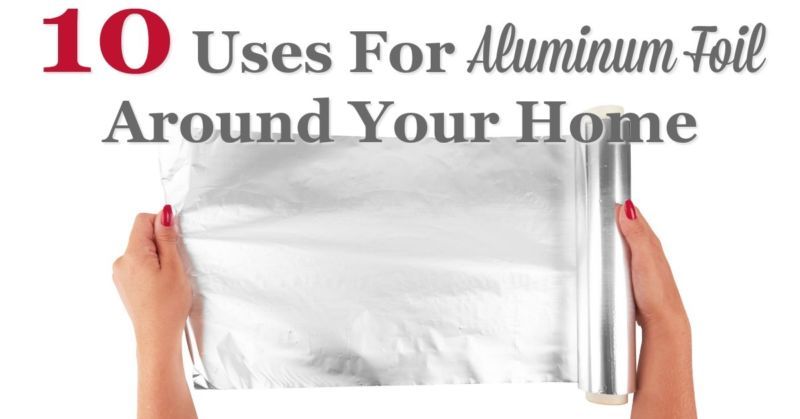 Aluminium foil is one of those products that is a must have in the kitchen, and also in the rest of your home. It's not too expensive, it's recyclable, and it can help make your life so much easier. Below I've listed 10 different uses for aluminium foil in your kitchen and home. If you don't have a roll or two of foil already I bet you'll want to get some after reading this list!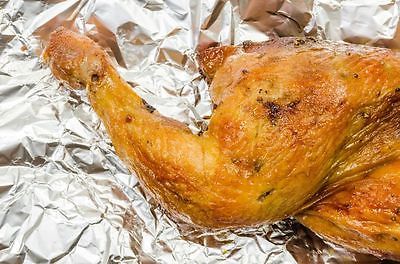 1. Protect your cooking sheets or pans while cooking, and to make cleaning up a breeze. Cooking can make a mess on your cooking sheets and pans, but if you cover them with foil before adding food then clean up is a breeze. Just take off the foil and throw it away, instead of having to spend time scrubbing or soaking!
2. Make oven clean up easy. As you cook food in your oven there are inevitable crumbs and spills that fall, and when they get to the bottom of your oven they can quickly make a baked on mess. You can prevent that though by lining the bottom rack of your oven (do not line the oven floor) with foil. It will catch the drips and spills and then you can simply remove the foil and mess instead of having to
scrub your oven
, or use harsh chemicals.
3. Scrub pots and pans. While you should, when possible, line your cooking pans and sheets with aluminium foil to avoid a mess this isn't always possible when cooking various items. When you've got lots of stuck on food on a pot you need to wash you don't need to use a scrubby, you can ball up a sheet of aluminium foil and use this to scrub your pots and pans. It works as well as a scrubby to get all those stuck on food particles off. (Note though that this will scratch
non-stick pots and pans
, so don't use this cleaning method for them!)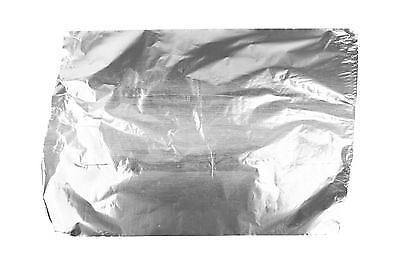 4. Protect your sink from getting rust stains from your steel wool soap pad.
Metal soap pads
, like those made by S.O.S. and Brillo, can help you clean up various messes, but have you noticed that between uses they can begin to rust? Not only is that a pain, but it can leave a rust mark on the edge of your sink where you had placed the soap pad. Adding a small sheet of aluminium foil under the pad will help protect your sink from these rust marks, and when the little foil sheet gets really dirty you can throw it away.
5. Clean tarnished silver. You can make a homemade silver dip cleaner by putting a piece of foil, shiny side up, in a pot containing heated water and
cream of tartar
(add 2 tablespoons of cream of tartar for each quart of water in the pot). Once the water is hot dip the tarnished silver into the pot, making sure the silver touches the bottom of the pan where the aluminium foil is laying. This will remove the tarnish from the silver without having to polish or scrub.
6. Avoid painting disasters. When painting, you don't want to accidentally paint hardware, such as drawer pulls, or door handles, so to protect these types of items cover them with
aluminium foil
before painting.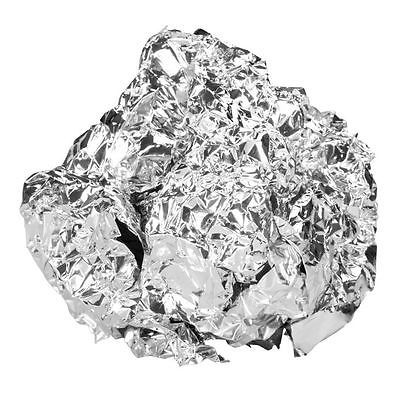 7. Reduce static cling in clothes dried in your tumble dryer. Instead of using dryer sheets you can reduce static charge in your clothes by throwing in a couple of pieces of wadded up aluminium foil into your dryer. While your clothes tumble dry the aluminium foil balls prevent static cling buildup.

8. Protect your hands from candle wax drips. If you've ever held a candle and it has dripped wax onto your hand you'll want to avoid the experience again. It hurts! In a pinch you can make a small hole in a sheet of aluminium foil, putting the bottom end of the candle through, and then shaping the foil like a cup to catch any drips from touching your hand.

9. Remove rust spots from metal. Many bathroom fixtures have only a thin coat of chrome on the surface, with a base metal underneath. Therefore, these chrome covered fixtures are prone, with time, to pit and rust. To remove some of that rust wet a piece of wadded up aluminium foil and gently rub the rusted fixture with the foil ball. This will remove excess rust and make your fixture look much better.
10. Sharpen scissors. With time your scissors may become dull, and dull scissors are difficult to use. To resharpen them take a flat piece of aluminium foil and fold it in half several times. Then, use the scissors to cut the folded up foil into small strips. As you cut the foil it will sharpen the blades of your scissors, and by the time you've cut it all into strips you'll have sharpened scissor blades again.
Are there more ways you use aluminium foil around your home that I've missed? I'd love to hear your ideas and suggestions below, in the comments.

In addition, don't miss even more tips and tricks I've shared by following Household Management 101 here on eBay.