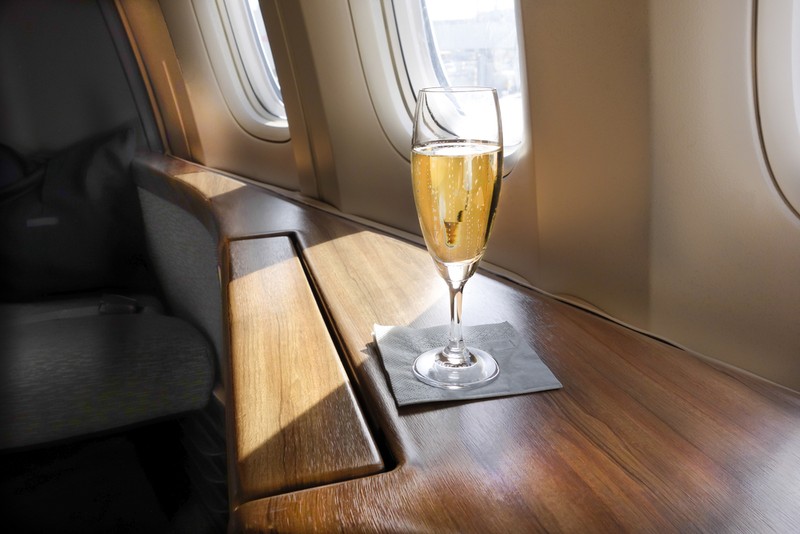 Add a caption
If you're stuck in economy make some small changes to feel like you're flying first class
The great thing about economy flights is they allow people to travel the world without breaking the bank. Many airlines offer low-cost flights to popular destinations worldwide and with planes taking off on a regular basis, intrepid explorers can choose exactly when they want to leave and return. That said, travelling with a budget airline isn't always glamorous thanks to limited legroom, poor catering, old-fashioned plane décor and such like. Of course, you tend to get what you pay for but if you want to add a touch of class to your flight, here's what to do:


Add a caption
Sure you might look strange but you'll be comfortable
1. Take a Good Travel Pillow
While the thought of passengers reclining on luxurious leather seats in business or first class might make you green with envy, there are things you can do to make your journey a lot more comfortable.
Buying a decent
travel pillow
, for instance, will ensure your neck is fully supported inflight and prevent your head from falling to the side when you sleep. What's more, get hold of an inflatable pillow and you'll also save room in your hand luggage. You could also consider picking up an
Ostrich travel pillow
, which blocks everything out around you so you can easily imagine you are lounging in first class. You might look a bit strange but it's worth it.
2. Buy an Inflatable Footrest
Whether you're a regular flier or are taking off for the first time, an inflatable
footrest
is an on board essential for anyone looking to eliminate aches and pains.
Having your feet lifted slightly off the floor not only aids circulation but can reduce swelling and joint pain too – great news for fliers whose ankles puff up like a balloon the moment the plane leaves the runway. Blood clots are also a risk when taking a long-haul flight so anything you can do to boost circulation is worthwhile.
3. Purchase Some Luxury Snacks
Tucking into plane food can be part of the adventure, but if you can't stand the thought (or your airline simply isn't offering warm meals on board), how about purchasing some luxury snacks from Duty Free?

You'll find a wide range of posh chocolates and gourmet crisps at the airport and if you have time you could even knock up a luxury inflight picnic before you leave your hotel/resort – but remember that drinks in containers above 100ml probably won't make it past security. You could even start your holiday early with a glass of wine or champagne, sold by many budget airlines.


4. Pack a Good Sleeping Mask
If you're travelling during the day and hope to get some rest, remember to pack a
sleeping mask
. This handy accessory will help block out the light from the cabin and stop you from being distracted by whatever's going on around you.
Even if you've a night flight, a mask wouldn't go amiss because you never know exactly how bright the plane will be – many passengers like to turn on their reading lights, for instance, which might stop you from dropping off to sleep unless you're prepared.
Add a caption
A toiletry bag will keep all your luxury toiletries safe
5. Bring a Toiletry Bag
While those travelling first class are often greeted with luxurious vanity bags packed with designer cosmetics from the likes of
Clarins
, Dermalogica and Dior, economy passengers aren't so lucky.
Budget airlines keep costs low by scrapping the frills, but if you still want to feel like a superstar, pack some of your own toiletries to pamper yourself with on the plane. As the air conditioning can dry out your skin, moisturiser and
lip balm
are a must and you might also want to take face spritz and baby wipes to help you stay refreshed. It's also a good idea to throw in a toothbrush and some
toothpaste
, so you can arrive at your destination with fresh breath.
6. Don't Forget Your Slippers
When travelling, you probably won't want to keep your shoes on the entire time, so remember to pack a pair of
slippers
. Home comforts such as this keep you warm and snug on board and allow you to move around the cabin without having to put your high heels or trainers back on. Other cosy items you might want to pack include a fleecy jumper or hoody in case it gets cold and a snuggly
blanket
.
Add a caption
Take your tablet with you for some first class entertainment
7. Travel with Your Tablet
While many budget airlines offer some kind of inflight entertainment, you might not like the movies/TV programs being shown so it's worth taking your
tablet
too. These are smaller and more travel-friendly than laptops (particularly as economy flights have limited space) and will allow you to do everything from editing holiday photos to reading magazines and playing games. You could even write blog posts or work on the go, so travelling with your personal gadget is wise.
8. Bring Your Kindle on Board
It might seem excessive to take a
Kindle
and an iPad but Kindles are so much nicer to read on and are light enough to slip into your
hand luggage
with ease. As part of your holiday preparation, however, don't forget to download multiple books because you might be without Wi-Fi for some time. You could even look for travel books and research exactly where you're going.
Add a caption
Cancel out the noise of your fellow economy passengers
9. Make Use of Noise Cancelling Headphones
Board an economy flight and you can almost guarantee they'll be babies crying, people chatting, children singing, food trays rattling and a host of other irritating sounds that might prevent you from relaxing.
The good news is,
noise cancelling headphones
will block all this out and enable you to listen to your favourite music in peace. Noise cancelling earplugs will also help you get a good sleep without being woken by fellow passengers.
10. Keep Gadgets Fully Charged
There's no use in taking an array of swanky gadgets on board if they have no battery. So, to keep them fully charged throughout your journey you might want to invest in an on-the-go charger like the
Energizer Energi To Go XP18000
. This portable device comes with three outputs allowing three devices to charge simultaneously including netbooks, tablets, smartphones, gaming devices and MP3 players.
With these tips you can enjoy a first-class inspired flight at a fraction of the cost and make the most of your budget flying experience.