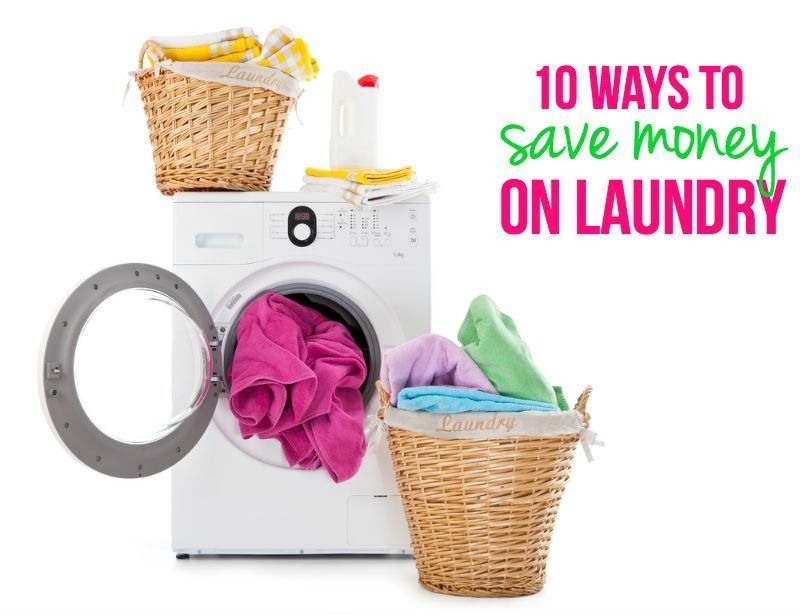 Laundry. It's the never-ending battle. Despite working on it every single day, it never seems to get done. Is it even possible to be all caught up on laundry? In my home, the answer is a big fat NO.

When you're doing your laundry, do you ever think of the costs? I've been trying to save money in all areas of my home and saving money on laundry is high up on my list. I've compiled 10 ways to save money on laundry that you can implement today!
1. Hang bigger items out to dry.
The bigger the item, the longer it takes to dry. If you are using your dryer, this means it will cost you more, too. Try to hang bigger items out to dry, either outside, weather permitting, or on an
indoor hanging rack
.
2. Use wool dryer balls.
Wool dryer balls
pull moisture out of your clothes and helps them dry faster. Plus, they are reusable!
3. Wash in cold water.
Most of the money you use in the wash cycle comes from heating your water to wash your clothes. Avoid this and wash in cold water.
4. Make your own laundry soap.
Making your own laundry soap
can, in many cases, save you 75% or more. Plus, it's better for you since know what's in it especially if you have sensitive skin.
5. Use less detergent.
If making your own laundry soap isn't for you, that's fine. You can still use less laundry soap. You don't NEED the full recommended dose. They have carefully figured out the MOST they can get you to use so you will buy more soap. Cut the amount in half and I bet your clothes are just as clean!
6. Use vinegar instead of fabric softener.
Fabric softener isn't cheap. You can get a similar sized container of
vinegar
for under £2 and save a few pounds!
7. Wash full loads, but don't overload the dryer.
It costs you the same amount to wash a small load as it does a full load so get the most bang for your buck. In the same breath, don't overstuff the dryer! The clothes won't all dry completely and it will cost you more by running it longer. This tip coincides with tip one where hanging up the big items comes in handy.
8. Use the shortest washing cycle.
Use the shortest washing cycle to cut down the time it takes to wash your clothes. Less time to wash means less hydro costs.
9. Shake out clothes before putting them in the dryer.
If clothes are bunched up, they take longer to dry. Shake them out so they can dry faster!
10. Clean the lint filter.
Failing to clean out the
lint filter
in your dryer stops air circulation and that means your clothes will take longer to dry, costing you more money! Plus, it's a fire hazard. I clean it out on every load.
When you are on a budget, every last pound matters. Try these easy tips to save as much money as you can and not wash it all down the drain. Pardon the pun!
What are some of the ways that you save money on laundry?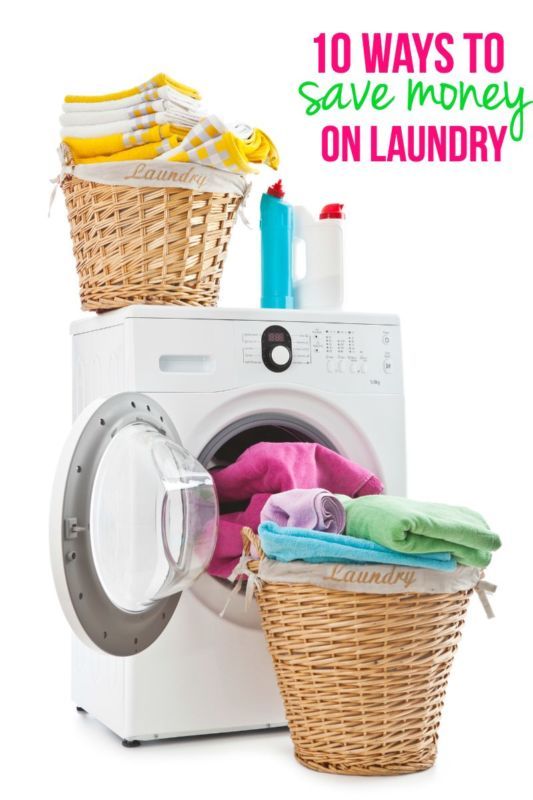 Recommened Cleaning Guides
Check out my other cleaning guides to help with your spring cleaning!