Guide to Authentic Children Armani
100% Authentic !!!
How many time have you seen that in a children ARMAN's description? If you haven't bought an ARMANI before or even if you have how do you know whether it is real or fake? Can you articulate your reasoning when you said an ARMANI item is real? Similarly, when you said an ARMANI is fake can you say why or are you just guessing?
To tell a fake one from a real one you will need to know what a real one is like. This is based on my experience in selling ARMANI in my retail shop over a number of years. This guide applies ONLY to children ARMANI clothes. Adult ARMANI have different tags and different ways of identification.
Certificate of Authenticity
The most important feature which distinguish the real Armani and the many cheap fakes on sale elsewhere in Ebay is the Certificate of Authenticity, which has a number of security features as follows:-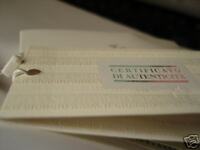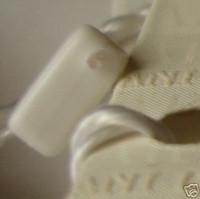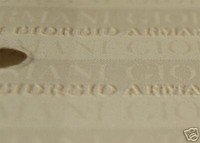 1. On children Armani, the certificate has a white cover and is normally attached to the garment's size label, belt loop, zip or button hole using a white fabric string and sealed with a white plastic security stub (see picture 2). On adult Armani the cover can be blue and the string and stub are also blue. Many fakes only use a thin cheap plastic fastener or an ordinary string without a stub.

2. On the front of the certificate a security printing technique known as Security Borders (the technique of composing border with thin intertwining rules) is used. This is not visible when viewed directly. Within the security borders are hardly visible fibers forming the words GIORGIO ARMANI. You can see this easily when you view the front or the back of the certificate under strong light or direct sun light and by tilting the certificate at an angle. What you will see is a serial of beige and grey borders with the words GIORGIO ARMANI in small hardly visible fibers. Because it is only visible at an angle, it cannot be photo-copied and is not present on fake certificate. (see picture 1 & 3).

3. On the front of the certificate the words GIORGIO ARMANI is printed using a security technique known as Planchettes (small tissues dots embedded in paper that look like confetti). You can test this by running your finger along the paper and feel the word GIORGIO ARMANI popping out of the paper. Again this cannot be photocopied and not present on fake certificate. (see picture 3)

4. Inside the Certificate of Authenticity are one or two vertical lines printed using Microprinting Technique. Some of the wording contained usaully are "FEDRIGONI CARTIERE S.P.A". A very small font size is used to produce this small type that appears almost as fine rule to the unaided eye. Most fakes certificate of authenticity are produced using low-end printers so do not reproduced these print accurately. The lack of clarity is revealed when examined using a 5X magnifying glass.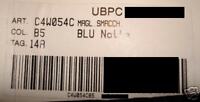 5. Inside the front cover of the certificate of authenticity is an ID label as shown above (vital information obscured to prevent copying). Many fakes either do not have a label as shown or use a make up one with completely different design and attach it to the back of the cover rather than inside the cover.
6. On the ID label, the style number (ART. number) is printed (eg. CW4054C) together with style name (eg. MAGL SMACCH). The colour code (eg. B5) and colour name (eg BLU Notte) are shown. The item tag size (eg. TAG 14A) is also shown. A further tracking number starting with UBPC, UBPN or UJPT and so on is also on the ID label. Also there is a barcode encoded with the style number, colour code and size repeated together with a further ID code (obscured from picture above to prevent copying).
7. Inside the certificate of authenticity and on the garment's label is another serial number. Many reputable Ebay sellers will most likely remove/obscure the serial number to prevent the item from returning to Armani store for the full original price. Some sellers also do this to prevent you from finding out who their suppliers are !!! The fakes either do not have serial number or uses a forged one.

8. On a real Armani the item's style number and colour code as printed on the ID label inside the certificate of authenticity matches those on the item's washing instruction label. Sometime the tracking number is also printed on the washing instruction label. On fake Armani they normally do not match or the the detail is missing from the washing instruction label.

Other features to look for:

1. ARMANI always size their garment 12M, 2A, 3A,..., 6A, 8A, 10A etc. Not 5/6yr, 7/8 yr, .., 11/12 yr as on most fakes.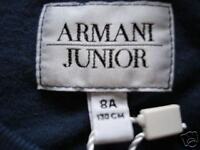 2. An ARMANI garment normally has a tab indicating the country of origin, which used to be "Made in Italy". These days it can be Made in Croatia, Tunisia, Romania, Turkey and so on. Recently, even China! The country of origin tab is normally found under the size label or under the washing instruction label. Most fakes normally do not bother to include an extra tab stating the country of origin.
3. If an Armani comes with its own original plastic bag then the bag itself will also have a label similar to the ID label described above. The label will give the style number, colour code, size, tracking number and so on. This will match up with the details on the certificate of authenticity. Many fakes on Ebay that claimed to have original bag will not have this label on the bag. Also most real Armani on Ebay are from shops clearing out their stock. Now a reasonable size shop will have over ten thousand items in stock. Most shop will clear their stock at the end of the season, which is about 6 to 9 month after they got the stock. Also they will clear their stock after doing a 25% off, Half-Price sale etc in their shop first. It is rare that any shop owner will have the time or energy to keep a plastic bag (out of over ten thousand items) from the beginning of the season for 9 months just in case they can't sell the item and have to end up clearing it on Ebay!!!
4. Armani garments are normally made of high quality cotton. You can feel this by hand. If it is a T-shirt then it is almost always 100% cotton. For a T-shirt you can stretch the fabric reasonably and it will return to its original shape after a while. If it has paint work then stretching the fabric where the paint work is using a reasonable amount of force will not cause the paint work to break. The fabric can also last many wash and the colour will not run. Cheap fakes do not have these qualities.
5. Another thing is look for in cheap fake item is unclear photos. What this tells you is that the seller somehow has expensive items to sell for cheap but cannot afford to get a decent camera to take clear pictures to increase the selling prices. Also look out for photos taken at a distance with important details not clearly shown.

6. There are many other ways of differentiating the real from the fakes by other security features on the tag and by examining the quality of sewing and the type of stitching techniques used. However, we are venturing into the areas of experts. Also, for security reasons, not all details are disclosed in this in guide.

Still in doubt?

By now you should be able to tell a fake one from a real one. But if you are still in doubt then only buy from Ebayers with a proven history of selling ARMANI. See their feedbacks and search through a few previous pages. However, bear in mind that the feedbacks might be from others who cannot tell real from fake or just don't care! There are people who just want to wear a lable! Which is why there are so many fakes around. Its a matter of demand and supply. So read those buyers' feedbacks as well to see whether they have a history of buying high value items and hence know what they are talking about. Or just someone who have been buying cheap items and then testify about an authentic ARMANI they just bought.
Also look at the seller's other items - is the ARMANI on sale just one or there are a large number; what is the return/exchange policy; is the seller a business seller or a private seller; are the photographs clear; Does the item offer Paypal protection. Are they new sellers? Does the seller sells mainly clothes or everything else under the sun, from tooth-picks to garden spade to socks. If it is the later then the chance is that the seller is a market trader. Ask yourself whether you want to buy "authentic" Armani from a market trader!
Look out also for sellers who claim to bring you cheap items because of their enormous buying power. If this was true then why would supermarkets such as TESCO, CARREFOUR and WAL MART, which obviously have super-enormous global buying powers, are not selling ARMANI or any other designers? The anwer is simple, ARMANI, like all other designer labels will only sell their items to selected retailers in order to protect their high end image.
In general, if you are in doubt, the most important thing to do is to ask the seller explicit questions such as style number, identification or more closeup photos of the item and tag. A genuine seller will be more than happy to answer you questions. Sellers of fake will tend to ignore you and sell to others who do not ask questions on the ground that these are the people who either don't care or not trouble makers. When you ask a question, make sure you present yourself as a knowledgable buyer by asking explicit question such as "What is the style number/colour code/tracking number/ID code,...etc". Don't just ask "Is it authentic?". If a seller cannot or does not answer your question satisfactorily, then don't buy from them. Its better be safe than sorry.
If, after you have received the item and have doubt then take the item to an Armani authorized shop and ask an experience person (not just any young shop floor sale assistant just left school) there to verify. In order to spot a fake you need to know what an real one is like so you can also go to any Armani authorized shop and look at the items on sale there and compare. If anything just to see what I have said is correct. When you do the comparison, the main thing to look for is the attention to details. Examine the tags closely and the quality of the clothes. Look inside the clothes and see how the sewing is done. ARMANI items are good quality. They are not just selling a name. Alternatively, if you are in UK then take the item to a trading standard office where they can put you in touch with the relevant experts. However, please be prepare to articulate your reasonings. Simply saying "I think its fake" out of ignorant and without any evident to substantiate your claim is not good enough!!!

In general, do not risk your money buying so called "100% authentic" Armani at charity shop / yard sale / jumbo sale / car boot sale prices. Although there are good value authentic ARMANI from shops trying to clear their stock; bankruptcy stock; unwanted gifts, etc.. These are far and few in between. The majority on Ebay are fake and are sold to people who don't know what real ARMANI are like or just don't care. Unfortunately, many are good quality fakes so please be careful.
If you know the brand then you know the price. Children ARMANI clothes can go from £25 for a simple t-shirt to well over £150 for a jumper or a coat. So knowing the normal retail price of similar item is quite important. A pair of children ARMANI jeans is normally retailed at around £70-£90. This mean the wholesale price (the price the seller got it for) is £30 - £45. So when you see one on sale for £5 or £10 or £0.99 starting bid and the seller has a large quantity to clear then ask yourself why? Is it real? or is it a fake? is it stolen? or is it from genuine overstock/unwanted gift? Why should such an expensive item being sold at such a cheap price? The same rule for other expensive items also apply here. Would you want to but an "authentic" ROLEX for £10? So what is the catch? Is there such a thing as a free lunch in this world? You know the answer. It is NO, there is no free lunch in this world and there is always a catch from people who offer free lunch. There is certainly no such thing as cheap ARMANI !!! ARMANI wouldn't be ARMANI if it was at a price that everyone could afford. If the price seems too good to be true, then the chance is that it is indeed too good to be true!!! You will get exactly what you pay for. Good Lucks!

Please vote if you think this guide has been of help.