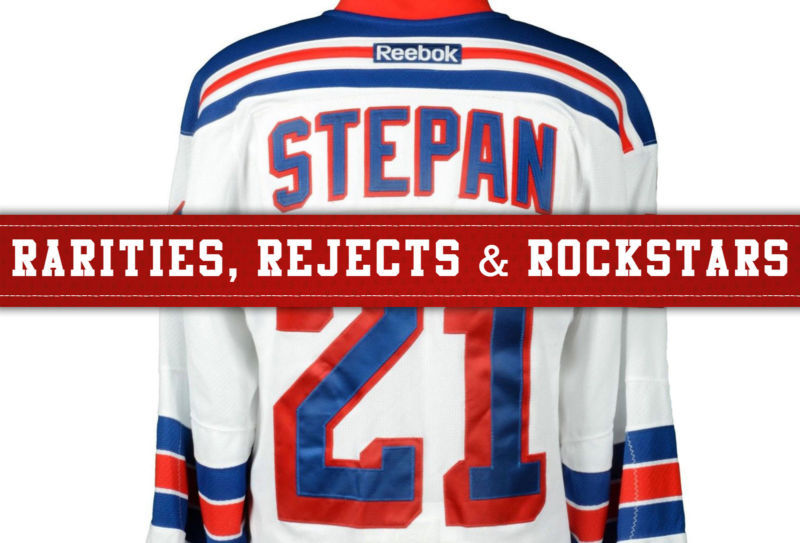 How do you change the game? When you set new records playing sports, you raise the bar, and fundamentally change the game's limits. Sportsmen who did exactly that, in and off the court, all rocked these jerseys, all of which you can buy yourself on eBay. Get the man cave trophy case ready.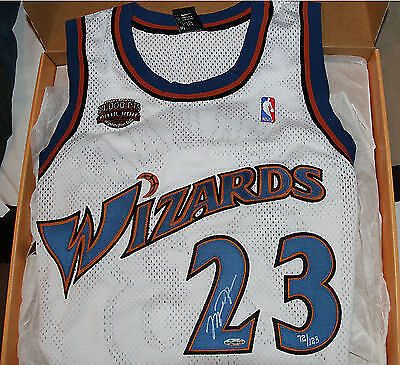 1. Michael Jordan's triumphant return. £5,023.23
Commemorate Michael Jordan's inglorious return to basketball, after failing at baseball, with this signed Wizard's jersey (one of the uniforms he wore during the second stretch in his basketball career) and forever remember why you should just ghost when you're on top of the game. Jordan also holds the record for most slam-dunks made with an out-of-mouth tongue, among others.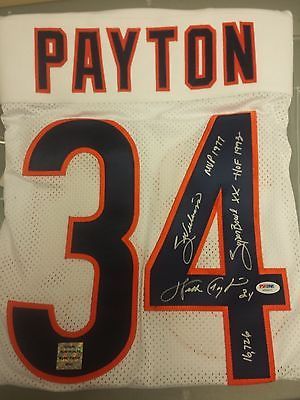 2. The NFL player who wore this jersey made eight touchdown passes…but not as a quarterback. £1,399.00
Walter Jerry Payton set the league record for most career rushing yards, touchdowns, carries, yards from scrimmage and all-purpose yards. While most of those records have been broken, he's still made the 2nd most touchdown passes of any non-quarterback (8) in the NFL.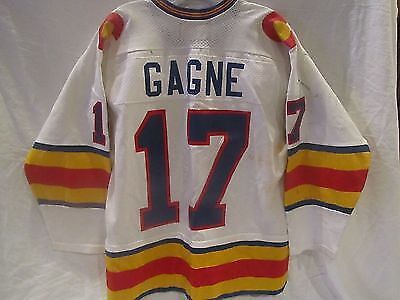 3. A jersey from the shortest-lived NHL team. £2,499.99
The Colorado Rockies' franchise lasted just six seasons - one of the shortest lifespans of any team in the NHL. After that, the team moved to Jersey and became the Devils. That's why this Paul Gagné rookie jersey was in a museum, and could now be on your wall (or ceiling, no judgment).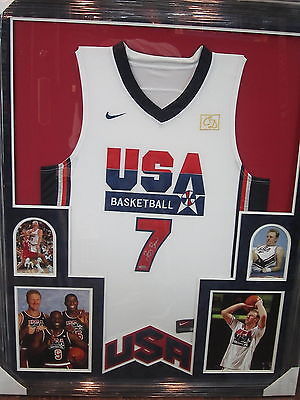 4. The Robinhood of basketball knew how to steal for the greater good. £1,250.00
Larry Bird (AKA Robinhoops) was a 12-time NBA All Star, and still holds the record for most steals in the first quarter, and half of the game. And he wore this stuff.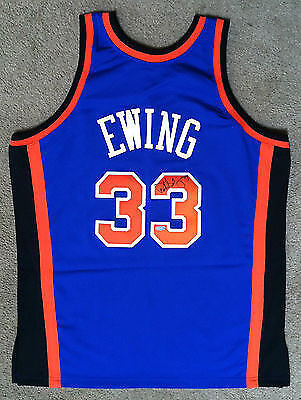 5. This decorated NBA player changed the game in Hollywood, too. £1,250.00
Sure, Patrick Ewing was on the famous "Dream Team," and was inducted into the Olympic Hall of Fame in 2009. But more crucially: Ewing has been in more sitcoms as himself than any other NBA player; he appeared on Spin City, Herman's Head,Mad About You, and Webster. Oh, and he was also in Space Jam. When he wasn't managing the consequences of aliens stealing his athletic prowess, he presumably wore this jersey.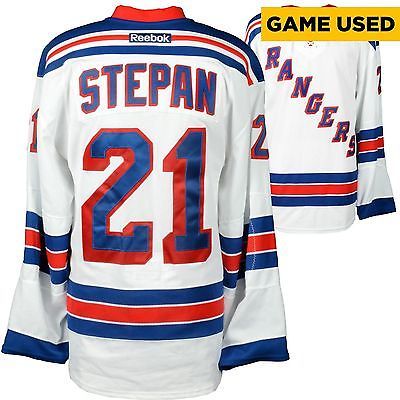 6. The NHL player who took like-father-like-son to the next level. £1,249.95
This jersey is cool because Derek Stepan of the New York Rangers wore it. How did Stepan change the game? Derek is the son of Brad Stepan, also a Rangers early draft pick. Derek currently holds the record for most times an NHL player has been drafted by the same team as their Pops (which has only happened once).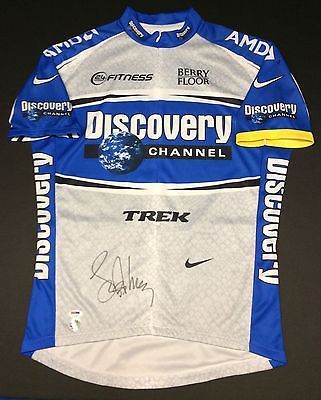 7. The cyclist who changed the game (by putting cycling on the map). £1,199.99
We all know how Lance Armstrong changed the game. He won both the Tour de France and the Tour de Georgia in 2004, when the Discovery Channel took on the US Postal Service sponsorship. Lance Armstrong also dated Sheryl Crow, so there's that.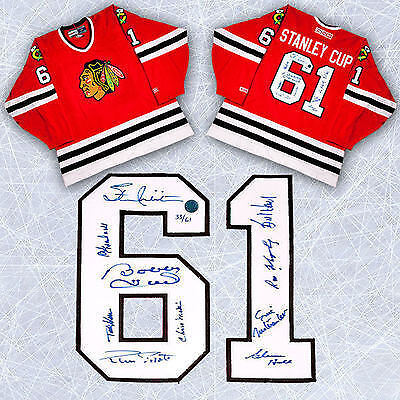 8. The jersey worn before the Stanley Cup drought. £1,099.00
If you like the Chicago Black Hawks, you should own this. It's a signed Stanley Cup jersey from 1961. The Hawks are one of the "Original Six" NHL teams, and have won six Stanley Cups, which ties them in fourth place for most Cup wins. But that's not what makes this jersey historic -- after these jabronis signed this jersey they probably had no idea their franchise wouldn't win another Stanley Cup for another half a century. If they hadn't won in 2010, they'd have gone 50 years without, just about the longest any NHL team has ever gone between Stanley Cups.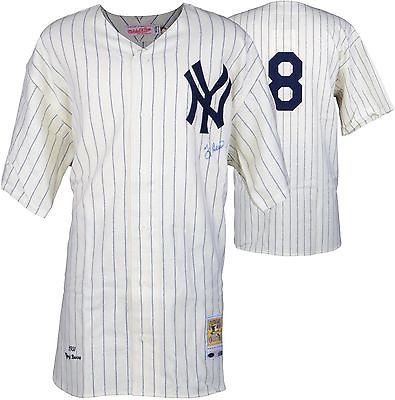 9. The jersey that proves it ain't over till it's over. £999.95
Yogi Berra set MLB records for the most games (75), at-bats (259), hits (71), doubles (10), singles (49), games caught (63), and catcher putouts (457). He also coined the phrase "it ain't over 'till it's over" (true). An apt quote from a man whose used clothes now cost a grand.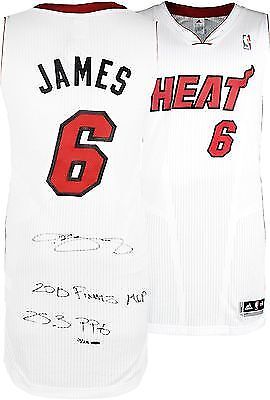 10. The jersey worn by the back-to-back beast. £2,899.95
Le Bron James has set records for the most career assists by a forward and for being the youngest player in league history to score at least 40 points in a game, among others. Cover your back with this jersey from the MVP finals, from when he played for the Miami Heat.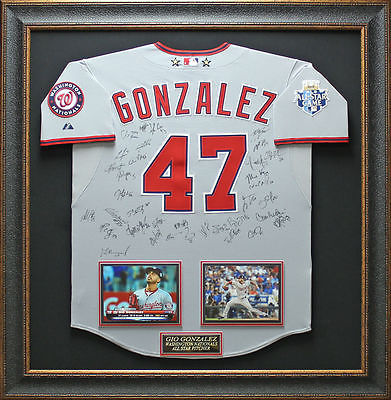 11. The jersey that threw the game for a loop. £11,249.95
Gio Gonzalez's curveball is famous: it has an outstanding groundball/fly ball ratio, almost 7 to 1; hitters just can't get a good piece of it. Here's his 2012 All Star jersey.