Keeping the purse strings tight this Christmas? Creativity gone into early hibernation? Not sure what whether to buy Christmas decorations? Fear not – check out these clever ideas that'll have your home bursting with yuletide magic in no time.
Speed ratings explained
1 – These decorations can be completed even faster than over-excited kids ripping open their presents.
2 – A little longer, but you'll still be finished in less time than it takes the Queen to deliver her Christmas message.
3 – A bit more work is required so enlist the help of eager little helpers.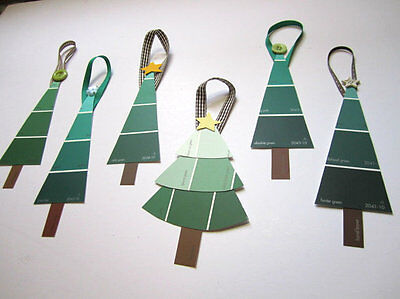 11. Tone-tastic tags
Next time you wander down the paint aisle of your local DIY store, pick up a clutch of paint colour cards. With some creative snipping and trimming, these make perfect gift tags. Choose colours to complement your gift wrap. If anyone gives you a funny look as you pocket dozens of the same cards, just explain you have a big house with many rooms and you love the colours green, gold and red.

Christmas quickness rating: 1. A couple of snips and you're done.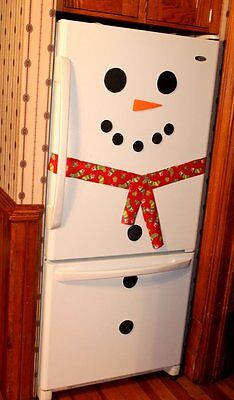 Add a caption
Don't leave out Frosty the Fridge! Image: handsonaswegrow.com
10. Frosty fridge
There's a ready-made, snow-white surface that often gets overlooked – your fridge. So stick some magnets to the back of cut-out coal and carrot shapes and turn it into a giant boxy snowperson. Use a little wrapping paper as a scarf, but try not to let anyone ram a real pipe into the part of the door where the snow-mouth will be.
Christmas quickness rating: 1.
You could use old fridge magnets as the base and stick your shapes over them if you don't have any
small magnets
.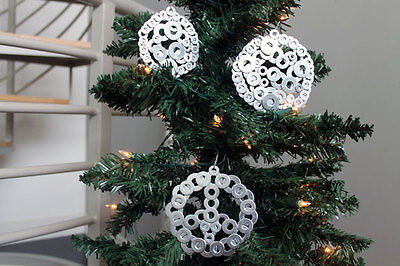 9. Spare washer decorations
Whenever you buy flat-pack metal furniture, you're guaranteed to find yourself with half a dozen leftover washers. You drop them into a drawer just in case they come in handy and forget about them. Well, go into that drawer and retrieve them – with some clever supergluing they'll look great hung on your Christmas tree with your
Christmas lights
.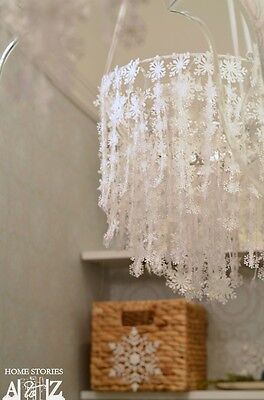 8. Snowflake chandelier
Grab a plain white hanging plant basket and then hang strips of white ribbon from it – longest in the centre, shorter lengths on the outside to create a chandelier effect. Cut snowflake shapes from white card (you can spray these silver and gold for a striking look) and fix a number to each length, remembering to stagger them so you create a fuller looking chandelier.

Christmas quickness rating: 3. The longer you spend on this, the more impressive it will look.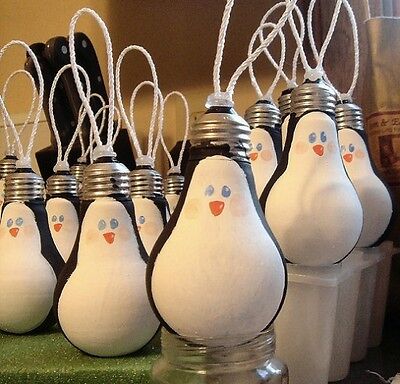 Add a caption
Love these! Use old bulbs and upcycle. Image: www.upcyclethat.com
7. Light bulb baubles
Ever notice that old light bulbs are roughly the same shape as a penguin? Black and white paint completes the effect, but first wash the bulb in warm soapy water. Then apply a couple of coats of each colour, leaving plenty of time to dry in-between. Finally, add a cheeky penguin face and glue a loop of string to the cap of the bulb. And there you have an up-cycled penguin
Christmas bauble
!
Christmas quickness rating: 2.
Depends on your approach – you could coat the bulb in glue and dip it quickly in glitter or painstakingly paint each one.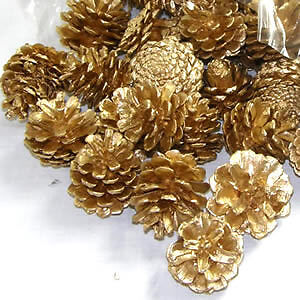 Add a caption
Gorgeous in any colour. Image: www.christmas-wreath.co.uk
6. Painted pinecones
Take an old wire coat hanger and hook on a pinecone and then carefully lower it into a pot of paint of your choice of colour. Let the excess paint drip back into the pot then hang the pinecone over newspaper to dry. Try a range of colours and arrange your pinecones in bowls around the house. You can use spray paint but this is quite expensive and can most definitely be messy so maybe do it outside.

Christmas quickness rating: 1. A quick dip for each pine cone and you're done.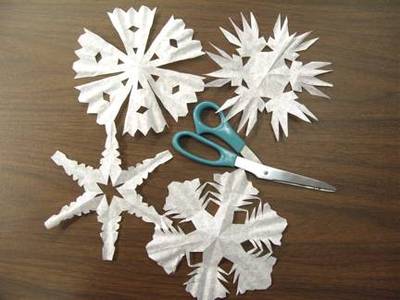 5. Coffee filter snowflakes
From your stack of
coffee filter papers
, take one and fold it in half, then into thirds, then in half once more. From each edge, cut out segments so that when you unfold the paper, you're left with an intricate snowflake – perfect for hanging from DIY chandeliers (see Number 8).
Christmas quickness rating: 2
. If you can remember doing something similar in your school days, you've already got a head start.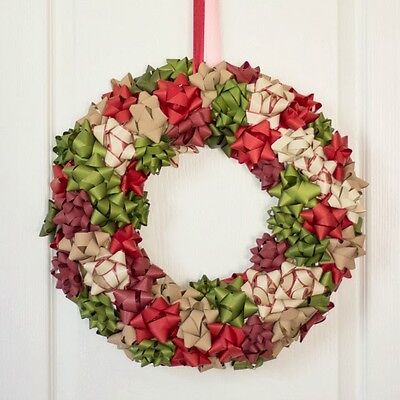 Add a caption
Simple and effective. Image: www.designimprovised.com
4. Bow wreath
Much like your surprisingly large washer collection, gift wrap bows seem to multiply of their own accord, so use them up by turning them into a festive wreath. Pick up a wreath ring – they're easy to find – and simply stick the bows onto it for a multi-coloured door adornment.

Christmas quickness rating: 1. As long as you have lots of bows, this takes seconds.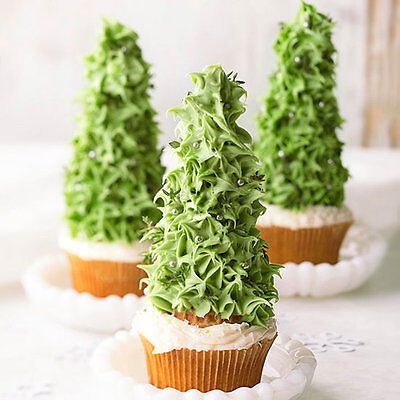 Add a caption
Super-effective mini-trees. Edible too! Image: www.bhg.com
3. Cupcake Christmas trees
A clever trick to turn your scrummy cupcakes into flavoursome firs is to use an ice cream cone as a base for the topping. Use white butter icing as a snowy 'glue' for the cone, then pipe green frosting onto the cone to create foliage. Stick on a few silver balls if you feel like going crazy!

Christmas quickness rating: 3. It's a little fiddly but the end result will look and taste great.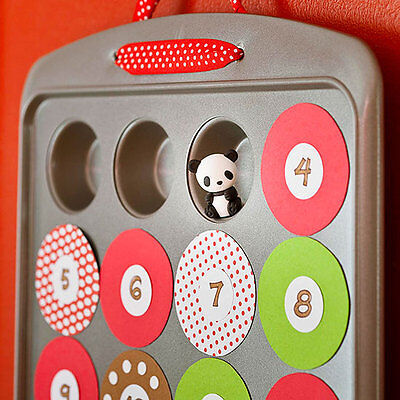 2. Muffin tin advent calendar
Take a clean cupcake or muffin tray, then place numbered, coloured magnetic sheet covers over each compartment. After hanging the tray above the fireplace using coloured ribbon, simply add a treat for each day and you have a reusable advent calendar.

Christmas quickness rating: 2. Simply fashion the magnetic doors in any way you choose.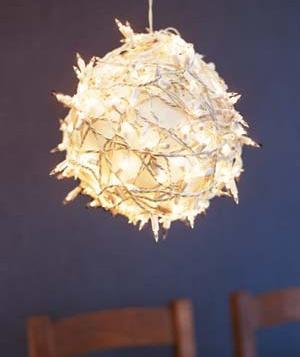 1. Fairy light star
Looking for an eye-catching way to top off your Christmas tree? Simply wrap some battery-powered
fairy lights
around a white or clear ball, and then suspend it from fishing cord above your tree. It'll even rotate slowly, like a festive disco ball.
Christmas quickness rating: 2.
Positioning your star is the most time-consuming part here.