As the weather is increasingly getting cold we all could with a little bit more help when it comings to warming our vehicle up or defrosting the windscreen for a safe and clear view through the windscreen and side windows.
This great little item can be mounted permenently on a surface or has a fold away handle so it can be used more easily. It comes complete with a car lighter plug which plugs straight into the car lighter socket.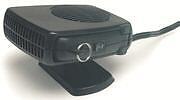 Power consumption aprox. 12 amps.
If you would like any more information on this product please feel free to contact us.
Regards
P. Hume
Director