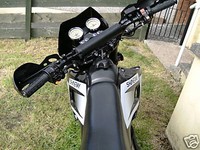 I have been thinking about going for a chinese bike for quite some time now; but you hear a lot of negative press about these machines (mainly off people who have never owned one or Jap bike dealers).
My Shineray gy125xy is due for it's first 500 miles service tommorrow...only thing is it has only done just over 500km (318 miles approx). I did not realize the odometer is km not miles until the other day. Mind you I thought it seemed to be going up a bit fast. Now I know why!
In the past I have owned Jap bikes...Yamaha RXS 100, Susuki TS50X, Honda CB125 (mini superdream) and a few others. I have also ridden on private land large cc bikes such as Kawasaki GPZ 550, Honda CX 500, Yamaha FJ1200 and quite a few others. I mention these things not in order to boast but to give you a rough idea of the bikes I have been on so you understand I am not just a spotty 17 year old that has fallen in love with the first thing on 2 wheels to arrive since my Chopper.
At present it is love, that dreaded four letter word...that has sent many a tough guy scurrying. Normally with regards to "the fairer sex" there is probably good reason for this!
The bike has been mine for about 1 month now and I bought it off a fellow ebayer who lovingly with his son (Pete and Edmund) put the bike together. I should mention at this point it took them the whole of a Thursday and not 2 hours as many sellers on ebay would have you believe...they told me they were both "knackered". So you have been warned.
The assembly Pete and Edmund done on the bike is first class. They put spring washers all over the bike when assembling it, as they told me there were none present (maybe this is the reason for the scare stories about these bikes vibing apart, they also put thread lock in many places (if my memory serves me correct, it is amazing how much I forget in a day, never mind a month) At 300 miles the chain needed to be tightened quite badly as there was too much free play in it, not excessive but definitely too much. This was causing me to lose power (and on such a small engine you really don't want to be losing anything). I was in part expecting the rear wheel nuts to turn with my bare hands after all the bad press had undoubtedly sunk deep into my subconcious. Yes, they turned with my bare hands (not). I was forced to use my booted foot to apply my just over 16 st of body weight onto the end of the spanner (repeatedly). As I said the lads building the bike done a cracking job...but the last 300 miles of vibes (only in a certain rev band) had not budged that nut at all. I adjusted the chain on the sidestand in my garden which is not even particularly level and everything went smoothly. I noticed the increase in power on the very next ride; amazing what a little turn of a spanner can do fo your 2 wheel friend.
I feel myself rambling now, I do apologise...I can talk to much on times and not enough at other times. The point I am trying to make dear reader is I have only done 318 miles on the bike up until today and I plan on having a good ride maybe to Brecon or Cwmbran or Herefordshire a bit later today as the sun is shining and I am well in credit on the bikes first 500 miles service which as I said is due tommorrow (it is going to Kevin Thomas Motorcycles in Aberdare, who has a very good reputation with selling and servicing Chinese motorcycles. I shall let you know about that at a later date. One other point I changed the factory oil at 200km not miles as I thought, I put in Asda 10w/40 with additives which exceeds the standard for motor oils specs (so the bottle says). The sump is 1.1 litre not 1 litre as some people may think, It has an oil filter screen which I could not find but thought I would leave it until it's first service for the guys who do this thing all the time to sort out.
I will come back to this guide shortly and update you all. I got quite a lot more to say about the bike, but if any of you are old enough to remember the motorcycle advert that proudly said "Free with every motorbike -YOU!". At 114mpg which is what I am getting in these days of 89p +++++ a LITRE, I do in a wonderful sort of way feel "FREE".
Wishing all of you out there happy biking, cycling, walking or whatever mode of transport you use.
RIDE SAFE, RESPECT YOUR LIFE...You quite possibly wont get another one.