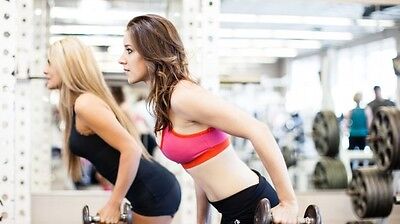 1.Taking a sneaky peak at someone elses treadmill, and immediately changing the level on your so that you're running faster.
2.Skipping washing your hair… dry shampoo is totally a good substitute.
3.Using the mirrors to check out that cute guy on the other side of the gym.
4.Freaking out when someone hops on the rowing machine next to yours, even though there are 5 more that are empty.
5.Leaving the gym the moment your phone dies. No music? No workout.
6.Attempting to power through even though you'd forgotten your headphones.
7.Feeling totally motivated when you get to put the weight up on a machine because it means you can lift heavier than the last person who used it.
8.Stressing when someone picks up a piece of equipment you planned to use, even if you aren't going to use it for another half an hour.
9.Catching yourself staring at other girls because of their awesome trainers or leggings.
10.Pinching toiletries from the changing rooms… they're included in your membership fee, right?
11.Sneakily sniffing your armpits during every exercise that you raise your arms in.
12.Not knowing whether someone will think you're being helpful or rude if you correct their form.
13.Eating peanut butter at every given opportunity. You need those healthy fats.