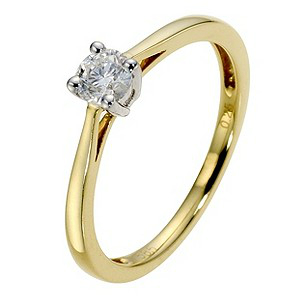 When searching for gold rings, there are certainly numerous options available. Many people choose gold rings because of their beauty and the different colour variations. Colour possibilities for gold include traditional yellow gold and less traditional rose gold and white gold. When it comes to gold rings, a lot of different features go into the design of the ring, including the type of finish and the setting style.
Before purchasing a gold ring, a buyer should consider the characteristics of the most popular gold choice, 14 carat gold. Fourteen carat gold is a good choice for a ring because it contains enough other metal alloys to be durable, but it still has enough pure gold to be beautiful. A buyer should keep several important details in mind when searching for a gold ring, and this includes thinking about whether or not the ring can be resized if it does not fit and the type of gemstones a gold ring should have, if any. It is also important to learn the basics for taking care of a gold ring by cleaning it regularly.
What Is 14 Carat Gold?
A buyer should learn about the different kinds of gold, including 14 carat gold, before attempting to shop for a gold ring. If gold is 14 carat, that means that it is 14 parts gold for every 10 parts of alloy metals. This equates to 58.5 per cent pure gold. The colour of 14 carat gold is not as bright as 18 carat and other higher value types of gold, but it is still quite beautiful.
Many buyers like 14 carat gold for rings and other pieces of jewellery because it is durable. Pure gold is very soft and easily damaged, so the metal alloys in 14 carat gold provide the additional durability that is essential for a gold ring. For a ring that is worn every day, it is important that it contain gold that can withstand significant bumps and bangs.
Types of 14 Carat Gold
A number of different types of 14 carat gold are used to make rings, including rose gold, white gold, and yellow gold. The buyer's choice generally depends on what colour of gold he or she prefers. Yellow and rose gold tend to hold up better than white gold, however, because of the way they are made.
Yellow Gold
This is what the average person thinks of when he or she hears the word 'gold'. Yellow gold is made by mixing pure gold with copper and zinc or other metals. Higher carat gold has a richer colour. Yellow gold is the common choice for gold rings, and it is an excellent option.
Rose Gold
Rose gold has a reddish tint to it because it is mixed with other reddish metals. In fact, this kind of gold is often combined with copper to produce the rose colour. Higher carat rose gold has a more subtle rose tint because of the higher content of pure gold. The colour of rose gold does not fade with age, so it is very long lasting.
White Gold
White gold looks very similar to silver or titanium. It is made by mixing gold with other metals like silver. Nickel used to be common in white gold, but it is rarely used now because many people have allergic skin reactions to nickel. White gold is often coated with another metal to make it look whiter. In order to maintain white gold in the best possible condition, it is a good idea to have white gold re-plated every six to 18 months.
Considerations for Finding a Gold Ring
Gold rings can always be found in local jewellery stores and on online retail sites like eBay, but there are other considerations for finding the right gold ring that go beyond where to shop. It is important to consider the reason for purchasing the ring, the preferred gemstones for the ring (if any), and the correct size for the ring. Buyers may have other personal taste factors that should be taken into consideration, as well.
Occasion
When looking for a gold ring, a buyer should consider the purpose of the ring. Gold rings with stones make stunning engagement rings, but there are also many other purposes for gold rings. For example, a gold ring can be an excellent birthday or graduation gift for a friend or loved one. A gold ring could also be given to celebrate a big personal achievement in life. There are no limitations on reasons to give someone a gold ring, but the reason for giving the ring is an important factor when it comes to choosing the style and look of the ring.
Size
A buyer should always take into account the size of the ring before making a purchase. Some gold rings can be resized, but it may depend on the style of the setting. For example, it is very hard to resize a ring that has stones all along the band in a pave setting. A buyer should not assume that every ring can be re-sized.
Gemstones
When searching for a gold ring, a buyer might also want to consider gemstones. Gold rings go well with a number of different gems, including emeralds, rubies, diamonds, and even pearls. Thus, a buyer can get quite creative with the type of stone he or she wants in a gold ring. Alternatively, gold rings with intricate designs are beautiful in their own right without the addition of a gemstone.
Design
The design of a gold ring depends on a number of different factors, including the setting of the ring and the finish of the ring. Designs can be elaborate or simple, and either choice can be beautiful in classic gold. Choosing a design is generally a matter of personal taste, although budget limitations may sometimes play a role, as well.
Settings for Gold Rings
A number of settings are commonly used for gold rings with gemstones. A few of the most popular settings include pave, solitaire, and multi-stone settings.
| Setting | Description |
| --- | --- |
| | Numerous little stones set in the band |
| | One large stone set on a plain band |
| | Usually includes one large stone and multiple smaller stones |
These settings represent just a few of the various settings that are available for gold gemstone rings. The final choice ultimately depends on the preferences and spending budget of the buyer.
Finishes for Gold Rings
The buyer also has to choose the finish for a ring. Some of the most common finishes include brushed, satin, hammered, and polished.
Finish

Description

Smooth to the touch, but not shiny

Looks somewhat like a foggy mirror

Similar to satin finish, but with a texture

Feels like it was made with a wire brush

Most common finish for rings

Scratches can be seen rather easily

Popular for men's rings

Dimpled and looks like a hammer was used to add texture
These are just a few examples of the different finishes that a buyer can choose. The finish does not usually affect the cost of the ring, so the choice is mostly a matter of personal taste.
Caring for a Gold Ring
A buyer should also learn how to properly care for whatever gold ring he or she purchases. Some gold rings can be cleaned in boiling water as a way to clean off some of the grime. However, if a ring has pearls or coloured gemstones in the setting, it cannot be boiled. A solution of warm water and dish soap can be used to soak the ring, and then it can be cleaned off with a soft toothbrush. Gold rings can be buffed with a jewellery polishing clothing when needed. They should also be stored properly to avoid tarnish or other damage.
Finding 14 ct. Gold Rings on eBay
It is easy to find many 14 carat gold rings on eBay. If you are looking for a gold ring, you should take advantage of different search features on eBay, including the keyword search. You can type different keywords, such as "14 carat gold ring" into the search box and then browse through the product listings. If there are a lot of listings, you can try to narrow it down by selecting some of the different categories or filters. This is just one of the features eBay offers, and you can experiment to learn how to use the whole array of tools.
You should also be aware of the feedback feature. This lets you see what other buyers have said about a seller. When checking the feedback, you should look at both the amount of feedback left as well as the quality of the ratings. After you have made a purchase, you can also leave feedback about your own buying experience. This helps future buyers make wise buying choices, as well.
Conclusion
Gold rings are an excellent purchase for oneself or to give as a gift. Fourteen carat gold is a good choice for a ring because it is durable due to the composition of metal alloys and pure gold. This type of gold is made up of 58.5 per cent pure gold, and the rest is a mix of other metals that make it stronger. A buyer can choose from rose gold, yellow gold, or white gold for a ring.
Some of the things to consider when purchasing a ring are the occasion and whether or not gemstones are included in the ring. The buyer should also think about whether the ring can be resized since this depends on the style of the ring. Deciding on the best design for a ring requires some careful consideration of the setting and finish of the ring, as well as the overall look. Taking proper care of this valuable investment by cleaning the ring on a regular basis and storing it properly ensures that a buyer is satisfied with the ring purchase for many years to come.