Full title: 1914-15 Star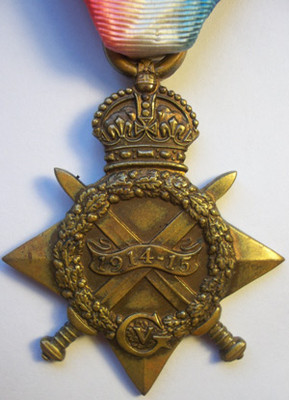 Also known as: 15 Star, Pip, Star etc.
Construction: Tombac (bronze & zinc), 44 millimetres in diameter 62 millimetres in height.
Ribbon: 32 mm red, white and blue pattern. The pattern is obviously inspired by the colours of the British Union Flag. The ribbon is suspended (joined to medal) by an integral ring.
Clasps: None issued.
Naming: Impressed block capitals, 4 known official styles (excluding Dominion issues). British Army naming is in the following format; Regimental Number. Rank. Initial or initials. Surname. Regiment or Corps. Royal Navy naming takes the following format; Number. Initial or initials. Surname. Rank. R.N.
Issued: The original issue fell between 1920 and 1926, 1927 onward should be considered late issue.
Awarded to: All ranks of men and women serving in (or under contract with) the British & Imperial (ie: Indian, Canadian, Australian, New Zealand etc) Forces, including those employed in hospitals etc, who served in a theatre (on land or at sea) of war (ie: France, Gallipoli etc) between 05.08.1914 and 31.12.1915, that did not qualify for the 1914 Star.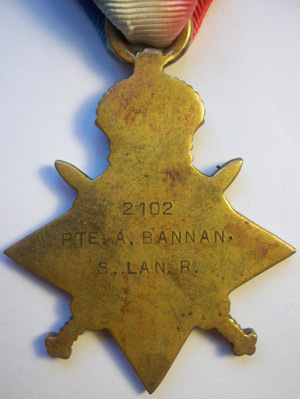 The award was not issued to those visiting for inspection etc or for service which is recognised by another medal for example the African General Service Medal. Just over 2.3 million 1914-15 Stars were issued. Those awarded the 1914-15 Star, were automatically awarded the British War Medal and Victory Medal. Please note, this is the briefest of explanations, for further information readers are advised to consult - Williamson, H. 2011. The Great War Medal Collectors Companion. Collectors Guide Publishing.
Obverse: A 4 pointed star, with top point obscured/mounted by crown, integral suspension ring at top of crown. Crossed swords overlay the star, giving the effect of an 8 pointed star. At the centre of the star (where the swords cross) a scroll reads "1914-15". The centre is surrounded by a laurel wreath circle, at the bottom of which is the royal cypher (G with V within). The whole is in relief.
Reverse: Flat and without detail, this area is used for naming.
Comments: Look out for 1914-15 Stars issued to 1914 army casualties, these being scarce. As with the Victory Medal, the 1914-15 Star is not influenced by the price of silver, although it is somewhat "scarcer".