Churchill Commemorative Crown
In 1965, the Royal Mint issued a British crown (five shilling coin) to commemorate Sir Winston Spencer Churchill. We provide a brief description and photographs.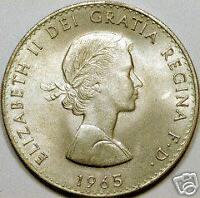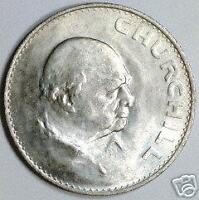 Obverse & Reverse of 1965 Churchill Crown
Churchill 1874 - 1965
Following the death of the great man, Sir Winston Leonard Spencer Churchill, in 1965, a commemorative crown was issued in his honour and memory.
Renowned throughout the world as a great statesman, and described as "the greatest living Englishman", Churchill was a man of many talents.
Born at Blenheim Palace at Woodstock in Oxfordshire, he was the eldest son of Lord Randolph Churchill. Educated at Harrow and Sandhurst Military Academy.
Military service included Malakand and the Nile. During the Boer war, as a war journalist, he was captured but escaped.
He served as a Member of Parliament for all three major political parties, entering Parliament in 1900, and held various important positions including Colonial Under-Secretary, President of the Board of Trade, Home Secretary, Minister of Munitions, Secretary of State for War and Air, Chancellor of the Exchequer, Prime Minister at least twice, and still remained as a back bencher after 1955.
He was a talented painter, a union card carrying bricklayer, editor of the British Gazette, and author of a number of important books, including "History of the English Speaking Peoples" in 4 volumes.
He had a supreme command of the English language, both as an orator and a writer, and is credited with many witty remarks and quotations.
His perceptive vision of world politics was one of his outstanding qualities, which combined with his leadership, helped to ensure that Britain survived the Second World War.
There are many stories about his intensely rich, human and vivid personality. His abiding qualities included courage, imagination, passion, magnanimity and foresight. His love of good cigars, vintage wines and fine brandy have become legendary.
With the issue of the 1965 Commemorative crown, he became the first commoner to be portrayed on a British coin.
Obverse:
The first (young) portrait of the Queen facing right, designed by Mary Gillick.
ELIZABETH II DEI GRATIA REGINA F D
1965
Reverse:
A sombre-looking portrait of Sir Winston Churchill, in a siren suit.
We are sure that Churchill himself would have been the first to admit that he was not pretty, his portrait on this crown is not exactly flattering. It is in quite low relief, and we believe it to be one of the least attractive British coins ever issued.
Quite what Churchill would have made of our comments, we will never know, but this was a very popular coin issue at the time, and over 9 million were issued!
Reverse inscription: CHURCHILL
Comments
We have seen Chuchill crowns described on eBay as rare, fabulous, magnificent, and a few other hyperbolic epithets. While this are all adjectives which could very fairly be applied to Churchill himself, we do not feel that any of them accurately describe the coin itself, but then we suppose the small-time dealers and individuals selling these on eBay perhaps feel they ought to use some sales talk in their description. We think it is both sad and amusing at the same time that people feel the need to exaggerate the merits of anything they are trying to sell. These people probably tell you their coin is mint condition as well (does that mean it has a hole in it?).
Images
All our images are copyright. Please do not copy them or use them to sell you own Churchill crowns on eBay or elsewhere. If you see any eBay vendors using our images, you will know they are breaching our Intellectual Property Rights, and if they are dishonest enough to do so, are they somebody you would want to be dealing with?
If you have a Churchill crown to sell, and you wish to show your buyers what one looks like, you could always include a link ( http://reviews.ebay.co.uk/1965-Churchill-Crown-British-Five-Shillings-UK-Coin-5_W0QQugidZ10000000001824514 )in your item listing to this guide, or copy and past the URL of this guide into your listing. You might also think about clicking the "Yes" button below.
Was This Guide Useful?
If you found this guide interesting, informative or useful, please spare few seconds of your time to vote for it by clicking on the "Yes" button below, thanks.

Other Guides
You may be interested in viewing our other guides:-

Mints & Mintmarks on Gold Sovereigns - All Seven Mints

How to Photograph Coins - Advice, hints, tips & more...
1780 Maria Theresa Silver Thaler Restrike Trade Coin

Krugerrand - One Ounce Investment Gold Coin

Buffalo - 9999 Fine Gold US Bullion Coin - 24 Karat Au

Pink Diamonds - One of Nature's Rarest Gemstones
Sniping - Is It Good Strategy or Tactics for Winning eBay Auctions?
£2 Two Pound Coins Queen with Necklace Rumour & Facts

Winning Auctions - Or Spending Money?
CGT Capital Gains Tax Exemption on Gold Sovereigns Britannias UK Coins

Definition of Investment - VAT Exempt (Tax Free) in UK & EU

Second Chance Offers on eBay - Should You Use Them?
Spellings - Is Good Spelling Important - A Few Howlers

Famous People (Celebrities) Who Collected Coins

Heads Upside Down on Coins - Medal & Coin Alignment

Identifying Coins, A Brief Guide to Help Identify Coins

BNTA - The British Numismatic Trade Association

Gold Coins Which Are Not Gold - Including German & € Euros

Postage Packing Shipping Insurance Charges - Fair or Excessive?
The Difference Between Proof and Uncirculated Coins
London Gold Fixing Price
Gold Bullion Bars For Investment