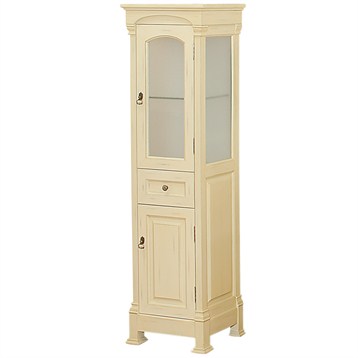 Antique collectors and enthusiasts alike have long held a keen interest in the extensive selection of fine furnishings created during the 20th century. With its many styles, designs and movements, the period offers a truly exciting variety and unique charm that modern pieces simply cannot replicate. But, before browsing the vast offerings of this dynamic period, buyers should consider a few important factors that are explained throughout the course of this guide. By learning about the history of the 20th century, what makes a good specimen and how best to care for antique furniture, buyers will be better equipped to select a piece that is guaranteed to stand the test of time and be around for many years to come.
A History of 20th Century Antique Cabinets
The 20th century was an exciting and vibrant time for design. The early 1900s brought a whole new generation of furniture designers and changed the course of household aesthetics forever. Craftsmen and manufacturers were embracing new techniques and designs thanks to the artistic movements occurring simultaneously, and it could be said that the infamous motto, 'out with the old, in with the new', certainly applied to this period. The most prominent style during Queen Victoria's reign was probably that of Gothic Revival, which favoured ornate furniture with grandiose features that reflected the opulence of this era. This gave way to Art Nouveau, which lasted until the early part of the 20th century, and shunned the complexity of Gothic style to make way for simpler, more organic designs. This then led to the Art Deco movement, which like Art Nouveau favoured simple designs, but went one step further to add geometric lines and symmetry to its pieces.
Discover 20th Century Antique Cabinets
The 20th century is renowned for being a period when the furniture manufacturing industry and the way in which household goods were produced radically changed. Steam-powered tools were now commonplace, which enabled the mass-production of furnishings such as cabinets. This is particularly evident in today's market, as examples of antiques from this era are more widely available than items from older periods. An antique cabinet can make a wonderful addition to any home and it is also a wise choice of investment; most antiques are guaranteed to retain or increase in value if they are well maintained. The term 'antique' is somewhat ambiguous, but it is generally considered to be an item which is 100 years old or more. This means that many 20th century antiques have only recently become, or are on the cusp of becoming antique, and therefore it is to be expected that they will still be in relatively good condition.
Materials of 20th Century Antique Cabinets
Antique cabinets are crafted from a variety of different styles of wood, some of which include:
| Part | Description |
| --- | --- |
| Oak | A lightwood that tends to darken with age. Regular waxing and polishing gives oak a rich patina. |
| Mahogany | Mahogany typically has a mottled grain and is a recognisable shade of dark reddish brown. Perhaps the most popular wood type for antique cabinets. |
| Rosewood | Often used for inlays, rosewood is deep brown in colour (not dissimilar to mahogany) with a unique curved grain. Very popular in the nineteenth century. |
| Elm | An attractive shade of light brown in colour with a very dark grain. |
| Walnut | A popular golden brown hardwood with a distinctive dark brown grain. Often used for veneers due to its cost. |
| Maple | Light in colour with an appealing mottled effect. Bird's-Eye Maple is popular, but was used more in the nineteenth century. |
Types of 20th Century Antique Cabinets
Below are a variety of 20th century antique cabinets that vary in functionality, but are all commonly found on the market:
| Type | Description | Advantages | Considerations |
| --- | --- | --- | --- |
| Traditional Cabinet | Traditional-style cabinets usually have glass-fronted or solid-wood doors, and are used to house ornaments and belongings. They are usually floor standing and upward of six foot in height. | Ample shelving for storage. | May be too large for some spaces. |
| Corner Cabinet | Ideal for smaller areas, they occupy the space in a corner of a room. | Useful in rooms where space is limited, or when a corner of a room is bare. | Narrower than other styles, and so may not have as much storage space. |
| Drinks Cabinet | A popular style of cabinet used to store alcoholic and non-alcoholic beverages and glasses. | A useful place to store drinks and glasses. | Use is somewhat limited. |
| Wall Cabinet | Designed to hang on a wall, both as a means of storage and decoration. | Useful when floor-space is occupied but walls are not. | Fixing the cabinet may damage the wall, so the wall must also be sturdy enough to support it. |
Factors to Consider When Buying a 20th Century Antique Cabinet
Purchasing any items of antique furniture can be an expensive pursuit, so it is worthwhile for buyers to consider certain factors before making a buying decision. The following aspects should be considered:
Rarity: Generally speaking, the more rare that an item is, the higher its value. There are several ways to ascertain an item's rarity. Firstly, it is important to find out its age and how many of the pieces were originally made. Also ask: Are similar examples readily available? Is the item's colour or design unusual in any way? These factors could all drive an antique's price up considerably.
Authenticity: Before buying an antique, check the item for markings that bear the signature or initials of the furniture maker. Also consider the materials and finish of the item. An antique that has been repaired or refinished is less desirable to collectors and so may not be worth as much as original examples.
Condition: Even with indications of deterioration, a good quality antique will still be of considerable value to collectors. Look for items where the condition is described as 'mint', 'excellent' or 'good'. Also assess the piece for flaws, such as, scratches, fading, chips, cracks or missing handles.
How to Care for 20th Century Antique Cabinets
Antique furnishings require a great deal of care and attention, no matter what period they come from. However, it may be that 20th century pieces are in better condition due to their age, and so upkeep may be simpler than maintaining a piece from the Georgian era, for example. Nonetheless, it is still recommended that owners ensure their antiques are tended to regularly to ensure they retain their appearance and quality, increasing the likelihood that the piece is preserved over time.
Adhere to the following recommendations to best care for antique furnishings:
Cleaning – For day-to-day cleaning, simply wipe over the cabinet with a lint-free cotton cloth. This will keep the item dust-free and will maintain its patina.
Upkeep – Once or twice per year, polish the cabinet using good quality beeswax and a soft cloth before rubbing off the next day. This will help to build up a rich patina and will ensure the piece's lustre is maintained.
Environment – Fluctuations in temperature and humidity can have an adverse effect on antique furniture. It is therefore recommended that owners consider investing in a dehumidifier in the long-term. This will ensure that the item's condition is preserved.
Artistic Inspiration Seen in 20th Century Antique Cabinets
The 20th century is known for its many artistic movements. Many of these movements influenced cabinet-makers. Design movements of this era include:
| Movement | Description |
| --- | --- |
| Victorian | Elaborate designs featuring intricate woodwork. The construction of furnishings was also complex. |
| Art Nouveau | Simpler than Victorian designs and more organic in appearance. |
| Art Deco | Sharp, geometric lines with a strong use of symmetry. |
| Arts and Crafts | Rustic looking handcrafted furniture, rejecting the ornate styles of the Victorian era. |
Useful Accessories for 20th Century Antique Cabinets
It is often recommended that certain items be purchased alongside antique cabinets to help with their upkeep and preservation. These include:
A lint-free cloth
Furniture polish
Antique furniture wax
Beeswax
Dehumidifier
Finding 20th Century Antique Cabinets on eBay
Once you determine the type of 20th century antique cabinet you want to purchase, visit the Antiques portal on eBay, click on Antique Furniture then Cabinets and start searching item listings. The Categories list on the left-hand side of the eBay page helps to narrow the search.
Searching for 20th Century Corner Cabinets on eBay
Search eBay listing titles for specific words when shopping for 20th century antique cabinets. For example, to find a 1920s Art Deco wall cabinet, type '1920s Art Deco Wall Cabinet' into the search box, and then click the Advanced button to customise the results. Also visit eBay's Search Tipspage for more advice on searching for 20th century antique cabinets with keywords. If you can't find the exact cabinet you want, try shopping eBay Stores.
Conclusion
The 20th century was an era of many changes, both socially and industrially, and antique furnishings from this period generally reflect this. Whilst these pieces may be considered relatively new in comparison to older styles, they make an interesting addition to a home and are guaranteed to bring a sense of warmth and character. With careful consideration of an item's appearance, materials, condition and style, it is easier for buyers to ascertain which 20th century antique cabinet is suitable for them.
Once you have collected this information, you can buy an antique corner cabinet safely and securely on eBay.