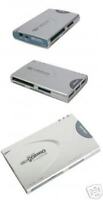 Hi there I ahve just purchased this bit of kit, and I have to say "I am impressed" It does everything it says on the packet.
It comes with a mini disc to load drivers for win 98 & ME but the combo reader, USB Hub is plug in and play on XP.
I have 3 types of camera card.
XD 156MB, Compact Flash, 250MB and SMC 64MB, and they all work in the reader.
I also have a CompactFlash Elite Pro 1024MB made by Kingston and this does not work in this Combo Reader.
I does say in the blurb that Compact Flash is suported up to 512MB.
This is a bit of a bummer for me as this is the card I use most, but saying that I can plug in the USB throught he camera and it works fine. Swings and roundabout spring to mind.
SM & SD cards are supported up to 1Gig or 1024MB
But all other cards 512
So all in all is a nice bit of kit, either to use from office to office, or as and inexpensive card reader and extra USB ports, it's small and compact and does not need and external power point to run, although it has the facitity to use a 5volt external source.
Only downer realy is the lack of support for many cards above 516MB