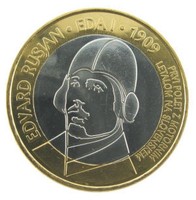 3 Euros commemorative coin - Slovenia / Slovenija 2009
A portrait of the famous aviator Edvard Rusjan represented with a leather helmet, issued to mark the centenary of the first flight of a motorized aircraft in Slovenia on 25 November 1909.
Edvard Rusjan pass 25/11/1909 aboard the EDA1 jumped 60m in a constant height of 2m. And it's 4 days later, he successfully complete a flight of 600 meters.
The reverse is the nominal value Euro 3, the year 2009 and SLOVENIA as a representation of the air with the propeller rotation.
- Production of the strike: in Finland.
- Diameter 32mm, weight 15g Bicolour and cupro-nickel.
- Piece Bimetal, printing of 300,000 copies.
We will be happy to answer your questions:)