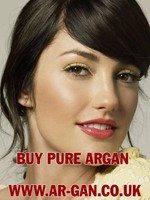 3 Major Benefits of Argan oil
Argan oil is the oil extracted from the kernels of the Argan tree. It is known to have health benefits and is used in a number of cosmetics which are used for skin, hair and nails. These trees are found in Morocco. It has been known for ages that oil from the Argan plant is medicinal and can treat a lot of skin and hair issues. This oil when used in its pure form is more effective than the refined form. Hence when the Moroccan women extract oil in the traditional way, it is sold in pure form for a higher price.
Argan Oil Benefits For Skin
is known to have medicinal properties which when used on skin, it will remove dark spots, blotches, damaged skin and dead skin. This oil needs to be
rubbed on the skin of face, hands, feet and legs. It removes dead and damaged skin from the surface and hence exposing the healthy skin of your body. It gives a special glow to your skin which cannot be brought on with artificial chemicals. It nourishes the skin layers and keeps them hydrated, hence reducing any dry skin issues. It repairs the damaged cells of the skin and helps get back the lot glow and vitality. Your skin speaks of good health and maintained texture.
Argan Oil Benefits For Hair
Hair health is determined with the health of your scalp and your hair strands. When one of two are damaged, your hair will not look good and not stay healthy. The scalp turns too dry with the excessive use of chemical shampoos and other hair styling products. This leads to a damaged and flaky scalp. can be used in treating your head scalp. Application of this oil on your scalp, even once a month would help ensure that the damaged areas on your scalp are cured. Itchy scalp is also treated with this oil and problems like dandruff will be reduced. When this oil is applied to the scalp, it reaches the roots of the hair and nourishes them to ensure good growth of hair and hence healthy hair. When this oil is applied to the hair strands, they get hydrated too and get a shine to them. They become smooth and silky and hair fall is prevented. Nourished hair roots means less hair fall and healthy and shining locks.
Argan Oil Benefits For Nails
Some people have dried and unhealthy nails. The color of the nails is diminished and they look pale and dried. When this happens they chip and break often and cannot be grown. For healthy nails you can soak your nails in Argan oil and see the difference. Your nails will get their lost glow and the skin around it will look supple and help in good growth of nails.
The Argan Oil Benefits will improve the health of your skin, hair and nails in a way that you would not have dreamed possible: