Most freestanding garment rails are finished in either black or chrome, or a combination of those two colours. This is fine if you're looking for a conventional or traditional clothes rail.
You may not be aware, however, that there is a new coating process that has enabled the production of garment rails in coloured finishes. The benefit of this is that you can make the clothes rail a colour coordinated accessory within a room design.
As an example, CaraselleDirect has recently introduced a 3ft pink garment rail.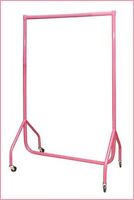 This new strong and robust rail is more sturdy and substantial than many other garment rails. The 3ft pink clothes rail also has large 3 inch diameter castors for heavy duty use.
It is delivered flat packed and is very easy to assemble.
With an all pink frame and top bar, the dimensions of the rail are:
Width 92cm ( 36¼" )
Height 155cm ( 61" )
Depth 50cm ( 20" )
In fact the pink coating is officially known as Shocking Pink, and the effect can be stunning. It is interesting to note that some people who buy pink clothes rails go the whole hog and replace their old coat hangers with a new set of pink hangers.
And what about Gok Wan? Did you see that Gok has recently announced his own range of pink clothes hangers? Guess what? They're in pink!
Pink is not the only coating colour available. Other colours of clothes rails that are available include metallic grey, chocolate brown and brilliant white.
If you're considering a new clothes rail, you might like to review the coloured rail route.
Or, if you're like me, you might want to stick to the tried and tested black and chrome clothes rails solution. After all, your garment rail may outlast your room colour scheme.