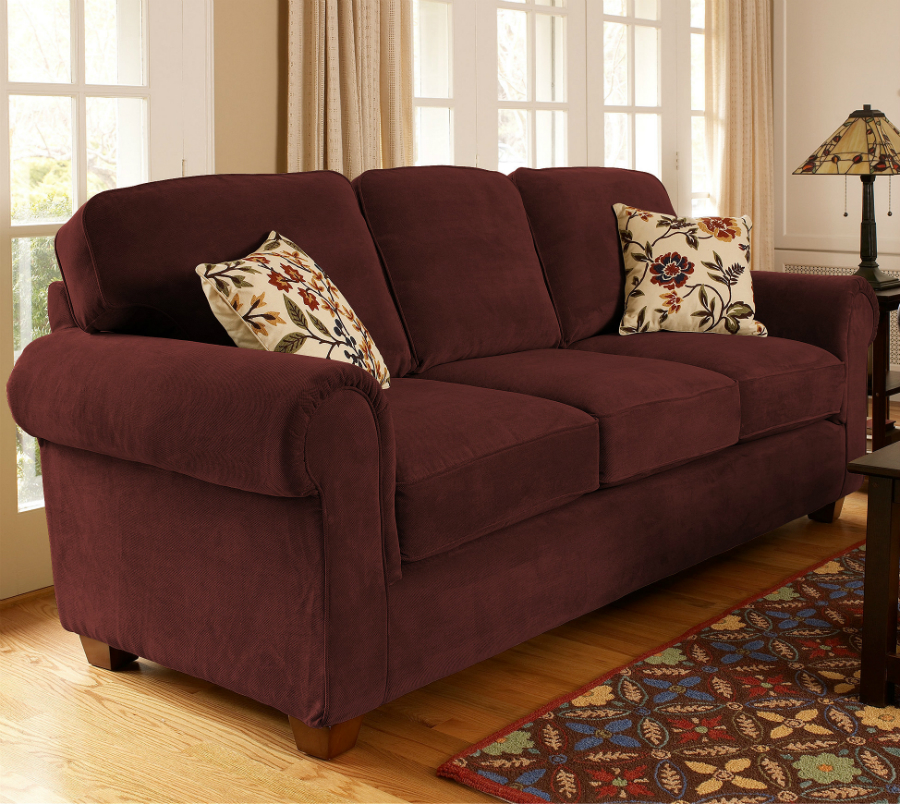 Love seats and sofas are both widely popular pieces of furniture, and can offer versatility as to where and how they can be used in a home. A wide range of different types of sofa and loveseat are available, offering a wide variety of different styles, patterns, materials and features. Available furniture can range from compact and cosy swivel loveseats to the largest sofas and corner units, which can seat larger numbers of people and make a good choice for a large living room.
Loveseats are generally smaller pieces of furniture that are designed to seat two people, while sofas can often seat many more. It is not uncommon for owners to use both a sofa and a loveseat to furnish their living room, while smaller loveseats can make a great addition to a bedroom. A wide variety of sofas, loveseats and other furnishings can be found on eBay.
Combine a Sofa with a Loveseat, or Use Them Separately
Loveseats and sofas can compliment each other well, particularly if the style, materials and colours of the pieces of furniture work well together. The choice to use both a loveseat and a sofa in a room or not can come down to personal taste, as well as the size of the room.
The Living Room
The living room can be a centre of the household, and a good deal of seating can be important here.
· For smaller living rooms, a single, moderately sized sofa, for example a three-seater sofa, or even a single loveseat.
· Larger living rooms may be able to accommodate more than one of these midsized sofas, and this can offer versatility in where they can be placed and how they can be arranged.
· Another option for larger living rooms is to have one large sofa, such as a corner unit, which are designed to fit well into a corner. Such sofas can also be useful for smaller living rooms, as they can leave more space when fit into a corner.
· Many people opt to combine sofas with loveseats. A popular lay out is to position a sofa with two small loveseats on either side, resulting in a 'u' shape out of the furniture.
The Television Room
If a television is in the room, it can create a natural focal point around which seating and other furniture can be arranged.
· In smaller rooms, a single sofa may be more suitable.
· Sofas can be combined with smaller loveseats in a variety of ways. One popular configuration is an 'L' shape, where a loveseat is placed offset from the corner of the sofa. This allows everyone to see the television, while also being seated comfortably together.
· Some rooms may be more suited to corner units, and can help to maximise space in a smaller room, or form a partition out of a very large one.
The Bedroom
Sofas and loveseats can provide seating, as well as decorative style and additional storage, to a bedroom.
· Smaller loveseats can be a good choice for bedrooms. They can fit easily into any extra space, and a wide range of styles and materials are available, meaning it is easy to find a loveseat that compliments the style of the bedroom.
· There are a variety of decorative additions that are popular for use with loveseats, such as cushions and throws, creating an inviting and comfortable seating arrangement.
Sofa beds featuring a range of designs and styles are also available. These can easily be folded out when needed, and folded back into the sofa when they are not. Sofa beds can be used to create a guest bedroom that can serve other purposes when not needed.
Use a Loveseat or Sofa with Other Furniture
It is possible to combine loveseats and sofas with other items of furniture, to get the most out of individual pieces of furniture or to create a complete, furnished space.
· Corner units and loveseats can be combined with items such as coffee tables and end tables which can offer both a practical place to leave cups and television remotes, as well as serve decorative purposes.
· Loveseats and sofas can be combined with other seating options, such as armchairs or futons, which are a specific type of sofa bed with Japanese origins.
· A wide range of ottomans and footstools are available, and can be matched with sofas and loveseats to create added comfort and style.
· More unusual choices can include beanbags, or larger beanbag sofas, which can help to create a relaxing, informal space.
Match the Materials of a Loveseat or Sofa with Other Furniture
There is a wide selection of materials on offer for those looking to purchase a loveseat and sofa. The materials offer an opportunity to use sofas and loveseats to create or add to an overall theme throughout a room.
| | |
| --- | --- |
| Wood | Wood is a popular choice of material for all kinds of furniture, and can lend a natural feel to some items, making it a popular material for more traditional styles. Wooden furniture can often be more expensive than other materials, such as some metals, but is a durable choice that can last for a great deal of time if properly treated. |
| Metal | Furniture made of metal is another popular choice, and has become ever more popular as different types of metal have become more widely and cheaply available. Metal furniture like the loveseat can often lend itself well to a more modern, contemporary style. Metal furniture can sometimes be a less expensive option, and can also last for a very long time. |
| Leather | Leather is a more expensive type of material, and can suit both traditional and modern styles. Leather is often considered appealing due to its appearance and texture, though real leather can also be difficult to clean properly. |
| Faux Leather | Faux Leather is a more affordable choice than leather, and offers a similar look and feel to real leather. In addition, faux leather is also much easier to properly clean than real leather, and is available in a wide variety of colours. |
| Fabric | Fabric is one of the most widely used materials for sofas and loveseats, as well as other soft furnishings. The soft material can feature a diverse range of patterns, colours and styles, and is often less expensive than other materials. |
Create or Add to a Style with a Loveseat or Sofa
Sofas and loveseats can also be used to compliment the style of a room, or whole home. Many different styles and patterns can be found on loveseats and sofas.
· A popular choice of style is that of more traditional furniture. Sofas and loveseats of this style often feature frills and other decorative elements, and are most commonly made from wood, fabric and similar materials.
Contemporary and modern sofas generally offer a more minimalist style, and are often made out of materials such as metal or leather. Such furniture will often favour simpler patterns or block colours,
· A variety of patterns are also available. Floral patterns, for example, are a popular choice for more traditional styles, while solid colours are common among contemporary types of furniture, but are also a popular option for all styles.
How to Buy a Loveseat or Sofa on eBay
A wide selection of sofas, loveseats and other items of furniture can be found on eBay. The full listing of available sofas and loveseats can be found in the Home & Garden portal, under Furniture. Sofas and loveseats are listed under Sofas, Armchairs & Suites. Items can be arranged by categories such as style, pattern, material and size. The Auction and Buy it Now buying options are also available, offering flexibility in how a sofa bed can be purchased.
The important specifications of an item are often prominently displayed in the item listing, making it easy to quickly establish if an item meets any specific requirements. Further information can be accessed on the item page, along with information about the seller, such as item reviews and feedback ratings, helping to ensure that a purchase can be made with confidence. If further information is needed, it is also possible here to ask the seller a question regarding the item.
If a particular sofa or loveseat is needed, it may be easier and more effective to make use of the search function available at the top of every page. Searches can be made to return results from across the site, or from within a specified category. Further information on using the search function is available on the Search Tips page.
Conclusion
Sofas and loveseats offer a variety of uses. They can help to create a comfortable space in a number of rooms, including the living room, or the bedroom. They can also be combined with other furniture, or used individually, and can also serve to help create or add to an established style, or theme, in a particular room. A wide range of different types of loveseat and sofa, suitable for a variety of different uses, can be found on eBay.