Hey, this report will show you four easy steps to determining if your Fred Perry Polo Shirt is a genuine one or a fake one.
Now, no bullshit, let's begin...
1. Look at the Laurel Embroidery
Genuine ones look very nice and standardized (if you have two polo shirts in different color and pattern, the Laurel figure should be the same )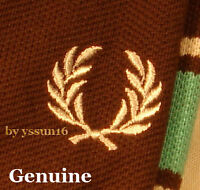 While fake ones look cheap and wonky, although some fake Laurel could be very similar to the genuine ones.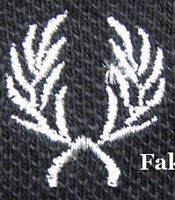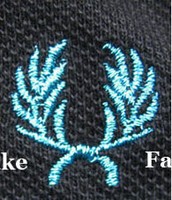 2. Look at the label on neck
Genuine label should be in blue (except some pre-90's FP polo used green label), again the lauren logo on the label should be a key factor to spotting fake.Below is an example of genuine FP label.
But it doesn't have to be exactly the same as it
, because there are some styles (eg: Fred Perry X COMME DES GARCONS)are carrying different label. The main point is, the label should look gorgeous and the Laurel on the label should look detailed.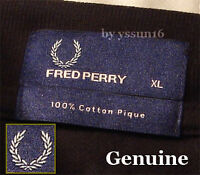 Here are some fake ones (many fake FP polos have green label)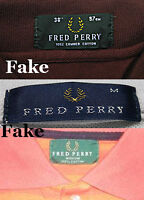 *There are genuine polo shirt with green label before 90's. So don't be suprised to see some used shirt with green label, just pay attention to the Laurel on the label.(suggest by ebay user geraghtyn)


3. Its buttons (genuine one should be in same colour as the shirt's main colour)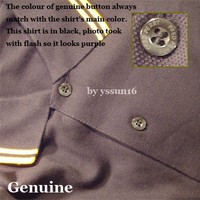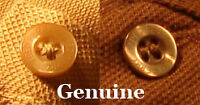 while some fake shirts put white button on colourful shirts: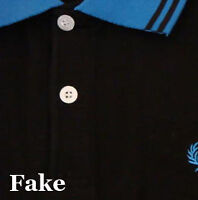 4. Finally, let's look at the washing label inside the shirt.
It tells you the information of this shirt, for example, here is a black polo with yellow collar trim.
It has a reference number: M1200/506/1950/215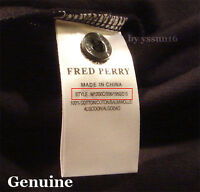 M1200 refer to its model, short sleeved polo shirt
506 refer to the color, here are some more code for color:
506 - Black / Yellow
748 - White / Red
238 - Navy / White
722 - White / Cactus
376 - Cactus / White
627 - Light Brown / Blue
482 - Yellow / Charcoal
486 - Black / Brown
735 - Green / Light Blue
215 - Navy / Yellow
512 - Blue / Red
You could also send an email to Fred Perry's customer service with your reference code, they might give you more information if your shirt genuine.
(because ebay only allow 10 pictures in one guide, if you wish to see more genuine fred perry's picture, please visit my shop.)
The End.
Thanks for watching
Tina