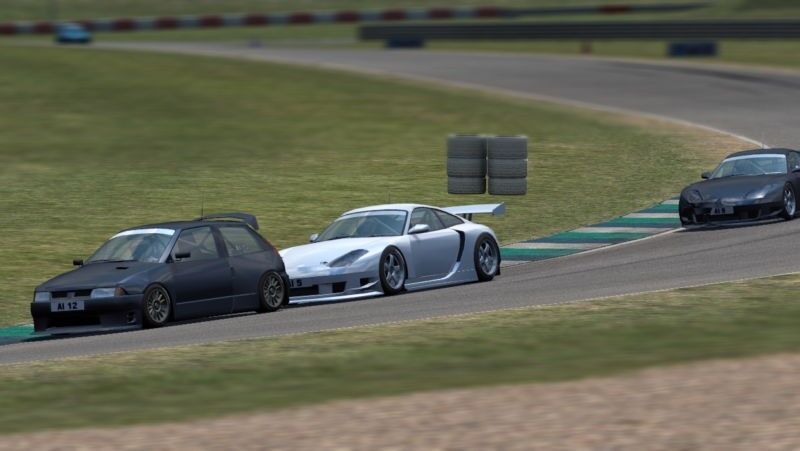 If you enjoy driving, the chances are high that you'll enjoy racing games. Playing with a controller is okay, but you're often limited in control, with small adjustments being difficult to make. Playing with a wheel, however, adds an entirely new dimension to the experience; you get a lot more haptic feedback to feel every bump in the road and you have more control to place your vehicle with precision. It can even help improve your real world driving when paired with a good simulator! Here are five great options to get you started on your virtual racing career: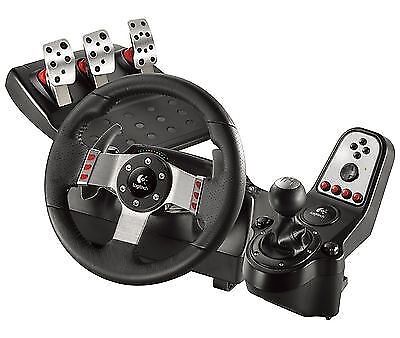 1. Logitech G27
The
Logitech G27
is an all time favourite in the sim-racing community. It's one of the best bang-for-buck wheels on the market, retailing at £270 new and often found used in good condition for around £200. The G27 comes with a three-pedal set, manual sequential and H shifter as standard; it is the only wheel to be offered with these peripherals out of the box, in this price range.
Logitech didn't skimp out on materials either - the wheel has a stainless steel frame wrapped in real leather, so it's built to last. Using a helical gear system through 900 degrees of rotation with force-feedback, the G27 is able to give you plenty of feel for what's going on with your car.
There is one minor drawback of the G27 however: gear-driven wheels tend to be noisy and feel somewhat notchy as you feel each tooth of the gear as you turn it. The use of helical gears does reduce this somewhat unlike straight gear systems used in older, cheaper systems, though it is something to be aware of.
Compatible with: PC/PS2/PS3
2. Thrustmaster TX Ferrari 458 Italia Edition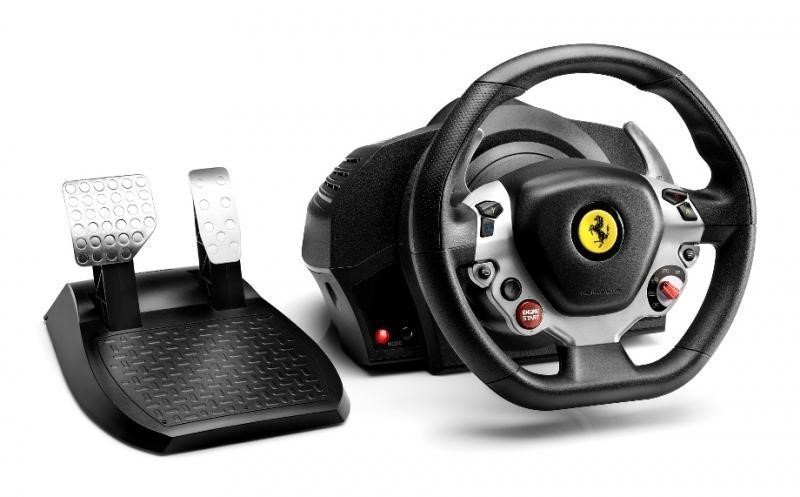 The
TX
is the latest offering from Thrustmaster. Being a brand new wheel, prices don't tend to fall much below £250, but it's well worth it. Thrustmaster, like Logitech, has years of experience in making great racing wheels and the TX is no exception.
Utilising ABS plastic, rubber and stainless steel, the TX does feel the part, albeit 7:10 scale to its real-world equivalent. It's also a belt driven system with brushless force-feedback motors, so the TX is both smooth and quiet to use. The force-feedback motors are very powerful too.
The glory of the TX is that it uses Thrustmaster's 'ecosystem', meaning that it's a very modular package. There are a variety of replacement rims, pedals and shifters to be used with the TX, though they will set you back several hundred pounds if you were to buy them all.
As standard, the TX only has two pedals and two stainless steel sequential shift paddles, so if you're after a clutch pedal you will have to spend more money to perfect your TX. Strong force-feedback also has its drawbacks; if set too high the motors can easily overheat which causes a noisy internal fan to switch on. That's no problem if you're wearing headphones, though. The TX is also known for a few reliability issues - usually covered by the warranty - which is something to bear in mind when buying.
Compatible with: PC/Xbox One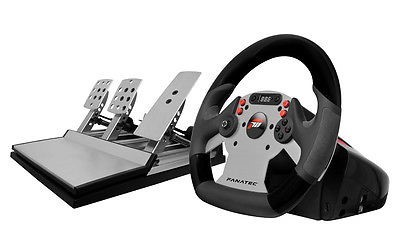 3. Fanatec CSR
The
Fanatec CSR
came out in conjunction with Forza Motorsport 3 on Xbox 360. Being very expensive at retail, the CSR has retained much of its value, still selling well above £250 six years after being released. This is no problem, however, as the CSR is an impressive wheel with superb build quality.
900 degrees of rotation are delivered via a belt-driven system making the CSR silent and smooth and force-feedback is suitably powerful, being driven by three motors. The wheel and pedals are sufficiently robust due to their aluminium construction. They are also highly adjustable, meaning you can get their position and feel just right.
The CSR is also a highly modular system, with dozens of different rims, shifters and pedals available; you can mix and match your CSR to your preference. You can even buy an adapter from Fanatec itself for the CSR so you can use the pedals from a Logitech G25 or G27, should you have them.
The main drawback of the CSR is the price. Being only compatible for previous-generation consoles, it cannot be used with current generation consoles like the Xbox One or PS4, meaning it can be difficult to justify the outlay if you're not planning to use it on a PC.
Compatible with: PC/Xbox 360/PS3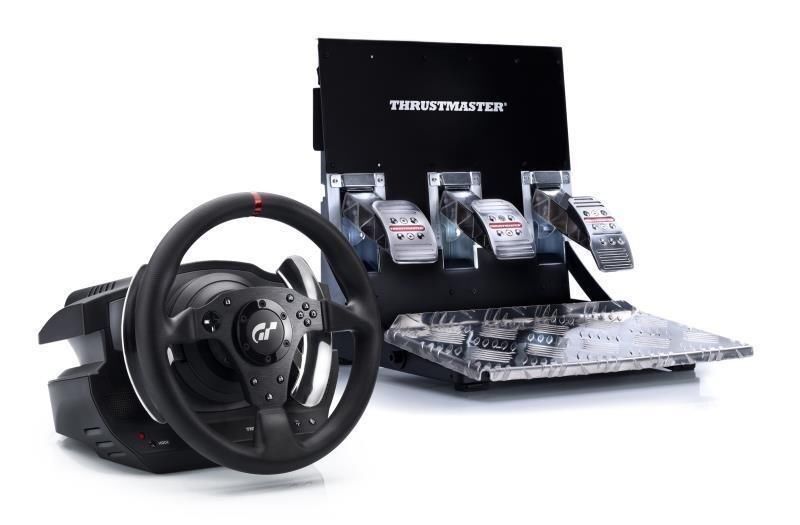 The
Thrustmaster T500RS
is actually an earlier revision of the previously mentioned TX. Despite being older, it does tend to go for well over £300, though not without reason. Otherwise, it is essentially the PS4 compatible cousin of the TX, sharing much with the system.
Like the TX, the T500RS uses metal and rubber in its construction, more so than the TX - there is a lot less plastic to be felt on the wheel itself. The T500RS arguably has a nicer rim than the TX as standard too. One of the best features of the T500RS is that it comes with a three-pedal set as standard.
The T500RS also uses the same brushless motors and belt driven system as the TX, meaning it's smooth and quiet to use. It also uses the same modular 'ecosystem' as the TX, meaning there are a huge amount of different parts to be mixed and matched. If you're using PC, all of the parts are entirely interchangeable. It is also compatible with both the previous generation PS3, and current generation PS4; something the TX is unable to do, only being compatible with the current generation Xbox One. No Xbox 360 compatibility.
The only mild drawback of the T500RS is that while it does come with three pedals, it does not come with any form of manual shifter, only sequential metal paddles. Why Thrustmaster decided to do this is unknown, but it does mean only one more addition is needed to make it a more complete system for the average user.
Compatible with: PC/PS3/PS4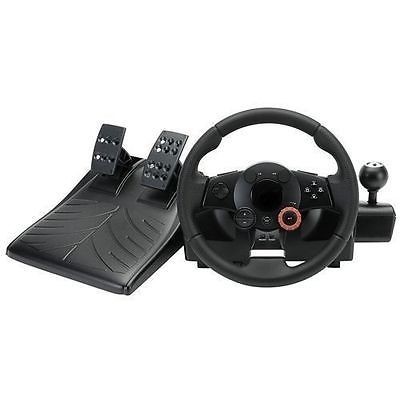 5. Logitech Driving Force GT
The
Logitech Driving Force GT
- or DFGT as it is often known - is essentially the cut-price younger brother of the aforementioned G27. While you do get less sophistication, it also sells for as little as £80 making it a bargain for the aspiring sim-racer on a budget.
Like the G27, the DFGT comes with 900 degrees of rotation, paddle shift and a sequential gear stick. However it also uses cheaper materials in its construction, with a hard rubber rim wrapped around a cheaper plastic body. You also only get two pedals rather than three, with much less feel than those of the G27.
The DFGT also uses a straight gear system, making it very noisy to use and somewhat notchy in steering feel, however it does still have an impressive amount of force-feedback to rival more expensive systems. It also has a 24-position adjustment dial, allowing you to change Traction Control, ABS, Brake Bias and Differential settings on the fly on games such as Gran Turismo 5 and 6.
While the DFGT is somewhat unrefined compared to the competition, when you consider that it is less than half of the price, you're able to forgive its shortcomings. If you're able to feel past the slightly grainy steering, the sound can be overcome by using headphones. It's perfect for somebody wanting to get into sim-racing without breaking the bank.
Compatible with: PC/PS2/PS3
Written by:
carthrottle