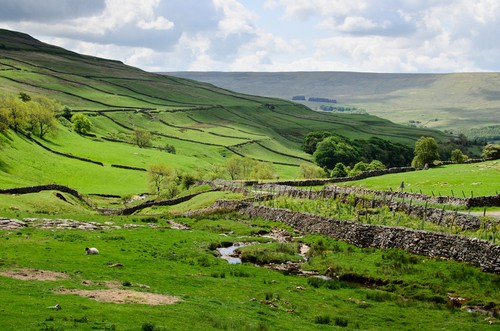 Choosing a vacation destination can be difficult. Since the average person only has a limited amount of time off from work each year, it can be frustrating to not only decide where to go, but how to get there. Airfare is expensive, as are hotel accommodations. For those who wish to save money and explore a piece of Britain at their own leisure, caravanning is a popular option. Not only can a caravan reduce the cost of sleeping accommodations, it allows a family to transport more than just a few small suitcases to their travel destination. Along with luggage, there are a number of other supplies that can be fit into a caravan for greater ease of travel. These supplies can be found in sporting goods stores as well as online via eBay.
There are many places throughout Britain where families and individuals can caravan, but Yorkshire is a popular choice for many reasons. Those who visit can enjoy seeing some of the more heavily touristed areas in the region, as well as explore the countryside and find things to see and do that are a bit off the beaten path. Exploring Yorkshire by caravan allows families to see historical and cultural sites as well as some of the natural beauty found in Britain.
Holiday Idea 1: Beaches
Yorkshire may be in Northern England, but that does not mean that a family cannot enjoy a day at the beach. Yorkshire has a lovely coastline that contains sandy beaches and other locales for a family to enjoy without spending large amounts of money. In fact, the city of Scarborough is a beach resort and features a number of attractions designed for family fun. Nearby attractions include the beach itself, along with a water park, indoor pools, and an all-weather sports court. Of course, it is also possible to find a number of caravan sites along the Yorkshire coastline. A number of these sites also have amenities such as pools and Wi-Fi access.
Helpful Supplies for the Beach
Enjoying the beach can be quite fun, even when the weather is cooler. Windy weather might call for a kite that a family can enjoy white running along long stretches of sandy beach. For sunny weather, a caravan awning can be just the thing to provide shade to cool off while enjoying a view of the ocean. Of course, any trip to the beach should include swimming attire and footwear. Travelling with a caravan means that sand might be tracked into the caravan, so a broom or vacuum might be a handy tool as well.
Holiday Idea 2: Castles
England in particular has a number of castles dotting its beautiful landscape. Yorkshire has some excellent examples of castles that visitors can see. Some of the castles are still in great condition, while others are little more than ruins. Some castles and ruins are frequently visited by tourists, while others are more difficult to find and visit based on their location and accessibility.
| | | |
| --- | --- | --- |
| Castle Name | Age | Condition |
| Scarborough Castle | 2000+ years | Partial ruins |
| Helmsley Castle | 900+ years | Partial ruins; visitors centre |
| Conisbrough Castle | 900+ years | New roof and floors added in 1994 |
| Skipton Castle | 900+ years | Well-preserved |
| Middleham Castle | 900+ years | Roofless; many preserved buildings |
| Richmond Castle | 900+ years | Some exterior deterioration; remarkable preservation within |
| Ripley Castle | 700 years | Still functioning as a residence; guided tours are available |
There are more castles to be found in Yorkshire. It should be noted that simply because a castle is in ruins does not mean that it should not be visited. Some castles are in partial ruins, which means that they have some areas that are complete and offer unique views of history. In fact, some of the most interesting parts of a castle's history are why it is in ruins. Over the course of time, some of Yorkshire castles were destroyed through warfare or by accident.
Helpful Supplies for Exploring a Castle
Walking through a massive medieval castle may put a lot of strain on a pair of shoes. For this reason, it may be helpful to invest in some more comfortable shoes or even a pair of hiking boots. Many castles in Yorkshire have exquisite views as they sit on high outcroppings or hills. For this reason, many caravan vacationers take a pair of binoculars or a camera with a telephoto lens with them on their trip.
Holiday Idea 3: Biking
One of the major benefits of travelling with a caravan is that there is usually a spot for a bicycle, either on the caravan exterior or stored inside of it. Those who enjoy biking while on holiday can enjoy many of the different trails that Yorkshire has to offer. Some of these trails, like the Moor to Sea Trail, are fairly gentle and offer miles and miles of trails that beginners can enjoy without encountering any difficult terrain.
Those who are more interested in finding a challenge may like the Dalby's World Class Competition Route. This series of trails offers some extremely difficult mountain biking challenges, but there are gentle trails as well to enjoy. There are many other great places for bicyclists to take advantage of throughout Yorkshire, and many tourists are known to take advantage of these trails to enjoy the beautiful scenery.
Helpful Supplies for Biking
Along with a bicycle, it is helpful to have a helmet and the right shoes. Other biking equipment may be a good idea as well, such as reflective clothing for those who wish to ride at night. A special bag for carrying snacks or water bottles may be a wise investment as well.
Holiday Idea 4: Historic Abbeys
Many of the religious buildings that once dotted the English countryside were either destroyed or converted to other use during the reign of Henry VIII. This aspect of the English Reformation, known as the Dissolution of the Monasteries, means that there are many old abbeys that are in various states of repair. For fans of history, these abbeys offer a wealth of insights into the medieval period.
| | | |
| --- | --- | --- |
| Abbey Name | Location | Unique Features |
| Roche Abbey | South Yorkshire | Situated in a valley landscaped in the 17th century |
| Rievaulx Abbey | North Yorkshire | Largely complete ruins; contains an interactive museum |
| Bolton Abbey | Yorkshire Dales | The actual home of the Duke and Duchess of Yorkshire |
| Whitby Abbey | The town of Whitby, on the Yorkshire coast | Named Britain's 'Most Romantic Ruin' |
There are a number of other abbeys in Yorkshire that are popular with visitors. Fans of the BBC programme 'Downton Abbey', which is set in the town of Yorkshire, may be disappointed to learn that the actual location used for filming, Highclere Castle, is actually located in Hampshire.
Helpful Supplies for Exploring an Abbey
Each abbey is different and exploring them may require different supplies, from good shoes to backpacks for water and snacks. Some abbeys have a rich history that can be explored with books and other sources of information. In the case of Whitby Abbey, it was the inspiration for Bram Stoker's Dracula.
Holiday Idea 5: Events and Festivals
Yorkshire is filled with a number of cultural events and festivals throughout the year. Some of these festivals are more sedate, such as the flower festivals and garden festivals that can be found in the spring and summer. Throughout the year, visitors to Yorkshire can find film festivals, food festivals, and regional agricultural celebrations such as sheep festivals. Those who travel by caravan can find these celebrations by looking at calendars online or by asking locals while travelling through a certain area.
Helpful Supplies for Enjoying Events and Festivals
Being able to transport different varieties of clothing on holiday is an appealing factor of a caravan. For this reason, it may be helpful to bring clothing that could be worn while dancing or for casual events, along with more formal clothing if the situation calls for it.
How to Buy Caravan Supplies on eBay
Preparing for a caravan holiday can be stressful as many different activities must be planned for, as well as basic items are needed such as campfire supplies and food. The ability to find all needed supplies on eBay can make planning for your next caravan holiday much easier. The sheer number of items available on eBay means that it should be fairly easy to find exactly what is needed. The best way to find desired items on eBay is to use the search bar found on any eBay page. A simple search for something like ' caravan supplies' can provide a number of items and a more specific search can turn up the very item needed for a perfect holiday.
It is always important to make certain that an item purchased on eBay can arrive when it is needed. Therefore, potential buys should examine shipping options and contact sellers in order to find out as much as possible about an item and how and when it would be shipped. It is also important to thoroughly read the product description that accompanies each item. This can establish the condition an item is in and answer any questions.
Conclusion
Yorkshire is set in the countryside of England far from big cities such as London, which makes it in many ways an ideal holiday destination. Yorkshire has a rich history dating back to the ancient past, including the Romans and medieval English. Taking a caravan trip through the beautiful and scenic landscape of Yorkshire is a enjoyable and relaxing way to spend a family holiday. Some of the best ways to enjoy Yorkshire while caravanning include biking, spending time at the beach, and exploring some of the most interesting and awe-inspiring historical sites in Britain. When taking a caravan trip through these areas, it is helpful to be well prepared for every contingency. Extensive walking or hiking requires stout, comfortable shoes, and swimming or playing on the beach requires swimwear. Making certain to have the proper supplies before beginning a holiday can help to make it much more enjoyable and relaxing for the entire family.