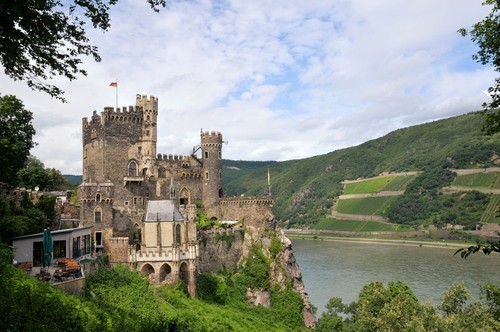 The UK is home to more than 1,500 castles, many of which allow some degree of touring. Some of these castles permit visitors to stay right on the grounds and dine within the castle walls, while others allow guided tours through certain areas, similar to museum tours. Some castles have fallen into disrepair and are little more than ruins, which means individuals can visit these castles but most likely cannot go inside because it would be unsafe.
A castle holiday is a great idea for a wide variety of people, including families, history buffs, and couples looking for a romantic getaway. When looking for great castles to visit, prospective travellers should determine whether they want to visit a castle that they can stay in and what other activities they would like to do while on holiday. This information can help travellers determine which castle holidays can meet their needs and provide them with activities that they are looking for.
5 Destinations for a Castle Holiday
With such an abundance of castles throughout the region, prospective visitors should have no problem locating one or more castles near wherever they are planning to visit; however, for those taking a holiday specifically to visit castles, determining which castles they find most appealing is an important first step in deciding where to go. Individuals who do not have a specific castle holiday in mind just yet should take a look at these five castle holiday ideas, which include a variety of castles including some steeped in history and some serving as full-service resorts.
1. Alnwick Castle, Northumberland
Visitors to Alnwick Castle can enjoy daily crafts with their children and tour the castle's fine arts collection. They can also step back in time to 1389 at the castle's Knight's Quest, where participants dress in mediaeval garb and play games, sit upon the town's throne, and see if they have what it takes to be a knight. The castle also offers broomstick lessons on the same lawn that Harry Potter first learned how to handle his broom in the famous movie. Individuals interested in visiting Alnwick Castle may also want to consider visiting some of the other castles located in Northumberland while on holiday, including Bamburgh and Dunstanburgh castles.
2. Edinburgh Castle, Scotland
Listed as a World Heritage site, Edinburgh Castle sits on top of an extinct volcano. The castle is steeped in history and played a vital role in Scotland's history on numerous occasions. Visitors can see the Stone of Destiny, the Crown Jewels, the Prisons of War, the Great Hall, and several museums located on the property. Special events and music concerts are held throughout the year at the castle, so visitors should check and see what events are planned during their visit to determine if they would like to attend any of them.
3. Amberley Castle, Sussex
Travellers interested in staying in a castle may wish to consider a holiday at Amberley Castle in Sussex. This castle offers accommodations and a restaurant complete with private dining rooms for private parties. The castle, which was built as a hunting lodge in 1103, features an 18-metre curtain wall and a two-tonne portcullis that is raised and lowered daily. Visitors can walk through rose-covered arches and explore koi ponds and gardens dressed with mediaeval stonework, as well as relax in their in-room Jacuzzi tub or take in a round of golf on the castle's 18-hole golf course.
4. Caernarfon Castle, Wales
Built by Edward I, Caernarfon Castle in Wales is one of the UK's most elaborate mediaeval castles. Construction of the fortress began in 1283 and took nearly 50 years to complete. It served an important role in England's royal history, most recently as the site of Charles's crowning as the Prince of Wales, and is a World Heritage site. Visitors can roam throughout the fortress, take in the spectacular sea views, or explore the exhibits located in the castle's tower.
5. Warwick Castle, Warwickshire
Visitors to this castle encounter historical reenactments, acting out combat scenes and elaborate ceremonies, as well as the Dragon Tower, where guests can see Merlin through a magical mirror. Those looking for a true castle experience can see ramparts, dungeons, towers, turrets, and even a drawbridge, as well as a restored garden and a princess tower where princesses can listen to fairy tales. A trip to the dungeon is not for the faint of heart, as visitors encounter scary reenactments and view instruments of torture during the tour. Many of the castle's events are limited to a certain number of visitors at a time, so those planning to visit should book their preferred time slots in advance.
Tips for Visiting Castles
Individuals who are new to castle tours may not be aware of certain limitations that visiting castles present. It is important to do some research before booking a castle holiday to ensure that there are activities and sites for every member of the family so everyone has an enjoyable, memorable holiday experience. Before booking a castle holiday, prospective travellers should consider the following tips.
Activities/Tour Options
While some castles allow guests to roam freely throughout the grounds as well as through all or part of the castle itself, others are more limited. Individuals should check out the rules at each castle they are considering visiting before making any travel plans. Many castles offer activities or shows for children; for those travelling with children, this is generally more enjoyable than are information tours. History buffs may wish to avail themselves of the tours available at the various castles so they can learn more about the history of the castle. Some castles also offer special events throughout the year, so travellers should check out the calendar of events before they plan their holiday.
Accessibility
Because these castles were built in mediaeval times, they are not fully accessible to wheelchairs, pushchairs, and prams. Individuals travelling with wheelchair-bound individuals or small children should find out which areas are accessible to these devices before they book their holiday. If certain features are not accessible, individuals may want to look elsewhere to see if they can find a castle with a similar activity or event that offers full accessibility. Individuals travelling with small children should also confirm that prams and pushchairs are allowed in the castle so they do not find out, once they arrive, that they must carry their child throughout the castle.
Accommodations
Before making travel arrangements, prospective travellers should make sure that the accommodations they plan to book are located close enough to the castle. Some castles have accommodations that are within walking distance: this makes getting to and from the castle a breeze, as visitors do not need to deal with traffic and parking but can simply make the short walk to the castle and begin exploring history. Individuals who plan to visit additional area attractions may want to choose accommodations that are nearest the area where they plan to spend most of their time or that are located equidistant from the attractions on their agenda.
Shopping for Castle Holidays
Individuals who plan on visiting a castle or two on their next holiday can find accommodations, castle tickets, rental cars, and airfare online through a number of travel sites. While some prefer to book a package deal that includes accommodations and travel arrangements, others wish to book separately in order to take advantage of special promotions or to book specific hotels. For the best deals on travel arrangements and accommodations, individuals should also check out the selection on eBay. The site may save travellers enough to extend their holiday by a day or two, or even get a head start on saving for their next holiday.
Buying Castle Holidays on eBay
If you want to take a look at the travel arrangements and accommodations available on eBay, go to the site's main page and type a simple keyword or phrase into the search box. For example, if you are looking for accommodations near Edinburgh Castle, search for ' Edinburgh accommodations '. You can also check out the listings for 'package holidays' and ' car rentals'. Use the filters on the search results page to narrow the listings down by location, price, and other options depending on your search type.
Before making a purchasing decision, prospective buyers should double-check that the accommodations, car rental, or flights are for the desired dates. Buyers should also check the occupancy information when booking accommodations so they ensure there is enough room for their entire party. It is also important to pay close attention to the terms and conditions of the listing, including whether the reservation can be cancelled in the event that it becomes necessary to postpone or cancel the holiday.
Conclusion
A castle holiday is sure to appeal to all travellers, regardless of age. With plenty of history, tours, and activities for all ages, many castles in the UK are popular holiday destinations because of their unique and interesting offerings. Before picking out a castle to visit on holiday, travellers are advised to check out and compare the activities and features at a couple of castles to determine which has the most activities that appeal to them and their families. Those who cannot decide between a couple of castles may want to consider visiting more than one or making a list so they have ideas for future castle holidays.
When booking a castle holiday, individuals should use the tips mentioned above to help make their holiday as problem-free as possible. Moreover, finding accommodations that are near the castle allows travellers to spend more time exploring the castle and partaking in the castle's activities and cuts down on petrol use, traffic, and parking hassles. Using these tips, travellers can find the perfect travel arrangements for their castle holidays on eBay.