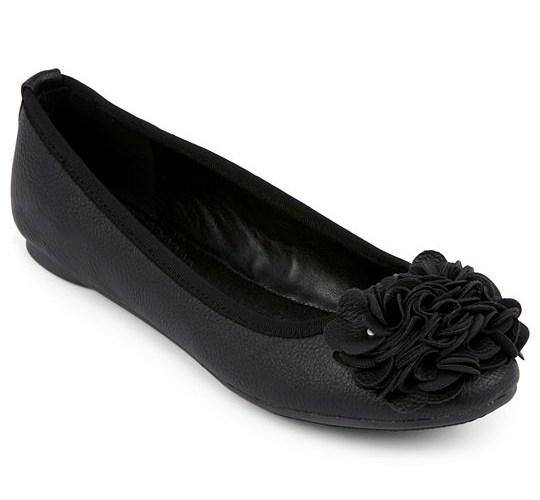 The world's most stylish women, whether they be First Ladies or young Hollywood stars know that the cardinal rule of style is that one should be comfortable. Heels may look great while walking the red carpet but on green, blue, and beige, carpets celebs rather opt for flats. Flats are both fashionable and comfortable.
They can be paired with almost any outfit. A US First Lady can wear kitten heel flats with a ballgown to an inauguration ball. A young Hollywood starlet can wear colourful flats with capri pants while doing press junkets at Cannes. Flats are a staple of many wardrobes, including the shoes cupboards of the rich and famous. Celebs are also mums, and like most mums, when they have a little one or three on their hands it's time to put away the heels and slip on the flats. But just because the pumps are thrown to the back of the shoe cupboard, does not mean that you have to surrender your sense of style.
Flats come in myriad forms, ranging from plimsolls to the ever popular ballerina flats. They are suitable for a night out, a day in the park, and a whole day in the office on your feet. They are fashionable yet functional and they don't need to be expensive to pull off a few celeb inspired looks. The high street is where most women go to buy shoes. They are available in women's clothing shops with shoes section and sold by dedicated women's shoe stores. But stocks are often limited at high street shops. A woman doesn't have to limit herself to what is on offer in bricks and mortar stores. There is a whole world of flats to drool over on eBay.
1. Keep It Sophisticated with Flats
Women avoid wearing flats because they feel that the humble flat shoe isn't sophisticated enough. But flats are welcome at occasions and settings that range from casual to the height of formal protocol. A case in point is US First Lady Michelle Obama, who is rarely ever seen wearing a pair of heels. It might be because, if Mrs. Obama did wear heels, she would tower over her husband and most foreign heads of state. The former first lady of France, Carla Bruni-Sarkozy, is a former model and comes in at a lofty 175 cm tall. Her husband, the former president of France is not so blessed in the height department. Both of these style icons have had to shelve the heels, but they get around fine in flats and look sensational. Pair a neutral coloured flat with a slight heel with a dress suit, like a skirt suit or a trouser suit. For a tall woman who wants to look stylish without drawing attention her height, flats are the perfect, sophisticated solution. In formal settings, keep it chic by steering clear of flats with patterns, bright colours, and adornments like bows, studs, sequins, and rhinestones.
2. Use Flats to Express Individual Style
You have to be quick-footed when the paparazzi are in hot pursuit. For dashing through airports while still looking fabulous, Angelina Jolie often seen wearing flats with leggings and a fitted shirt. To make a bold statement, Jessica Alba wears flats with studs. Flats with a few edgy accents can help to spice up a casual look and express individual style. Wear these flats with flare with simple skinny jeans that have a print. Accessorise this look by carrying a bag in a statement colour, like orange or yellow. Or, wear pink pointy flats with jeans, with a pink scarf wrapped around your neck.
3. Create a Young Hollywood Look with Flats
Taylor Swift is always in them. Kristen Stewart wears lace-up varieties with designer dresses, and Emma Watson wears them to help create her pixie chicness. You're only considered a young, hot entertainer for a short while, you might as well be comfortable the whole time. Young Hollywood strut their stuff in flats and leave the heels to the reality TV stars. Young celeb inspired ways to wear your flats include a plain white button-down long-sleeve shirt and black polka dot trousers, or white flats with a blue and white floral skirt matched with a light blue chiffon top. Wear gold flats along with striped jeans. Slip on red flats with a pink rose blouse and accessorise with pearls or consider wearing a cardigan over a skirt with light-coloured flats. Black flats go well with a classic striped knee-length dress, accentuated with a thin, black leather belt or pair the same black flats with black leggings and a trench coat.
4. Wear Flats to Pull Off a Celebumom Look
In a recent outing to a theme park, fashion designer and supermom Victoria Beckham was seen wearing chic black flats with a metal buckle. This was a pretty unusual look for Posh Spice, considering she is famous for wearing the highest of high-heeled shoes. But it makes sense. Carrying a child in one arm while teetering on Louis Vuitton pumps is a recipe for disaster. Wearing a pair of trainers and tracksuit pants while running the kids around town is practical but not very stylish. If you have the legs for it, you can achieve Victoria's celebumom look by pairing flats with a two-toned dress, and accessorise with super-sized sunglasses.
5. Go Gaga Over Brightly Coloured Flats
Lady Gaga is known for her fabulous over the top sense of style. From meat dresses to porcupine outfits with six inch spikes, this entertainer isn't afraid of pushing the fashion envelope. She is also infamous for her sky high platform shoes and ostentatious pumps. You'd think that Lady Gaga wouldn't be caught dead in a pair of flats. Think again. Lady Gaga likes to break her own rules and is often spotted wearing brightly coloured flats. Of course, this is much to her fans' dismay. This is Lady Gaga. She can successfully pull off any look. Take a page out of the Gaga Book of Style by wearing flats in bright, solid colours and pair them with a matching cardigan, a scarf, or even eye shadow. Lady Gaga was once snapped wearing bright yellow flats while carrying a black and yellow bag. The dog she was walking was wearing a collar of the same colour. How is that for colour coordination. Wear brightly coloured flats to add a pop of dazzling colour to any outfit. You can go with a matching colour or choose an appropriate contrasting colour.
How to Buy Flats on eBay
If you are looking for a pair of stylish flats that can be worn with some items in your closet to create a few celeb inspired ensembles, then you should start your search on eBay. The site offers what must be the widest selection of flats anywhere, at prices better than the high street.
Start the search on the eBay home page, by simply entering a basic description of the flat you are looking for into the search bar. The more specific your search query, the fewer the results, but your search will be more focused. If you just want to browse through the listing for flats, simply enter a generic search phrase like 'women's flats' into the search engine. On the results page you can sort the listings by shoes size, style and condition, as well as colour, heel height, and the material the uppers are made of.
You can either buy the flats by participating in an auction or paying the list price. The seller will specify the buying method in the item listing for the pair of flats. Don't be shy about asking the seller questions. If you think better photos will help you make a decision, simply request them from the seller. Contact the seller by going into their profile and clicking on the contact link.
Conclusion
Flats can be fashionable when worn the right way. Some women shy away from wearing flats because they think that flats lack sophistication and style. But fashion history and current trends have proven and continue to prove otherwise. It is a simple matter of taking note of some celeb inspired ways to wear flats. Flats can be dressy. Pair solid neutral coloured flats with a kitten heel and a dress suit. Express your individual style by spicing up a pair of jeans with studded flats. Walk in the shoes of Young Hollywood by wearing flats with leggings and a coat. Celeb mums are trading in the heels for flats and you should do the same. For a pop of bold colour to brighten a cloudy day, be brave, and slip on a pair of brightly coloured flats. You don't need to walk the red carpet in painful pumps. You can walk the high street in a pair of fabulous flats and still turn heads as you go. If you want the best flats now, simply go to eBay and pick one pair, or several of pairs, and start creating some celeb inspired looks.