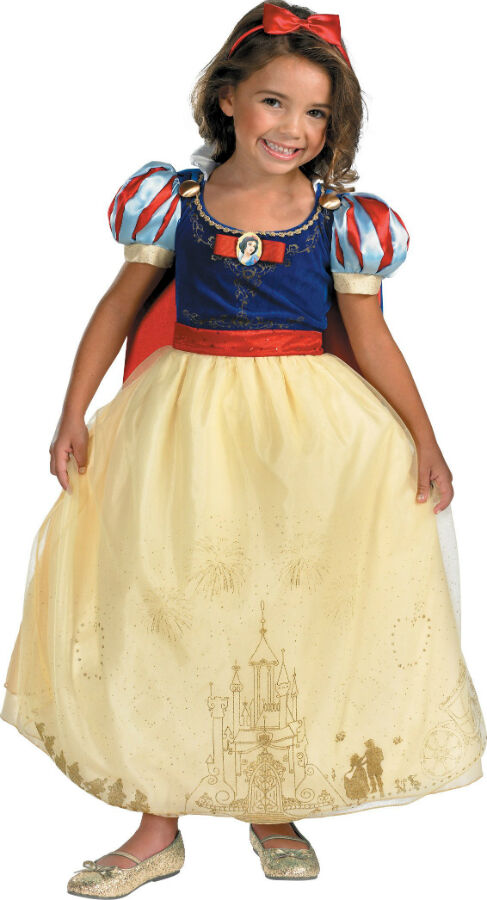 Masquerades and costumes parties are typically exciting, colourful events. Shining lights, sparkling costumes, and fine food make the evening amazing and memorable. Girls who have been invited to a gala involving fancy dress costumes need to decide on a character and an outfit that not only reflect their personality but also allow them to be someone else for a short time. Fairytale princesses, queens, sorceresses, and fairies abound throughout literature, history, and popular culture, and that gives girls a wide range of options when it comes to choosing an outfit for a formal costume party.
This guide lists five types of classic fancy dress costumes for girls, including some that are appropriate for all ages and others that might appeal primarily to teenage girls. The guide will also suggest some places, including local costume shops and websites like eBay, where buyers can find fancy dress costumes and all the necessary accessories and supplies to complete each look.
Costume 1: The Fairy-tale Princess
Most young girls enjoy fairy tales, especially when they include princesses. Since princess costumes are ornate by nature, they are a classic choice for a fancy masquerade or formal costume party. While there are dozens of princess costumes to choose from, two examples of popular princess costumes are Cinderella and Belle.
Cinderella
The story of Cinderella has many different versions, but nearly all of them begin with a young girl in poverty and include the climactic scene in which she appears at a ball in a magical gown. Disney's version of the classic tale may be most familiar to many girls, and they will find dozens of variations of the Disney's Cinderella ball gown. Some of these costumes may be quite luxurious and include extensive details from the movie, while others will be more basic and inexpensive. A less-detailed costume can be embellished and dressed up however the wearer likes. Girls can also create their own Cinderella ensemble by pairing a sky blue prom dress or evening gown with a sparkling tiara or a black velvet headband. To add an aura of magic to the costume, girls can sprinkle themselves and their dress with glitter.
Beauty or Belle
Another favourite fairy-tale princess is Beauty or Belle from the story of Beauty and the Beast. Although she is not a princess by birth, Belle becomes a princess by marrying the Beast after he returns to his true princely form. In Disney's Beauty and the Beast, Belle wears a yellow ball gown that has become a favourite costume choice for young girls. Girls can find Belle costumes online or in costume shops. They could also fashion their own Belle-inspired costume by choosing a fancy yellow dress with a wide skirt and having an adult add off-the-shoulder cap sleeves. A single red rose or an ornate handheld mirror could complete the costume.
Costume 2: The Historical Queen
Girls who want a bit more regal authority in their costume could choose to represent a famous queen rather than a princess. They might decide to imitate the formal attire of a modern-day queen, or they could portray a notable queen from history, like Elizabeth I, Marie Antoinette, or Cleopatra. They could also design their own queen costume with a fancy medieval gown, a sceptre, and a crown sparkling with artificial gems.
Girls who want to portray a real, historical queen accurately need to do a little research in order to find the right costume and accessories. For instance, a Marie Antoinette costume should have a wide skirt with petticoats underneath to make it stand out. The sleeves should be close-fitting around the upper arms but should flare outward at the elbows. The flared part of the sleeves, as well as the neckline of the dress, should be generously embellished with lace. A tall, curly white wig, a lacy fan, and a tiara could finish the look. Since the Revolution-era French court was known for its opulence, girls should not be timid about embellishing their Marie Antoinette costume with all the finery and frills they desire. Those who want to portray a darker chapter in the queen's life could add smudges, rips, and tatters to the outfit, rumple the wig, and draw a thin red line around their neck with lipstick.
Costume 3: The Good Fairy or Good Witch
A masquerade or a fancy costume party can always use a touch of magic. Younger girls and teenage girls alike will enjoy portraying a powerful, benevolent fairy or witch for a few hours. They can choose to play the role of Pinocchio's Blue Fairy, Tinker Bell from Peter Pan, Glinda from the Wizard of Oz, Galadriel from the Lord of the Rings, the Lady of the Lake from the King Arthur legend, and a host of other good witches and fairies.
The habitual garb of some modern witches, like Hermione from the Harry Potter series, may not be as conducive to a formal costume party as that of a fairy. However, fans of Hermione might choose to imitate the style of the pink, ball gown that Hermione wears to the Yule Ball in the movie Harry Potter and the Goblet of Fire. They could accessorise with a wand and a dusty leather spell book.
Costume 4: The Dark Sorceress
Teenage girls who want a more edgy costume for a party might choose the role of a famous and powerful sorceress. Some common examples include King Arthur's nemesis Morgana (also called Morgan le Fay), Snow White's beautiful and cruel stepmother or the dragon sorceress Maleficent from the tale of Sleeping Beauty. All of these sorceresses are depicted in luxurious, sweeping garments that would be perfect for a formal costume party.
Morgana
Morgana, half-sister to King Arthur, is renowned in Arthurian lore for her mystical power though her exact role differs from legend to legend. For girls portraying Morgana, a black or dark green velvet gown with wide sleeves could be paired with a long, dark wig. Girls could braid gold or scarlet thread into the wig or into their own hair, add a cloak and hood, and wear Celtic knot jewellery for a more striking effect.
Maleficent
Maleficent costumes generally include some tribute to Maleficent's dragon nature, such as her horned headpiece. She is typically depicted wearing black and purple robes with a high, stiff collar. To accessorise the look, girls dressed as Maleficent could carry a tall staff with a glowing orb attached to the top.
Snow White's Stepmother
The evil queen in the fairy tale Snow White is obsessed with her own beauty and with the destruction of all rivals. She is portrayed in a number of books and movies, and while her robes or gowns differ with each retelling, her iconic mirror and poisoned apple remain pivotal to the story. Whichever version of the queen's garb wearers may choose, they should consider carrying a red apple with a single bite missing or a vintage hand mirror.
Costume 5: The Mythical Goddess
The mythical goddesses depicted in Greek and Roman lore and Norse legends could also be excellent choices for a fancy dress costume party. For Athena, goddess of wisdom, girls need a sleeveless white robe with gold trim, a gold belt, a few gold bracelets, and a pair of gold sandals. A gold headband or a crown of laurel leaves completes the outfit. Girls who would like to portray Aphrodite or Venus, goddess of love, could purchase an Athena costume and simply add some crimson elements, like red sandals instead of gold, a red rose, or a red sash. They could also carry a figurine of Cupid, the son of Venus, who creates love and desire by shooting his magical arrows.
Buying Classic Fancy Dress Costumes on eBay
While many types of costumes are available in local costume shops, you will probably find the broadest selection on eBay. Simply type "classic fancy dress costumes" into eBay's search bar or enter the name of the specific type of costume you are looking for, such as "Belle costume." If you would like to be notified when a seller posts a new girls' costume for sale, save your search, and eBay will send you any applicable notifications.
As you browse the results, look for the eBay Top-rated seller seal on the listing pages. This special seal indicates that the seller of that costume has received great feedback from other buyers. Top Rated sellers will most likely provide you with the same stellar service and high-quality products that they have supplied to their other customers.
eBay sellers sometimes offer bundles (multiple items sold together at a bargain price), package deals, free postage and packing, and return policies. If you have any questions, you can get in touch with sellers by clicking the Ask a Question link that appears on each listing page. You can also visit the seller's profile page and click Contact Member to communicate with the seller.
Conclusion
An invitation to a formal masquerade or costume party is thrilling for most girls. Once they have selected their character and costume, they should take time to think through all the items that they will need to complete the look. The dress or gown should be comfortable enough to wear for full length of the party. Any skirts or bustles should be narrow enough and flexible enough to fit through doorways and into chairs. Each piece of the costume should fit well, without leaving unsightly gaps, bulges, or wrinkles in odd places.
Girls may want to carry accessories such as a rose, a mirror, or a wand. However, they should limit themselves to just one such accessory, since too many could become cumbersome during the party. If girls take time to decide on the right character, to find a dress that fits well, and to carefully choose their accessories, they should be able to thoroughly enjoy their costume party.