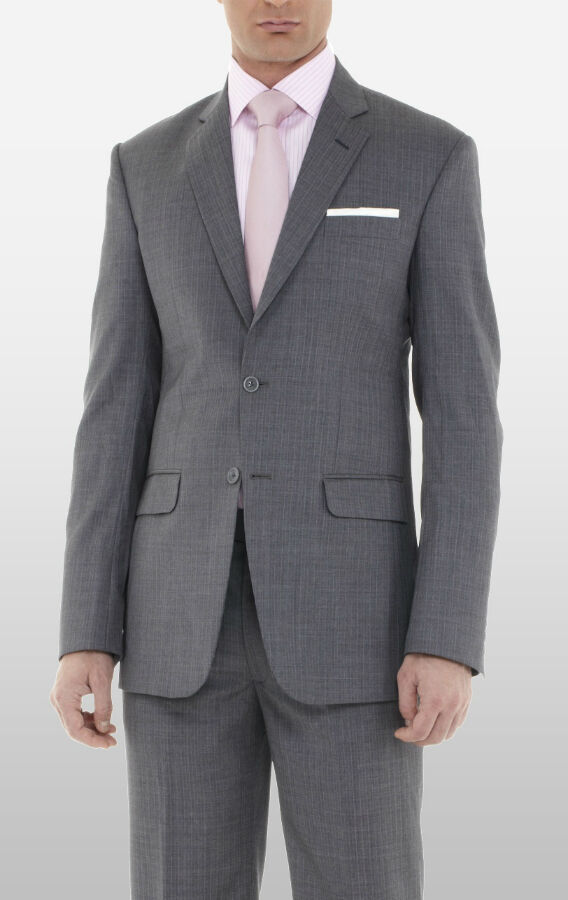 Purchasing a suit tends to be a fairly intimidating experience without the right information on the buyer's side. Understanding what to look for before even shopping for a suit is important, and with the right tips and search techniques comes exceptional results. Although many shop for suits through traditional brick and mortar suit department stores, deals are easier to find through online marketplaces such as eBay. With a larger selection and better prices, eBay tends to be one of the best choices when shopping for suits online. Finding the right suit is not the simplest of tasks.
Making sure to search for size and fit along with colour and brand is important, but finding a tailor to make the suit fit perfectly is often most ideal. Trying on a suit is also vitally important, but paying for customization can be costly and not time efficient. Utilizing online marketplaces such as eBay to find a financially sound deal and then customising the suit to specific needs is a wise strategy employed by many savvy shoppers. Whatever the strategy, there are always ways to improve the quality of the suit without spending all one's money.
1. Do Consider the Economy of Quality
Although buying a suit at cheap prices is tempting, the lifespan of such a product tends to be quite a bit lower than a more expensive option. Purchasing a suit that is constructed with quality materials allows individuals to find a more durable and thus long-lasting option. Not only will a well made suit last longer, but it is more likely to be a bit more appealing to the eye as well.
Wool vs. Cashmere Suits
Perhaps the most desirable fabric of suit is wool. A wool suit offers a durable material that is comprised of strong, long-lasting material to absorb moisture. Some of the most sought after suits are made of cashmere, a material that can be quite expensive. With the right shopping strategies and the use of online marketplaces such as eBay, individuals can find even high the highest quality of wool suites at a considerably reasonable price.
Linen Suits
Those who want a somewhat cheaper option, however, should consider suits made of both linen and cotton. Linen suits tend to crease quite often, but are notably the best option for those who dwell in a warmer climate, or who plan to visit one. Cotton tends to be the cheapest suit option, but the style and quality of such a suit may not be worth the risk of purchasing a poorly-built suit. Be sure to determine what materials are the most fitting for the occasion before shopping any further.
2. Do Consider the Fit
Once the type of material has been chosen, the next step is to determine the measurements needed for the owner of the suit. A simple roll of measuring tape is likely to do the trick, but without the right expertise, measurements can end up being quite inaccurate. The most dependable way to determine the desired size of suit needed is to visit a professional tailor. These professionals devote their lives to finding the right measurements for those who want a custom made suit that fits perfectly.
Measuring
A simple measurement tape, when used properly, can be used to determine the proper arm lengths, chest size, and even waist size. Make sure, however, to measure in the proper spots on the body in order to make accurate measurements. Another strategy for those who want to determine the proper sizing of a suit is to try several suits with different sizes in order to get a better idea what is needed from a measurement standpoint. Be careful not to take sizes from one brand of suit as a hard and fast rule on what fits. Most brands tend to have slightly different measurements simply due to cut and shape.
3. Do Consider the Designer, But Don't Require It
The right designer suit can mean the difference between closing a business deal and potentially losing a job to a competitor. Although the name of the designer can be important, be sure to consider the budget before ever purchasing from a designer. More importantly, some designer suits may not meet the requirements set forth by certain events. Try out different designers at traditional stores in order to discover what fits best both size wise and financially
Armani Suits
One of the best known suit designers is Giorgio Armani. An Armani suit, however, tends to be one of the more expensive clothing options available on the market. This is where online marketplaces such as eBay come in handy. Although often-used suits are never a good option, finding a lightly-used suit on an online marketplace such as eBay can save hundreds if not thousands of pounds on a quality suit.
Calvin Klein Suits
There are designer suits, however, that are fairly inexpensive, particularly when purchased online. Calvin Klein suits are a reasonable option for those who wish to purchase a dependable brand, but one that will not break the bank. With suits that range from top market to bottom of the barrel, individuals should be able to find a suit option that is right for the needs of the situation.
4. Don't Forget the Accessories
Suits are designed with more than one piece, and without one of the individual pieces even a high level designer suit doesn't come together well. Searching for a matching shirt and tie is dually as important when selecting a quality suit. Although shirts and ties are much easier to find, finding a visually appealing colour to match a suit is always something to consider.
In order to finish off a quality suit, individuals should consider spending a portion of their budget on a sharp looking belt. A quality belt that matches or complements a suit can make all the difference between a successful wardrobe and one that simply does not live up to expectations. Even a simple tie tac is important in certain types of settings, so remember not to forget the importance of suit accessories.
5. Do Shop Around
A nice suit is not usually considered a cheap purchase. Many individuals, however, tend to jump into a purchase from a traditional store before searching out other options that tend to be quite a bit cheaper. Traditional department stores offer sales and specials to bring in customers, but the selection is almost more often than not, quite limited. Stores that are devoted to suit sales tend to have a larger selection, but are also have been known to have higher prices and possibly pushy salesmen. For a more reasonable solution, individuals should consider shopping online marketplaces that have large selections of clothing.
Trying on several types of suits at both department stores and suit stores can be helpful in a variety of different ways. Not only does trying on suits help identify the size needs, but it also provides something to compare other suits against. Since each individual's needs differ, no one suit or designer is a be all end all choice. Try on several types of suits, shop around, and find the perfect price.
Buying Suits on eBay
Searching from store to store for suits is a time consuming and often frustrating task. Fortunately, eBay offers a nearly unlimited selection of suits that is updated day by day. Although there are a variety of used suits available on eBay, there are also quite a few authorised sellers that offer name brand and designer suits that are brand new. Searching through suits on eBay offers users a selection that beats out any traditional brick and mortar store, but can be a bit overwhelming without the right strategies and tools. Utilizing the advanced search feature on eBay is a great way to narrow down the results of generalized searches performed from the eBay homepage.
Finding the right suit on eBay also takes quite a bit of comparing between different products and sellers. With bundles that include not only suit separates, but all the accessories needed as well, individuals can purchase everything with a few clicks. Finding a suit and all the things needed to make that suit complete can easily be accomplished through the online marketplace of eBay.
Choosing a Seller on eBay
One of the most important elements of making a purchase through any store or marketplace is to choose a seller. Authorised sellers on eBay tend to be the best option for those looking for brand new suits that come just as they would from a traditional brick and mortar store. Although some online marketplaces do not offer detailed seller ratings, eBay contains a quality rating system that allows individuals to search for a product that fits each customer's needs
Conclusion
Utilizing an online marketplace such as eBay in order to purchase a quality suit can save not only a good amount of money, but a considerable amount of time as well. When considering buying a suit, one should make sure to find out the sizes needed before ever shopping around. Size is not the only factor to consider, determining what material is most highly desired is also a necessary element to consider when purchasing a suit. Making sure to purchase all accessories for a suit is also a good idea for those who need to wear the suit sooner rather than later.
Shopping through traditional brick and mortar stores that concentrate on suits can be expensive, and eBay is a great alternative for those who know their measurements. Once a suit is purchased, however, taking it to a professional tailor is likely to make a world of difference in not only fit, but the attractiveness of the suit as well. With the right tools and research, purchasing a suit can be a simple and rewarding experience.