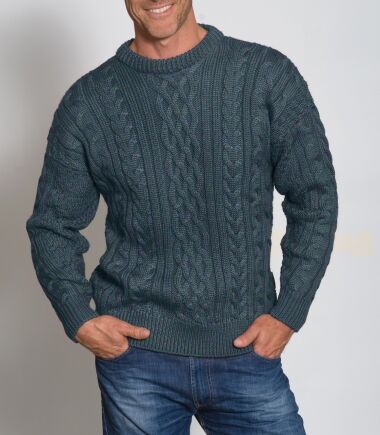 Jumpers are classic pieces of menswear and thanks to their versatility they can be worn in many settings. Lightweight cotton jumpers are ideal for warmer days as they breathe well and feel soft on the skin. Woollen jumpers, on the other hand, keep the body warm during the winter. Jumpers for men come in different designs, either closely or loosely fitted; crew neck or polo neck; sleeveless or with long sleeves.
Buying a used jumper saves money, especially if it has a designer label and would normally be rather expensive. Moreover, second hand clothing helps to reduce waste that would result from disposing of a pre-worn jumper. Used jumpers are found in many high street charity shops, but online auction sites, such as eBay, offer the chance to browse a large variety of jumpers from the comfort of the home and to find jumpers even out of the colder seasons when shops may not stock them.
Tip 1: Choose the Material That Suits You Best
Men's jumpers are primarily made of wool or cotton. The choice of either one of them is mainly determined by when the jumper will be worn. Cotton, a natural fibre from the cotton plant, breathes well and keeps the skin cool. Wool, on the other hand, may feel itchy and irritate the skin.
Cotton
Although cotton feels good and offers durability, it also wrinkles easily. However, it can be blended with other fabrics that wrinkle less. Although cotton does not provide as much warmth as wool, it is warmer than synthetic materials. The special feature of cotton is its absorption, as well as its ability to release perspiration.
Wool
Some types of wool may produce itching, especially traditional lambswool. Cashmere and angora are known for their softness and therefore used for luxurious jumpers. In general, wool absorbs and releases moisture well, allowing the jumper to breathe. It also functions as an insulator and keeps the wearer warm. Wool is strong, especially when dry, and it resists wear and tear. In addition, merino wool is antimicrobial and it eliminates any body odours that come from sweating.
Tip 2: Pay Attention to the Jumper's Condition
When buying a used jumper, it may have signs of wear. Before making the purchase, the jumper should be checked for stains, holes, and other flaws. That would be easy if shopping in a charity shop, but purchasing online requires more thought. However, with practice, the eye can be trained to spot flaws from the photos included. Sometimes, the jumper's condition is also described. The condition should also be reflected in the price, with the jumper in mint condition costing more than a well-worn jumper.
Tip 3: Follow the Care Instructions
It is possible to find a used jumper that looks new because it has been cared for well. In order to retain that condition, it is important to follow the care instructions that correspond with the jumper's material, as different fabrics respond differently to cleaning. Before buying a jumper, men should consider whether or not they are prepared to follow the care guidelines for the specific jumper, which could include dry cleaning for an expensive cashmere jumper. Used jumpers should also be laundered right after the purchase, unless the seller has cleaned it recently.
Caring for Cotton
Men's cotton jumpers are machine washable and endure relatively high temperatures. However, it is always safer to use a lower temperature setting. White jumpers withstand chlorine bleach if they need to be whitened. Cotton can be washed with most detergents and ironed at high temperatures.
Caring for Wool
Woollen jumpers require more care than their cotton counterparts. Wool jumpers should be hung for 24 hours after wearing. During this time, the jumper returns to its original shape and the wrinkles disappear. After a day of wearing, the jumper can also be put in the bathroom where steam helps to reduce the wrinkles. Steam should also be used for pressing wool garments. As wool is dirt-resistant, sometimes brushing with a damp sponge eliminates any soiling. Dry cleaning is preferred for some types of wool, but many blends are machine washable. The specific instructions should be found on the label inside the jumper.
Tip 4: Match the Jumper Style with Your Wardrobe
When buying a jumper, it is important that it matches other items that are already in the wardrobe. Otherwise, it will not be worn. Different designs of jumper offer a range of looks.
Wearing a Crew Neck Jumper
The crew neck jumper has a round neckline and is the most common style because of its simplicity. The crew neck is a good starting point for getting into the stylish jumper world. It goes with anything, including jeans, shorts, and trousers. Choosing a vivid colour or a jumper with an interesting print, helps to liven up the traditional crew neck. Jumpers with patterns, such as stripes, are also a good choice.
Wearing a V-Neck Jumper
V-neck jumpers have a neckline that reaches to a point on the throat or chest, so it reveals anything that is worn underneath it. The deeper the V-neck, the more of the garment beneath is shown. Therefore, prints and logos should be avoided as they create a busy neckline. A white T-shirt under the V-neck jumper constitutes a casual look, while a collared shirt looks classy and is suitable for the office. The shirt can be worn buttoned or unbuttoned. This smart casual style lends itself to formal and informal settings. Vibrant V-neck jumper colours look good with khaki trousers..
Wearing a Polo Neck Jumper
The polo neck jumper has a high and close-fitting collar that covers the neck and folds over. Polo neck jumpers are generally long sleeve. The first polo necks were worn by sailors for keeping warm at sea. In 1920s, the polo neck made its way to the high fashion scene, and by the middle of the 20th century it became an item of mainstream fashion. Polo neck jumpers are considered smart, but they can also be used as anti-tie versions of formal dress.
For best results, polo neck jumpers should be kept simple. Plain and dark colours work best, while flashy colours and prints may look too obtrusive. A chic look is achieved when the jumper is worn under a blazer. Men with long necks, however, should avoid the polo neck because it emphasises the length.
Wearing a Cardigan
Although most jumpers do not have an opening at the front, there is one exception: the cardigan.. Cardigans have a means of fastening the front and are usually collarless. A cardigan that has a zip or buttons offers versatility because it can be worn tightly closed in cold weather, or open to show off the clothes underneath. For the latter case, it is important to choose the clothes carefully. The piece worn underneath should be monotone: colourful prints should be avoided, unless a zany look is desired. Chunky cardigans function as outdoor garments because they help the wearer to keep warm, while thinner cardigans are good for layering.
Tip 5: Choose the Right Size
If the jumper is ill-fitting, either too loose or too tight, it does not flatter the man's silhouette. To style the jumper correctly, it should fit perfectly in order to boost the wearer's appearance. Finding the right size can be easy as it requires only the chest measurement.
| | | | | | | |
| --- | --- | --- | --- | --- | --- | --- |
| Measurement (inches) | 33-35 | 36-38 | 39-41 | 42-44 | 45-47 | 48-50 |
| Size | XS | S | M | L | XL | 2XL |
The chest should be measured at its fullest part using a soft tape measure. Note that these are UK sizes. Jumpers manufactured in other countries may be labelled differently, so check the chest dimensions of the jumper.
Buying a Used Jumper on eBay
If you want to buy a used jumper on eBay, start by searching for the desired item. Type your search terms into the search box on the main page.. You will be presented with a long list of results. In order to browse used jumpers, you can set the item condition to "Used" or search for "used men's jumper" from the search box. You can also sort the results by price, as well as colour. If you have a specific idea of which style you would like to wear, then specify them in the search terms. For example, you could look for "cotton V-neck jumper".
Before making the purchase, read the seller's feedback and check the ratings in order to ensure a good transaction. In case of any questions, take the opportunity to ask the seller by using the "Ask a question" link. You may like to enquire about the measurements, as well as possible refund and exchange policies.
Conclusion
Jumpers are versatile items of clothing and should be present in any men's wardrobe as part as a casual or smart-casual look. Jumpers can be worn all year round depending on the material that they are made of. Breathable cotton jumpers are good in any season, while warm wool jumpers are great for chilly weather. The material also determines how the jumper should be cared for. Cotton can be washed at high temperatures, but wool needs more careful washing and ironing, even though it does not soil as easily. When buying a used jumper, taking care of it is extremely important in order to ensure that it can be worn for a long time.
The crew neck is the classic jumper style, while the V-neck offers elegance and looks great with collared shirts. Polo necks are more casual and cover the neck for extra warmth, while cardigans open at the front. When buying online, it is advisable to ask the seller about the measurements in order to ensure a perfect fit. With a wide range of styles, sizes, and colours, eBay helps any man to find a stylish jumper at a great price.