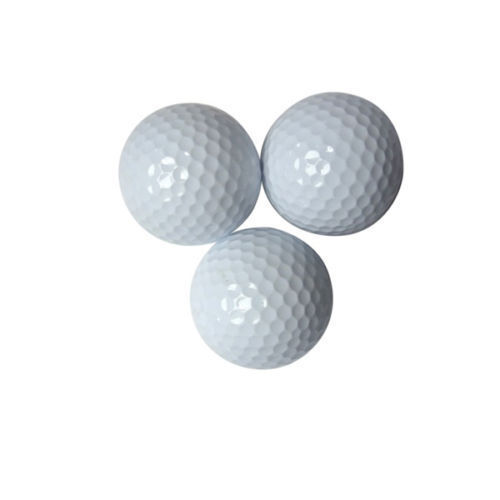 Golf is the ultimate sport for concentration and accuracy and choosing the right golf ball has now become just as important as choosing the right clubs. Golf balls nowadays are made up of between one and five layers, with the more complex of them having the highest number. A two layer golf ball is the standard ball that is hugely popular among beginners and advanced players alike.
Some may think that it should not matter what type of ball is used but this guide will fully explain how a two layer golf ball works and all the dos and don'ts of buying one on eBay.. Whether beginners or avid expert players, this guide will aim to be helpful to all players who want to know everything about buying and using a two layer golf ball.
Do Understand the Basics
Firstly and most importantly, buyers do need to know the basics of how the ball works so they can get most out of the equipment. A two layer golf ball may not appeal to every type of golfer so it is important to fully read the specifications and understand the benefits they will give.
* A two layer golf ball gets its name from the fact that it is coated in a specialist plastic and then enclosed in the ball's outer shell. The harder outer layer is much longer lasting than other balls and will take much more wear and tear. This harder feeling ball may have less flight but the solid texture and weight will mean it is indestructible and will have a higher rolling distance.
* Two layer golf balls are very durable and this is due to the fact they are composed of a tough, hard rubber core that makes a strong satisfying noise as the club connects through the swing.
* The outside of a two layer golf ball is covered in 'surlyn' which when introduced was revolutionary and is still impressing golfers today. The 'surlyn' is what creates the hard, durable shell of the ball with its enviable feature being that if the ball is miss hit, it will not be cut or chipped.
* Although coated with a different shell, two layer golf balls will still have the dimples running the across the shape of the ball, which means that the ball will still travel great distances as the dimples collect the airflow before landing.
Understanding a two layer golf ball and how it is created will help greatly in discovering how and why they are used.
Don't Purchase If You Are Not Suited
It is important that two layer golf balls should not be purchased by those whose game it would not suit, as the mechanics of the ball are vastly different from those of three or four layer balls. Some would think the choice of golf ball may not hamper a player's game but if used by the wrong player they could be highly detrimental to his or her score or game.
* The firmer feel of a two layer golf ball will generally suit players who are less adventurous on the course and those who aim to achieve greater distance with their drives and chips.
* The surface of the ball reacts well with the club and creates compression, which will help the ball to spring and bounce when it lands on the green.
* The design of a two layer golf ball will reduce the spin that the ball will take after a shot. A two layer golf ball may be ideal for beginner golfers looking to improve their drives because the ball is quite heavy and it has less tendency to be sliced or go off course. It is much more likely to travel straight and gain better access to the fairway or the green.
* The design could be a hindrance to some however who are keen on shaping and curving shots. More advanced golfers may want to approach shots in and around the green knowing that they have the ability to control the curve of the ball and, if needs be, attempt backspin.
Don't Use Them on the Driving Range
When practising a swing, many will visit a driving range to hone their skills and expertise. However, despite the fact that a two layer golf ball will achieve great distance, it is perhaps not the best option when practising shots on a driving range.
* Although they are of simple design and do not contain the complex core and layer of a three layer ball, a one layer golf ball is a much more straightforward and less expensive choice for the driving range.
* One layer golf balls have very little give and due to their construction should not be used on a course but only in practice.
* Because of their simple design and affordability they are much better to take to a driving range rather than the better designed and better crafted two layer golf ball.
Do Look for an Affordable Deal
Although one layer golf balls are less expensive and make more sense to use when practising, two layer golf balls can also be picked up with ease for an extremely affordable price.
* eBay will offer buyers the chance to purchase two layer golf balls at affordable prices that cannot be beaten by sports and specialist golf stores.
* Balls can also be purchased in bulk lots as well as in smaller sets. This may be the best way to buy a full lot of two layer golf balls for the best price. However these bulk lots should only be purchased by buyers who know they will the suit the ball and know that they will get full use out of them.
* Certain makes such as Nike or Titleist could demand a higher price but if you are not concerned by branding then a plain, non-brand ball may be a better and less expensive choice.
* Another alternative for picking up an affordable deal may be to buy lake balls,, which are used golf balls that have been resting on the bottom of a course's lake as a result of missed shots. This saving will let some golfers enjoy much more time on the course. However while they may be a less expensive option, some believe they will not offer the same quality as a new ball because the water will have greatly affected the way the ball will travel and its general movement.
Do Try Before You Buy
With the vast number of balls and equipment available it is important to try out a two layer golf ball before purchasing one. The distance, spin, weight and feel of a two layer golf ball separates it from others and, as stated earlier, may not suit all golfers so it is important to borrow or try one from a local course before purchasing. Although they are not the most expensive golf ball around, trying before buying could save a tidy sum.
How to Buy a Two Layer Golf Ball
Buying golf balls should be just as important to a golfer as buying theirclubs,, bag, shoes and any other items that they will need. eBay is among the top places to buy as golfers can browse the wide range of choices and purchase two layer golf balls at their own pace. If a buyer is unsure how to purchase a two layer golf ball, these steps should help guide them to the right location.
* Visit the eBay home page and once there, click the 'shop by category' drop down menu and choose 'golf' under the 'Sporting Goods' category.
* Click and choose the 'golf balls' section on the listings located on the left hand side.
* Typing certain specifications into the internal search engine will let buyers shorten their search choices.
* Buyers can also narrow down their choices using the tick boxes on the left hand side.
* The list choices can also be sorted by different factors, which are: best match, price, distance, condition and time.
It is important to fully read and check everything before purchasing a two layer golf ball. Each item will come with a full written description and will feature an image to show what the product looks like. If a buyer is unhappy with the product then there is sometimes a warranty or money back guarantee available so make sure to check before purchase.
If you are unsure about a seller on eBay then you should observe their positive and negative ratings, as well as how many sales they have made, as these may indicate how many buyers have put their faith in their selling skills. Some golf balls may be for sale at an unusually low price, especially if it is a bulk lot. However this may just be because that buyer is looking for a fast sale or to create greater interest in the product.
Conclusion
Two layer golf balls are a fantastic product either for beginners or more for advanced players as they provide stunning distance with a strong feel and outer core. They may take some getting used to for people unfamiliar with the type but if the positives suit your playing style they are a worthwhile investment. They work well with all types of clubs including irons, woods and putters. eBay is a great place both for avid golfers and keen starters to browse a selection of golf balls at competitive prices.