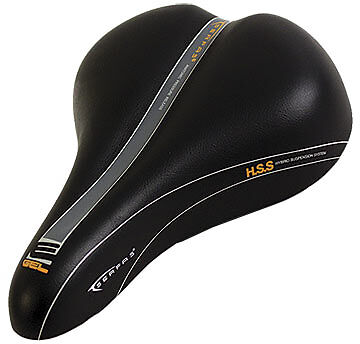 Cyclists can often feel a little overwhelmed when searching for new parts for their bicycle due the sheer number available. This is especially true forseatposts and saddles. However, there are a number of guidelines all buyers should follow when starting a search, and doing so will greatly assist them. Understanding the different materials used in seatposts and saddles, and the sizing of both can really speed a search up and help a buyer find exactly what they need.
There are plenty of cyclists' stores and websites that sell seatposts and saddles, but none have the variety and value of eBay. All buyers are advised to search for their bicycle parts on the site, and the following guide shall explain how to do so while also detailing the important factors that should be considered.
Bicycle Seatpost and Saddle
Choosing an appropriate seatpost and saddle is very important, as this is the main point at which the cyclist meets the bicycle. There are many types of both, and depending on the bicycle some styles of seatpost and saddle will be more suitable than others.
| | |
| --- | --- |
| Seatpost | The seatpost is the component that connects the saddle to the bicycle, and a good seatpost will reduce vibration and absorb any shock or impact experienced while cycling. Seatposts are always made from a metal, as this part needs to be strong and able to support the weight of the cyclist. |
| Saddle | The saddle is the contact point on a bike where the cyclist sits and rests the majority of their weight. The rest of the weight is spread between the pedals and handlebars. The saddle can be made from a variety of materials, and the type of bicycle and style of cycling should influence this factor. |
Do Pick a Seatpost or Saddle Appropriate for the Bicycle
This is very important, and all buyers need to be sure that the seatpost or saddle they purchase will fit on their bicycle and will be able to support their weight while they cycle. For example, choosing a road bicycleseatpost and saddle combination for use on a mountain bike that will be cycled off road is a very bad idea.
The seatpost will probably be too thin, but even if it fit using it on this type of bicycle would be very dangerous. Road bicycle seatpost are not able to withstand the stress that comes with mountain biking, and could snap off when in use, causing an accident. Road bicycle saddles are very thin, as the focus with that style is speed. The saddle would not be able to absorb the vibrations and could cause serious damage to the lower back. Always buy a seatpost and saddle that is appropriate for the bicycle they will be connected to.
Do Choose a Suitable Material
The material of the seatpost and saddle will depend on the type of bicycle and the environment it will be cycled in. This is where prices start to vary, but when it comes to cycling it is a case of getting what one pays for.
Seatpost Materials
Aluminium

Seatposts made from aluminium and aluminium alloys are very common today and are popular thanks to their inexpensive prices. Aluminium is a light metal, which makes it very suitable for use with road bicycles. This metal is also rust resistant again, making it suitable for road bicycles.

However, this is not a particularly strong metal, so cyclists looking for mountain bike seatposts should try to avoid buying one made from aluminium unless it is alloyed with a stronger metal.

Carbon

Carbon fibre seatposts are the number one choice for many professional cyclists. Carbon is extremely strong while remaining light, making it suitable for use with racing bikes. It is also possible to purchase mountain bike seatposts made from this material, but if doing so then consider buying one with suspension. Carbon fibre seatposts are the most expensive option on this list, but this is because many manufactures claim it has an indefinite lifespan.

Titanium

Titanium is an excellent choice if searching for a mountain bike seatpost that will be subjected to rough terrain. Titanium is known for its vibration dampening qualities, and this metal is one of the strongest options available. Titanium is quite resilient to physical damage such as scratches and buffs, and it will take a heavy impact to dent this material. Titanium seat posts can be quite expensive, but buyers will find titanium seatposts alloyed with another metal are less costly.

Steel

Originally steel was used to manufacture the entirety of a bicycle, but this is rarely the case anymore. There are plenty of steel seatposts to buy on eBay, and buyers will find that this option is often the most inexpensive. Steel is very strong and can survive shock and impact, but this metal is also very heavy making it unsuitable for road and racing bicycles. Steel is also highly susceptible to rusting, and without regular servicing a steel seatpost will become damaged.
Saddle Materials
| | |
| --- | --- |
| Leather | Leather has long been considered the best material to use in the manufacturing of bicycle saddles. This is because leather is tough, but will conform to the shape of a cyclist over time, making the saddle comfortable and supportive of the lower back. Leather is also naturally weather resistant and does not need to be coated to protect it. The only downside to leather saddles is they tend to be quite expensive. Leather saddles are suitable for road, racing and hybrid bikes, but it is advised that buyers searching for an off road saddle avoid this option. |
| Carbon | Saddles made from carbon fibre are extremely lightweight, but offer minimum support and comfort. As with carbon seatposts, saddles made from this material are the number one choice with many professional cyclists around the world. Carbon saddles are made with long distance road cycling and time-trial racing in mind, and as with leather are not suitable for off road cycling. Carbon fibre saddles can be expensive if bought brand new, but there are plenty of used saddles selling on eBay at much lower prices. |
| Nylon | Nylon is an ideal material to use for making mountain bike saddles, as this material is very strong and durable, and can absorb a lot of impact. Nylon saddles can be quite firm, but this is done so the saddle will dampen any vibrations. Nylon saddles can be bought for very reasonable prices. |
Do Think About Suspension
Suspension seatposts are excellent at reducing shock and impact and are made to move with the cyclist, encouraging them to sit in a correct position that is beneficial for their back. Buyers should think about buying a suspension seatpost if mountain biking, or if they suffer from back pains. Suspension seatposts can also be used in long distance cycling and again will benefit the cyclist's back.
There are a number of saddles that have small amounts of suspension at the back of the seat. These are ideal for use on road and racing bicycles that offer no other form of release due to the stiffness of the frame.
Do Buy the Correct Size Seatpost and Saddle
A very important aspect, as buying a seatpost too small or big can damage the frame, and buying a saddle incorrectly sized can damage the back. The standard sizing for most modern seatposts is 27.2mm, and on mountain bikes it is 27.4mm upwards. If unsure about the sizing then measure the post currently, using an engineering callipers.
There are three groupings for saddle sizes and these are narrow, medium and wide. The easiest way for buyers to find what group they belong to is to sit on a piece of tin foil and assume a cycling position. They will then be able to measure the space in between the foil.
Sit Size

Narrow

100mm

Medium

100 – 130mm

Wide

130mm +

Saddle Size
Don't Buy the Cheapest Option
Prices for seatposts and saddles can be quite expensive, but is advised that buyers avoid looking for the lowest priced parts. The price of a bicycle part tends to be a reflection of its quality, so buying parts that cost next to nothing will result in an uncomfortable ride that could be damaging for the buyer's bicycle and back. There are plenty of used seatposts and saddles that are reduced in price but work just fine. If money is an issue then look for a used part, but remember to always inspect any photographs for physical damage or defects.
Searching for Bicycle Seatposts and Saddles on eBay
To start a search for bicycle seatpost or saddle first head to eBay.co.uk and click on the 'Shop By' tab that is located to the left of the search bar. Click on the Cycling link found underneath theSporting Goods heading. Next, click on the Bike Components & Parts link found halfway down the Categories table. On the following page buyers will find links for Bicycle Saddles and Bicycle Seatposts. Simply click on the desired part to be brought to the relevant listings page.
If searching for a seatpost or saddle manufactured by a brand then enter the name of the company into the search bar. Do the same if looking for a particular composite material, e.g. Aluminium Alloy Seatpost.
Conclusion
Buyers can find searching for bicycle parts a bit daunting, and having to decide whichseatpost or saddle is most suitable can be confusing. However, this is a relatively straightforward process, and once buyers consider the type of bicycle, the material of the part and the size, they should have all they need to make a selection.
eBay is a great place to search for bicycle seatposts and saddles, as the site has an unrivalled selection at lower prices than those found anywhere else. All buyers are advised to search for their bicycle parts on eBay, and to take their time when browsing through the listings.