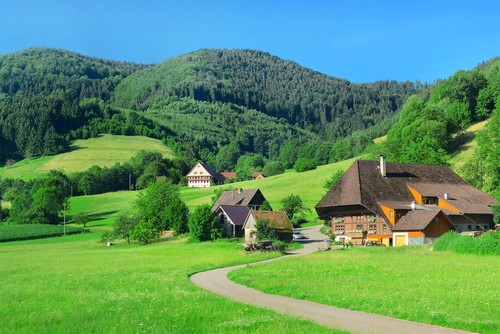 Easter offers a smashing excuse for a refreshing break, with the coming of spring after the tedium of the wintry months. The long bank holiday weekend may be too short for journeys overseas, but it is long enough for a memorable cottage holiday in the United Kingdom. Cottages offer a cosy home away from home, and most are to be found in stunning natural environments. With a wide range of rates to suit all budgets, their popularity has been boosted over the past few years as Brits discover the benefits of local tourism.
Booking an Easter cottage holiday is easy. Early birds that research what is on offer and make decisions based on the following suggestions can find the perfect holiday cottage, whether it is near a historical site or on an Easter egg trail. Cottage holidays can be book through bricks and mortar travel agencies or online sites like eBay that are available around the clock and with a wide variety of Easter breaks.
An Overview of Easter
Easter is a religious festival that also has folklore and various customs associated with it. It is one of the main Christian festivals, and commemorates the crucifixion and subsequent resurrection of Jesus Christ. This is marked with both reverence and fun. Easter is also a pagan fete in honour of Eostre, the goddess of spring and dawn. Spring symbolises a renewal of life, with the burst of the first green shoot a potent symbol of fertility after the harsh winter that laid the land bare. Many believe this renewal is worth celebrating, and do so with pleasure.
On the other hand, many do not subscribe to either the religious or folkloric interpretation, but celebrate the festival by following the trails left by the Easter bunny to find lots and lots of those big, colourful, scrumptious, chocolate eggs. Some choose to stay at home for the festival, but there is also the opportunity to book a cottage holiday. Many are available during the Easter break for a range of destinations and offering a variety of activities.
Cottage Holiday 1: Walks Down Memory Lane
Steeped in centuries-old history, the United Kingdom offers a fascinating study of the past. The prehistoric Stonehenge stone circles may have a huge crowd over the Easter period as it is a well known pagan shrine, but there are plenty of other places that offer as much excitement, such as castle ruins; museums; historic cities, like Bath with its Roman baths; and heritage towns like Llangollen in Wales. Having a cottage near one of these locations makes for a memorable Easter weekend spent soaking up history. Those that would prefer to relive the past rather than just gaze at it, can experience plenty of action at jousting tournaments, such as the event hosted by The Royal Armoury in Leeds.
Cottage Holiday 2: Journeys of The Soul and Spirit
The solemn days in the Holy Week preceding Easter Monday find many Christians pondering the suffering of Jesus Christ on the cross. The Saturday of Holy week features a vigil service; Easter Sunday is the time for feasting; and Easter Monday, nicknamed Resurrection Day, is about celebrating Christ's resurrection after three days and the dawn of new life. Throughout this Easter period, many churches hold services with hymns, meditation, prayers, and sermons. Those who prefer to spend their Easter break on a spiritual journey can find numerous religious retreats near to most towns and cities where holiday cottages can be found. There are also many pretty village churches that are more than happy to welcome visitors to celebrate with their congregation.
Cottage Holiday 3: A Burst of Spring
The countryside is perfect for celebrating the arrival of spring. Holidaymakers can walk through meadows, picnic in idyllic weather, watch deer, and even breathe in the wildflower gardens blooming around cottages. Book a holiday to take in the floral exhibitions, like the Daffodil Festival in Somerset; the countless traditional Easter egg hunts; or visit the Welsh village of Cenarth in Pembrokeshire to gaze at their famous waterfalls, which might be just the environment that exemplifies the renewal of life. Feasting is yet another way to get a taste of spring, with the myriad of food and drink on offer, including plenty of hot cross buns.
Cottage Holiday 4: Full of Beans
While some like to relax over the Easter break, many are not content to sit still after the long winter months. The new season offers holidaymakers a host of exciting outdoor activities from horse riding, canoeing, and mountain biking in the heart of the Forest of Dean, to surfing in Cornwall, and traditional Morris dancing. Organic rainbow trout and fly fishing are a great idea for those who want to catch their own supper, while the competitive have the Coast-to-Coast cycle route and boat races in London to prove their mettle. Families that love putting colour into their children's cheeks can look for cottages in the woods, hills, or beaches so that they can run around and explore.
Cottage Holiday 5: Chasing Festivals
There are plenty of events going on across the UK around Easter time; some no further than a neighbouring town. Look out for events that are of interest, and then find a cottage that is in the same area. For example, holidaymakers can book a cottage holiday in Dorset to attend the Bridport Film Festival if classical books and films are their cup of tea, or they can travel to Cumbria for the Great Peter Rabbit Hunt. Alternatively, they can try egg rolling in Lancashire or watch the floats at the Easter parade in London, if they like things a little livelier.
Factors to Consider When Choosing a Cottage for the Easter Break
A range of cottages are available, some with traditional rustic features, like stone hewn walls, oak beams, an inglenook fireplace, and a thatched roof, and others with modern conveniences, including Wi-Fi, home cinema systems, and central heating. Once the type of holiday cottage for the Easter break has been chosen, find out more about the facilities from the agent or private owner. Some cottages offer eco-friendly options for sustainable energy that is kind to the environment, such as solar water heaters, and pellet stoves.
It is important to ask about the number of rooms and the maximum number of people that the cottage can sleep. Families with children or pets should ask about whether the cottage is child or dog friendly; for example, check whether there are open fires or outdoor ponds that could be dangerous. Try to find out as much as possible about the standards of cleanliness either by reading reviews or by looking at pictures carefully. While self-catering is the norm, there are still cottages that offer meals if the holidaymakers do not wish to do the cooking, and there may be pubs nearby that serve food, or restaurants that are worth a visit.
Searching for Easter Break Cottage Holidays on eBay
Searching for an Easter break cottage holiday is as easy on eBay. You have the opportunity to browse through all of the listings from the comfort of your sofa. Many options are available in the UK and many agents and private owners post excellent pictures so that potential holidaymakers can peep into the living room and bedrooms. This is a great way to find a cottage as it saves time and energy, and gives good value for your money because the charges are listed clearly, so there should be no hidden fees. Before making a booking, use eBay's handy "Ask a question" feature to contact the agent or cottage owner directly for more information.
Cottage holidays can be found by searching for "Easter cottages" using the search field on any eBay page. There are listed with extensive descriptions of the cottages, including their locations and rates, the number of rooms, type of heating, and amenities. Each listing should also have photos so you can see what is on offer. Read any feedback left by previous guests at the cottage by clicking on the seller name in the item description.
Conclusion
The hustle and bustle of modern living means that when a holiday appears on the calendar, many people take the opportunity to find a delightful spot away from it all. An Easter break is ideal for welcoming spring. Some people just make the most of the long bank holiday weekend, but many others take time off to spend more time with family during the two week school holidays. There are many holiday cottages in the United Kingdom offering a cosy place to make your home for a few days, and where beautiful baskets, bunnies, and chocolate eggs may be waiting for your arrival, if you are lucky.
Choosing the location of the cottage is based on personal preference and the environment or activities most desired. Some enjoy a stay in a historic town, while others look for a more spiritual break to celebrate Easter. There are many places that allow holidaymakers to be in the heart of parades and Easter egg hunts, which are fun for children and adults alike. eBay offers a range of cottage holidays over the Easter break.