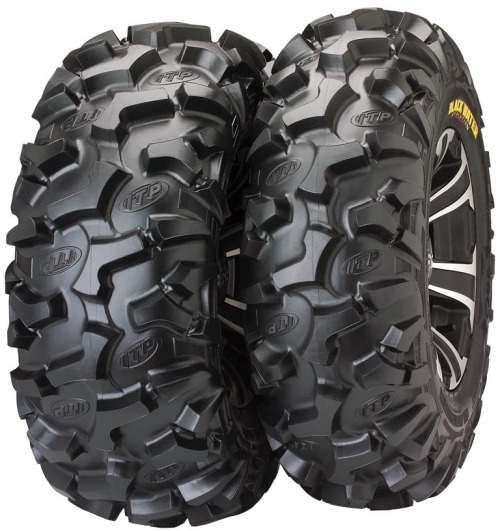 ATVs, also called quads, are popular recreational vehicles, and they can be customised and outfitted with a high number of parts and accessories. One of the best investments for an owner of an ATV is new tyres. These are created in several different styles to help riders gain traction on a variety of surfaces, including sand and mud. Several parts can also be purchased to improve the air and exhaust flow of an engine. Air filters and intakes are easy to install and relatively inexpensive, and several types of exhaust systems are also available. Add these parts to a vehicle for improved power and performance. Handlebars and hand rests can be purchased to increase the rider's stability, control of the vehicle, and overall safety. Buyers can also find graphics kits to customise their vehicle and enhance its appearance.
Parts for ATVs and quads can be purchased from auto parts stores, dealerships, and online sellers. Many websites specialise in the sale of parts and accessories for ATVs, and can be used to find replacement and aftermarket parts. Marketplaces like eBay also have listings, and buyers can choose between new and used items on the site. Consider the full range of parts available, and choose items to enhance the performance and appearance of a quad.
1. Tyres
One of the most important parts on a quad is the tyres. Tyres for ATVs are produced with different treads to accommodate a variety of terrains and driving styles. They are also created in varying sizes to match specific vehicles. Buyers should begin by choosing the type of tyre they would like, and then find the appropriate size.
Tyre Types
There are four primary tyre types for quads, including All-terrain, mud, sand, and road tyres. The following chart offers a brief description of each kind.
| Tyre Type | Description |
| --- | --- |
| All-terrain | Suitable for those who enjoy riding on different surfaces; those who would like to avoid changing tyres each time. Good on any surface, but not great for racing or serious riding. |
| Mud | Designed with widely spaced, deep tread for digging into soft terrain. Not suitable for riding on hard pack or other solid surfaces. |
| Sand | Also designed with wide tread. The rear tyres have distinctive, paddle-like ridges to gain traction in sand. Best used in sand only. |
| Road | Smoother, even tread for driving comfortably on paved surfaces. Saves other types of tyres from wear due to road driving. |
In general, it is best to use tyres only for the type of riding they are designed for. This is especially true for mud and sand tyres that can have their deep treads worn away quickly on hard surfaces.
Size
It is important to consider the size of ATV tyres while shopping. Tyre sizes are listed with three numbers, and there is a standard format for how these appear. The first number represents the height of the tyre, the second is the width, and the third number is the diameter of the tyre's rim. All measurements are in inches. For example, a tyre listed as 19 x 9 - 8 is 19 inches high, nine inches wide, and has an eight-inch rim.
It is important to match a tyre's size to the ATV. However, there is usually a little room to change sizes from the stock tyres without making alterations to the vehicle. For example, buyers looking for extra size can choose products that are one inch higher than the stock tyres without adding a lift kit to the quad. Buyers who are unsure of the size of the vehicle's stock tyres can find information online for nearly every ATV and quad produced.
2. Suspension
How well a quad handles is dependent on its suspension and shock absorbers. One of the most important considerations while shopping for suspension parts on quads is the width of the arms. Wide arms improve stability at the cost of cornering, while short arms improve performance on narrow paths. Aftermarket parts are available to improve performance for all types of riding, including sand, off road, and hard pack.
3. Exhaust and Air Flow
Improving the exhaust flow out of an engine increases performance of an ATV. Look for aftermarket exhaust systems and parts to gain power from the vehicle. Replacement parts like gaskets and nuts are also available.
The engine of an ATV depends on a mixture of air and fuel for its power. The more air and fuel an engine gets, the more powerful it is. There are several parts available that can help buyers improve airflow in their vehicle's engines, including air filters. Replacing the air filter on a vehicle helps keep an engine stay clean by reducing the amount of dirt and debris.
4. Handlebars and Foot Rests
The handlebars and foot rests on an ATV or quad are important for stability and safety. A high number of aftermarket products can be purchased to replace stock parts, and are made from durable materials like stainless steel. Buyers can also find accessories like nerf bars to help them climb on and off the vehicle. Rods and bars can be outfitted to a vehicle to protect it against damage from branches and other objects. For example, foot rests for a rear passenger can be attached to protective bars for the rear fender.
5. Graphics Kits
One of the most noticeable ways to customise the appearance of an ATV or quad is to add a graphics kit. These items are created on durable vinyl, and can be applied to the front, back, and sides of an ATV. Graphics kits are created in a huge variety of styles, including abstract designs, brand names, logos, numbers, characters from popular culture, and original art. Look for designs featuring the Rockstar or Monster energy drink logos, comic book characters like Spider-Man, and other graphics kits to add personality to a vehicle.
Shop for Used Items
Buyers on a budget can choose to shop for used ATV parts. Many items can be found in excellent condition, and can save buyers considerable amounts of money. Be sure to inspect a used part to verify its condition. When possible, examine it in person. If buying online, inspect all available photos and read descriptions provided by the seller. Feel free to ask questions about the history of the part, as well, such as how long it was used, why it was removed from the previous vehicle, and why it is being sold. With a little precaution, many quality used items can be obtained at reasonable prices.
How to Buy ATV and Quad Parts on eBay
All types of parts for ATVs can be purchased on eBay. You can shop from commercial retailers on the site, or buy from private sellers. Enter keywords into the search field on the home page to begin. For example, to see tyres, enter "atv tyres" into the field. Searches can be refined by adding new keywords, such as a brand name or a specific type of tyre. You may also use eBay's category links to find items. These allow you to browse by item type, condition, price range, and more.
Once you have located the types of parts you are interested in, take a moment to inspect item listings. Look for photographs of the item, and compare them with the description provided by the seller. Many listings also contain details about the product from the manufacturer. Be clear on the price of the item, its shipping charges, and the payment methods accepted by the seller. You may also wish to determine the shipping methods used by the seller. Contact the seller if you have any questions about an item or its listing.
Click on the names of eBay sellers to see their full profiles. There, you can find information about their previous eBay transactions and the satisfaction of their customers. Look for a positive feedback rating and number of completed transactions a seller has. The positive feedback rating reflects the percentage of buyers in the past 12 months who were satisfied with their purchase. For more detailed information, read comments left by previous buyers.
Conclusion
ATV and quad owners can find a high number of parts to repair, modify, and improve the performance of their vehicles. Tyres are one of the most important parts, and are produced in different styles to handle a range of driving conditions. Look for tyres that can improve handling and speed in sand, mud, or on the road. All-terrain tyres can also be purchased, and are suitable for use on a variety of surfaces. Similarly, suspension and shock absorbers can affect how well a vehicle handles in different conditions.
Buyers can also choose from several products designed to increase airflow and improve exhaust flow. Consider adding these to a vehicle to improve horsepower and speed. Owners can enhance the appearance of their vehicles with graphics kits. These are created in many different colours and designs. Look for products with figures from pop culture, abstract designs, company logos, and more.
Parts for ATVs and quads are available from auto parts stores, dealerships, and online retailers. Marketplaces like eBay have a high number of listings for parts from both private and commercial retailers, and can be found in new and used condition. Compare all retailers to find the best products and prices, and choose items to enhance the appearance and performance of an ATV or quad.