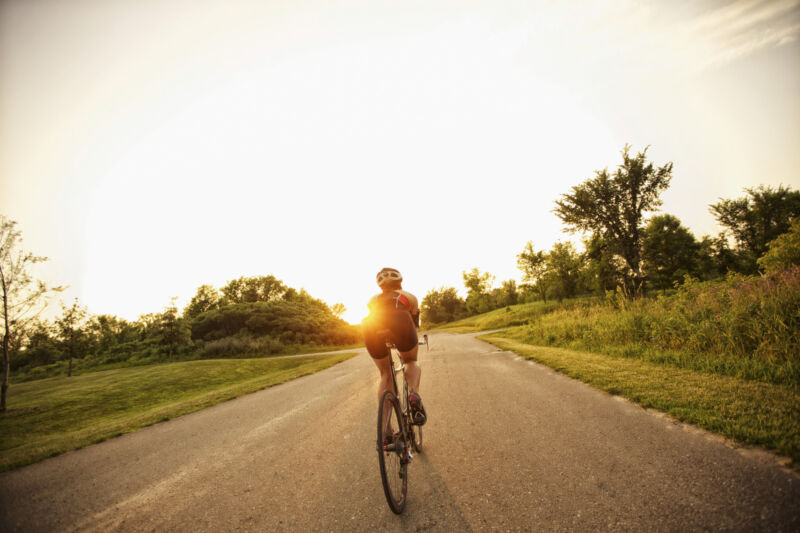 Add a caption
Thousands of people will hit the open road during Bike Week
Cyclists are gearing up for Bike Week (13-21 June). Over half a million people are expected to saddle up as they rethink their everyday journeys and switch to cycling as the most convenient way to get around.

It is the biggest nationwide cycling event in the UK, so you can expect plenty of two-wheeled fun for all ages.

The aim is to encourage everyday cycling for everyone, from old pros to new beginners. Whether you enjoy tearing up the tarmac or venturing off the beaten track, here a 5 essential pieces of kit all cyclists should have.


Add a caption
You should never hit the road without a bike helmet
Helmet
A helmet
is perhaps the most important piece of kit you will ever buy. It could save your life if you fall off your bike at speed or are involved in a road traffic accident, so you should never leave home without one.
All bike helmets sold in the UK should meet the European Union standard. That means more expensive units are not necessarily more robust. Instead they are typically lighter and better ventilated than others.
You can get streamlined helmets, which allow you to cut through the air much easier, plus ones that have more protection at the back. Others also come with camera mounts for your
GoPro
, if you like to record your adventures.
But whatever helmet you go for, it needs to fit properly if it is going to be effective. It should sit level on your head, covering your forehead, while the straps should be snug yet secure. Use the adjustment dial to tighten or loosen the cradle.
Add a caption
Don't be stranded miles from home without a bike tool kit
Tools
Getting stuck at the roadside or in the middle of the forest as a result of a puncture or another bike malfunction can be deflating to say the least, especially when there is no mobile phone signal to call for help.
You could be miles from home, so retracing your tracks and pushing the bike back is out of the question. It will be up to you to fix the problem – and there are a number of
easily portabl
e
bike tools
that can help.
A set of tyre levers, a hand pump and inner tubes can repair punctures, while Allen keys and screwdrivers can solve most other malfunctions. A spare chain link and gear cable are also worth having.
Buckled wheels are just as annoying – and common – as punctures. You need a spoke key to get yourself back on track in this situation. Use it to tighten or loosen your spokes to get the wheel back into line.
Saddle Bag
You will need a
saddle bag
to keep your tools in, plus other things like your mobile phone and small snacks.
Rucksacks can get in the way when cycling. They put unnecessary strain on your back, plus jolt about as you go around corners or over bumps. You also have to stop now and again to adjust the straps on them.
Saddle bags, on the other hand, sit discreetly out of the way under the saddle. They let you focus on racking up the miles, and come in all shapes and sizes so you can carry as little or as much as you like.
But keep the size of your bike in mind when buying a saddle bag. Obviously, you do not want one that gets in the way of things like lights and mudguards. You also need to think about how it will fasten to your ride. Velcro strap versions are generally more secure than those with brackets.
Bottle
Pedalling for hours on end is thirsty work. Dehydration and cramp are likely to kick in if you do not have water on hand, so you should always ride with a full
water bottle
.
A capacity of 500ml or greater is all you really want. Some manufacturers will talk about how their bottle is wind tunnel tested or lighter than others on the market. This does not matter in the grand scheme of things, unless you are a professional cyclist.
You will need a cage to attach the bottle to your bike, although it is rare if a ride does not already have one fitted. Cages are generally of a universal standard, so you should have no problem finding one.
If you are planning a big ride with little chance to stop and refill your bottle, a
hydration backpack
could be just the thing for you. They have tubes so you can drink without stopping, plus they can hold several litres of water at a time.
Add a caption
Bike lights are required by law if you are cycling in the dark
Lights
Riding after dark can be dangerous – both on and off road – but
bike lights
can help keep you safe.
You are required by law to have a white one on the front and a red one on the back. They make you visible and illuminate the route ahead, so they should be near the top of your list of essential purchases.
Most cities are fairly well lit, meaning small lights will usually suffice. On unlit roads and off road terrains, however, you will need something more powerful. This is where the bold beams of
LED units
come into their own.
In addition to brightness, battery life is another factor you need to consider when buying lights. After all, you do not want to be halfway home at night only for your lights to fade and eventually go out altogether.
With
Dynamo bike lights
you are guaranteed to never run out of juice. As the pedals go round and round, the resistance of the Dynamo's friction on the tyre wall generates electricity that powers your lights.