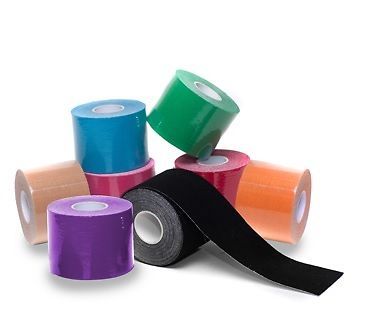 Kinesiology tape is not far removed from being a new product, but it is one of great importance when undertaking strenuous sporting activity. When used correctly it offers support and stability to joints and muscles, without restricting movement. It can also be used to relieve pain by removing pressure from the strained and sore areas
The kinesiology taping technique is built around using the body's natural abilities to heal. The tape itself uses the circulatory system to focus the body's healing antibodies towards a specific area. When it comes to boxing and combat training kinesiology tape is an invaluable item. The key is in understanding what makes a good roll of kinesiology tape and how to go about getting it at the best price. This guide looks at the five important factors that shoppers should consider prior to purchase.
1. Understand the Types of Kinesiology Tape Available
In the past, kinesiology tape came in a single one-size-fits-all option that was difficult to use. Thankfully, those days are gone and kinesiology tape now comes in various sizes and forms. Expect to find rolls and pre-cut strips of various lengths for sale on eBay's dedicated kinesiology section. There are products for every level of expertise, so no matter whether you require it for healing or support, one of the following options will be sure to suit.
Tape Roll
The most popular form of kinesiology tape, and arguably the one that offers the best value for money.
* Lowest cost when broken down into single applications
* The longest lasting form, as users can get multiple cuts of kinesiology tape out of a single roll
* Suitable for cutting to any shape or size, meaning that it can be tailored to fit specific body parts
* Available in a variety of colours
* Its flexibility means it requires knowledge in order to apply correctly, and doesn't usually come with instructions for use
* Perfect for frequent users who like to experiment with taping styles, and a favourite amongst medical professionals.
Pre-cut
Pre-cut kinesiology tape is a convenient option for those who do not want to spend time cutting off what they require from a roll.
* No training or knowledge is required in order to use pre-cut kinesiology tape properly
* Comes boxed, which makes it easier to put into bags and carriers
* Can be applied to a body part in seconds with no fuss and mess
* More expensive than kinesiology tape rolls
* Perfect for those who need kinesiology tape when out and about.
2. Explore the Brands Available
After deciding on what form of tape is suitable, it will be time to look at the brands most associated with the field of kinesiology.
* Levotape
* K-Active
* Kinseo Tex
* Rock Tape
* Strength Tape
* Spider Tech
* Perform Tex
* KT Tape
* Kenzo Kase
As with any other medical supplies market, brands vary in quality and target customer. Expect some to focus on specific body areas and injuries, while others will have general tape that can be used on all areas. Take the injury or ailment into consideration and attempt to find a brand that suits all your requirements.
3. Learn How to Use Kinesiology Tape Correctly
Owning suitable kinesiology tape is one thing, but using it correctly is a different matter entirely. Targeting an area correctly can be the difference between aiding pain relief and simply throwing money away. The following techniques are recommended by many Certified Kinesio Taping Practitioners (CKTPs), and will make sure you get the best out of your purchase.
Neck
* Create an upside-down Y shape with two pieces of tape and place it vertically on the back of the neck
* Without stretching, push the ends of each piece closer to the shoulder blades, furthering the Y shape
* Take an individual piece of tape, turn it into an I shaped strip. Proceed to place it horizontally through the middle of the Y shape, do this without stretching the tape
Back
* Bend forward and stretch the back muscles as much as possible. Apply two single I strips down the left and right side of the back, running parallel with the spine
* Take another I strip, place it horizontally running through the middle of the two strips and spine. Light stretching is suitable in order to make sure the muscles remain tight.
Arm
* Extend the arm muscles before laying the arm down flat with the palm facing up
* Create an X shape strip and place it at the beginning of the elbow before tailoring it all the way down to the wrist, making sure that there is moderate stretch and room for manoeuvre
* Extend the tail ends of the tape outwards towards the end of the forearm in order to ensure it covers a large surface area
* Take a small I strip and wrap it around the wrist to complete the process
Knee
* Extend the leg while in a seated position before placing a pre-prepped piece of Y shaped tape on the front of the thigh, facing down
* Slightly bend the knee and wrap two small pieces of tape around the kneecap
* Put a second Y strip below the knee and wrap the ends of the tape around the kneecap. This will ensure that the knee remains fully supported
Bear in mind that kinesiology tape is a medical supply, always read the manufacturer's instructions prior to use, and avoid applying it to inappropriate areas.
4. Consider Buying Used
Medical supplies are not cheap to buy and kinesiology tape is no exception. However, to the surprise of many, buying used medical supplies is actually an option. If shoppers do not need an entire roll or box of tape, there is now no longer any need to buy copious amounts. It is always worth checking out eBay to see if there are any unused or part-used kinesiology tape products up for sale. Before buying, always question the seller to ensure that you know what you are buying. Ask things such as:
* How much is missing from the roll or box?
* How much tape was originally on the roll or in the box?
* Is the tape in gentle or normal form?
5. Check out eBay Shops
The world of medical and physiotherapy supplies is big business; this means everyone from high street retailers to independent sellers is fighting it out for customers. They're always looking for new ways to sell their products. One way that is commonly used is the eBay shops format.
* These are mini-stores are target-market focused
* Run by a single seller, which makes communication easier
* Constantly stocked with special offers and great bargains
* Most eBay shops offer multiple item shipping discounts
* To find an eBay shop that suits your interests, click on the eBay shops link at the bottom of the homepage and start exploring
How to Buy Kinesiology Tape on eBay
They say you can't put a price on health, so it is best to have supplies available should injuries and ailments occur. One piece of equipment that goes under the radar, but has great uses, is kinesiology tape. It is a versatile tool that is used by the world's greatest sportsmen, including David Beckham and Andy Murray. Top athletes swear by it and it is not hard to see why. It doesn't matter whether you are recovering from an injury or looking to prevent one, kinesiology tape should be a must-own item.
* eBay is a top medical supplies retailer, so in order to see what kinesiology tape they have for sale select sporting goods when on their homepage
* Select other sporting goods and finally other sporting goods for a second time, this will bring up all live auctions
* Locating a particular brand or form of kinesiology tape could not be easier, simply use the keyword and advanced search options
Completing a Transaction
After finding a suitable product, the last thing anyone will want to see is someone else buying it. In order to make sure that doesn't happen do one of the following when on an item listing:
* Place a Bid
* Make a Best Offer
* Buy it Now
If you are fortunate enough to win the auction, it will be then time to pay for the item. Choose PayPal to do this, as it will ensure that the buyer protection programme covers the order.
Conclusion
Healing and injury prevention is an important part of daily life, and people forget that the body has the antibodies to do this on its own. The trick is finding taping and support that aids this process. One item that should be on every sports players shopping list is kinesiology tape. It is an affordable way of supporting the joints and muscles without sacrificing mobility. Simply put, when it comes to body maintenance there is no better item to help than the appropriate kinesiology tape.
When looking for the right type of kinesiology tape, shoppers will only need to visit one place. eBay is a leading retailer in the world of medical supplies and has every variety of kinesiology tape in stock, meaning that the perfect muscle and joint support is only a few clicks away.