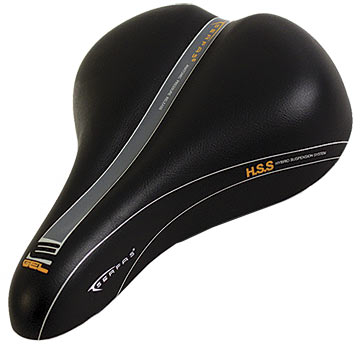 The saddle is the key component of a bicycle and can be an annoyance to get right. It can really be a problem for women and many are riding around on saddles that are completely unsuitable. Often cyclists stick with the standard saddle, and the pain that comes with it, when they should be looking to change it sooner rather than later.
To understand whether a saddle is right for you, take a bike out and ride it for over twenty minutes on various terrains. If you feel pain free at the conclusion you have the correct saddle, however if you don't it is time for a change. This guide will examine what it is women should be looking for when it comes to purchasing a new bike saddle. eBay has a variety of saddles for sale, so all women will be able to find something suitable.
Common Issues
The horror stories relating to physical damage done due to poor saddles have become increasingly evident in men's cycling. However the problems that it can do to women are far less reported. It is not surprising that the following ailments have stopped many females from riding their bicycles on a regular basis.
Saddle Sores
Chafing
Muscle Strain
Genital Numbness
Pudendal Nerve Damage
Injuries like these can lead to serious medical issues if they are not addressed. It is crucial that women take saddle quality and comfort seriously.
Types of Saddle
The time will come where the pain becomes too much to bear and investing in a new saddle becomes essential. It is important to know what to look out for and what is available when entering the market. There is a huge array of options available to customers including different sizes, depths, builds and styles.
| | |
| --- | --- |
| Racing | Racing saddles are produced for high performance and long distance road use. They shift the rider forward so increased pressure falls on the hands and feet. Such saddles are thin and are designed to relieve pressure in and around the groin area. |
| Cruiser | Cruiser saddles have padding at both ends of the saddle. This means the full weight of the user comes down on the saddle via the sit bones. The name signifies its use; it is a saddle that is intended for cruising. However, it can become very uncomfortable should the bike achieve high speeds. |
| Comfort | Many of the self-proclaimed 'women specific' saddles fall into the comfort category. They are designed to allow for easy access to the pedals and absorb shocks found on common roads. The biggest selling point is the central relief they provide when taking casual bike rides on rough terrain. |
Saddle Materials
Women who are looking for maximum comfort tend to use short and stubby saddles that are loaded with padding and gel inserts. The 'armchair philosophy' of trying to find a saddle that comes with as much soft padding as possible is hazardous. Such a seat will cause more harm than good over the long term. Explore the materials available and don't necessarily choose the saddle with the most padding.
Plastic
Leather
Synthetic Leather
Kevlar
Lycra
Wide or Narrow
In order to obtain maximum comfort, and reduce the risk of injury, women should purchase a seat that is of the correct width. This is all related to finding a saddle that suits the space between a rider's sitting bones.
If a saddle is too wide it will cause chafing of the thighs and upper legs; in hot weather this can be particularly uncomfortable.
If the saddle is too narrow it will cause the soft tissues in the legs to bear the body's weight, which makes muscle damage a possibility.
· Women's sitting bones are wider than a male's, so wider saddles are more beneficial when it comes to comfort.
Soft or Hard
· Women should consider whether they are better suited to a soft or hard saddle.
Soft saddles are constructed so that there is more contact between the rider and the bike. For short rides this is fine, however, over long distances friction can occur.
Hard saddles feel less comfortable initially, but are undoubtedly better for a female in the long term.
· Don't ignore saddles that have a short nose area, this is simply a cosmetic alteration.
· Visiting a bicycle shop and taking advantage of a 'try before you buy' service is a priceless resource.
· After which, shoppers can use eBay to buy a saddle at a more affordable price.
Quality and Price
Even though the bicycle itself is important, riders should not understate the value of a good saddle. Investing in a third-party saddle is a wise idea and it can be the difference between a smooth or painful ride.
The amount an individual invests in a saddle is dependent on budget and how much the bike is used. Regular riders should make acquiring the correct saddle a top priority.
There is a wide range of saddles available, all of which advertise a variety of features. It can be a daunting market to enter, but using the following tips means finding the right saddle can be a simple task.
· Don't skimp on quality. Unbranded saddles may seem financially appealing; however, they're known to be ridged and potentially hazardous.
· Avoid all forms of plastic saddle; they cause chafing and thigh damage even after a short time on the bike.
· Don't be afraid of spending more than you expect in an appropriate saddle. They are a long-term investment with potential resale value.
Prices can range anywhere between £20 and £100, so there is something to suit all budgets. When entering the market for a saddle, remain open-minded and don't just settle for the first saddle you see.
Final Tips for Buying a Saddle
· Ensure that the bike and saddle are the correct size and you are not overstretching in order to reach the handlebars.
· The saddles height should be at a point at which when seated the knees only need to be slightly bent in order to reach the peddles. This means that there is reduced pressure on the thighs and knees.

The saddle should be positioned at an even angle, avoid having the nose tipped down as it will unnecessarily increase the pressure on the arms.
· Padded shorts are a useful investment and can help reduce friction on the groin area. Always remember that the correct clothing is just as important as using the correct saddle.
· Always bear in mind that it takes time to break in a saddle. Do not get frustrated if it takes time to adjust to riding something that is different from what you are used to.
How to Buy a Women's Bicycle Saddle on eBay
Cycling is one of the world's most popular fitness activities. It provides an all-round body workout whilst helping improve cardio-vascular condition. However, in order to obtain all the benefits from cycling the right saddle is required. Women should look no further than eBay to find the right saddle to suit their needs.
· In order to browse what bicycle saddles are available, log on to eBay's homepage and select sporting goods.
From there, click on cycling, bike parts and then saddles, this will display all live auctions and allow shoppers to openly browse.
· If shoppers have a specific brand of saddle in mind they can use the keyword search to narrow down their results.
The advanced search tools can also play a pivotal part in locating the bicycle saddle that a shopper is after.
eBay Shops
Cycling's popularity has rarely dwindled and this means that parts such as saddles are regularly available. Trusted bicycle shops and specialists have taken to the eBay shops format in order to sell their goods. Shoppers are sure to find special offers and great bargains in these miniature stores. To find what eBay shops are open for business, click the eBay shops link at the bottom of the homepage.
Completing a Transaction
When shoppers have found what they're after they'll need to follow through with a purchase. In order to do this they will need to do one of the following on an item listing:
o Place a Bid
o Make a Best Offer
o Buy it Now
Once an auction has finished the winning bidder will need to complete the checkout process.
Conclusion
The risks that an unsuitable bicycle saddle can present to a woman are high. Numbness, loss of feeling and skin damage are common but can be avoided. It is time for women to take a look at their bicycle saddle and make a change from the standard manufacturer offering.
Choosing a saddle is a personal matter, as what is right for one person may be unsuitable for another. Fundamentally, most women have the same anatomy, an anatomy that is completely different to men. This means that shopping for a new saddle shouldn't be particularly tricky but does require due care and focus.
When searching for a new bicycle saddle eBay is a priceless resource, women will find saddles for all body types at affordable prices. It's also safe too, as buying with PayPal will mean your order is covered by their buyer protection program.