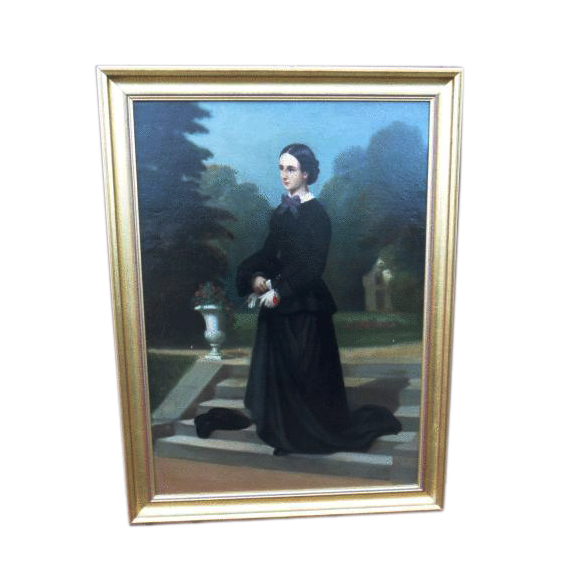 eBay is a great place to buy antique art. From antique pastel portraits to pre-1900 oil paintings, eBay is a truly fantastic resource for any antique art collector. Collecting antique art dates back hundreds and hundreds of years but its popularity exists throughout every period of time. This interest means that there is now a vast range of antique art collectibles currently on the market.
There are many considerations to take into account when buying antique art but the purpose of this guide is to outline and explain the essential five factors to keep in mind when collecting antique art:
1. Condition of the piece
2. Are there any relevant current market trends that could influence the piece's value?
3. What about the pieces Salvage value?
4. Does the piece have any unfamiliar marks?
5. Is it authentic or is it a fake?
This guide will also explain to potential buyers how to purchase antique art from eBay.
Antique Art
An antique is an old collectible item that is desirable because of its age, beauty, rarity, condition or utility. Antiques often represent a previous era or period of time in human society. Objects that are of least 100 years old are often called antiques.
Antique art can be bought at antique shops, antique dealers and auctions or bought online through specialist antique traders or auction websites such as eBay. 'Antiquing' describes the notion of shopping, identifying, negotiating or bargaining for antiques.
5 Factors to Keep in Mind When Collecting Antique Art
There are many aspects to consider when buying antique art, but here are the five essential factors to keep in mind:
1. Condition of the Piece
The condition of an antique is one of the main factors that determines value of it and as such must be the first important factor to consider when buying antiques. Some antique collectors only collect mint condition pieces and will pay those very well who keep their antiques in tip-top condition. Even a very old antique kept in fairly good condition will increase the value of it.
Antiques in mint condition reach large sums because the collector knows that if they also look after it thoroughly then it will still exist for a very long time- which of course only adds more value to the piece.
For serious antique art collectors and investors, the pieces condition is usually the deciding factor over whether to purchase it or not.
2. Are there any Relevant Current Market Trends That Could Influence the Piece's Value?
The second essential factor to consider when collecting antique art is the current market trends. Current market trends often influence the value of a piece of antique art. In general, the higher the demand for a piece: the higher the value of it. This is also the case for antiques in low supply because if a piece is in short supply then it is considered rare and adds value to the piece accordingly. Antiques may lose value if they are bought or sold following a boom in that pieces market.
3. What about the Pieces Salvage Value?
In some cases, antiques that aren't in mint condition can be sold on at salvage value. Just because a piece of antique art is damaged or not in mint condition doesn't mean it is worthless. Some antique collectors still consider poor condition or damaged antiques valuable and are willing to pay salvage value for them- a reduced price according to the condition of the antique.
Many antique collectors look for damaged items that they can repair (or even use for parts to repair other pieces in some cases).
The main factors that antique collectors offering salvage value on a piece consider are: usefulness, nature and extent of damage of the antique.
4. Does the Piece Have any Unfamiliar Marks?
Any antique art collector should also be looking for any additional features on the piece when considering buying it. These features can be anything from unfamiliar marks to a hidden signature etched on the frame. In a lot of cases, people selling antiques have inherited the piece and as such may not know anything about collecting antiques or may not have carried out any research prior to selling.
This is great news for the antique collector as it means they have the possibility to grab a real bargain. Any antique art collector knows to read the full description of a piece through thoroughly as sometimes antique sellers make a note of any unfamiliar markings. These markings can offer more information about the piece which in turn can influence the value of it. Some markings can indicate a piece's artist, authenticity or time period/era - all of which can help an antique collector spot a real deal from a waste of money.
5. Is it Authentic or is it a Fake?
The last but not least important factor to keep in mind when purchasing antique art is the authenticity of the piece. Collecting antique art is not just a hobby or pastime, it is a business these days and as such there are dodgy antique dealers that try to con people into buying fakes or reproductions of antique art. When purchasing any antique art piece, the authenticity of it must be questioned.
These are the main questions to ask in order to check the authenticity of a piece:
* Is there more than one of this so-called 'rare' item? If so it's probably a fake.
* Does it look too shiny or new to be that old? If so then again, it's a fake.
* Where's the wear? No wear means no good unless its mint condition.
But perhaps the best way to be protected against fake pieces and scam artists is to arm yourself with knowledge. Research the desired piece or visit the local art museum to see what a piece of real authentic antique art looks like. There are also many books about antique art collecting that carefully describe how to spot a real piece of antique art from a fake or reproduction.
How to Buy Antique Art on eBay
eBay is great resource for purchasing antique art. Regardless of the collector's preference over the antique art subject (portrait, landscape, still-life), medium (oil, watercolour, pastel, acrylic) or style (Realism, Abstract, Impressionist, Art Deco), eBay sells an abundance of antique art to suit any and every antique art collector.
Renowned for its truly extensive range of products, competitive pricing and overall great customer experience, eBay is a great place to buy antique art regardless of the buyers purchasing preference. Whether the buyer wishes to purchase their desired product immediately ('Buy Now' ) or they want to bid for it in an auction-style medium ('Bid Now' ), eBay offers all buyers a choice concerning purchase.
Finding the desired antique piece is easy using eBay's search toolbar and advanced search function. The buyer simply has to type in the name of the piece, its artist or any other identifying features and a page of search results will be generated. From here, the buyer merely has to click on the appropriate search result to be taken to that items individual listings page.
This page includes a wealth of information about the item including: a detailed specification, a product analysis and comments about the condition of the item as well as photographs to compliment the information.
The product's page will also host information about the items seller including their eBay rating, selling history and their location (if it is local the buyer can collect the item instead of paying for its delivery). The buyer can even ask the seller a question or clear up a query by contacting the seller (click on the 'Contact Seller' button).
Once the buyer is satisfied with the product, they can purchase the item. This can be done in two ways on eBay: the buyer can purchase the item immediately (by clicking 'Buy Now') or bid for the item in an auction format (by clicking 'Bid Now' and entering a bid).
Besides its flexibility over purchasing products on the website, eBay is renowned for its safe and secure payments which are controlled by leading payment authority PayPal.
Buyers can also search for antique art by using the categories on eBay. Simply click ' All Categories ' and click on 'Art' then click on the most appropriate subcategory (i.e. 'Drawings', 'Paintings', 'Prints' etc). For help using the search and advanced search functions, visit eBay's comprehensive help section and simply type in a query.
eBay is an authoritative name in the world of internet shopping, not only because of its competitive pricing and the wealth of information provided surrounding its products, but because of the great user experience and customer service that the auction website offers.
Conclusion
There are many factors to keep in mind when purchasing antique art. However with the help of this guide and main factors to consider outlined, buying antique art from eBay is easy. The right piece of antique art selected carefully will not only look great above the mantelpiece but it may also make you a small fortune.