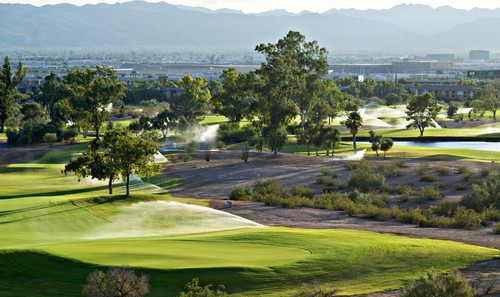 England is home to nearly 2,000 different golf clubs. Many of these golf clubs are ranked among the top in the world. With nearly 750,000 golfers in England, it is no surprise that many people choose to spend a short break out on the golf course playing the links. Planning where to go for a short break can be a bit of a challenge since there are so many to choose from. For this reason, golfers should take the time to review some of the top courses in the U.K. before making a decision.
Many of the top courses have histories that go back more than 100 years. With beautiful landscapes and clubhouses with historic architecture, golfers are sure to enjoy their short break at one of these top courses. It is also important for golfers to be prepared for their short break by ensuring that they have everything that they need for the trip. Whether looking for a new set of clubs or clothing to match the club's dress code, eBay has great deals on everything a golfer needs for his or her short break.
1. Royal St George's
Royal St George's is a premier golf club in the U.K. The club was founded in 1887 and has been the host to 14 Open Championships since 1894. This course has 18 holes with a par of 70. It is a difficult course with several holes having blind or partially blind shots. Located along the coastline and featuring beautiful rolling green hills, Royal St George's is a scenic course to play golf.
Planning a Short Break
Visitors can book a short break stay for two nights and two rounds of golf or three nights and four rounds of golf. Guests stay in the hotel, which offers an elegant bed and breakfast. The course is situated in the city of Kent, so visitors are able to hop into the town for a nice dinner and interesting events when they are not out playing the links.
2. Royal Birkdale
Royal Birkdale is an 18-hole golf course located in Southport. It was founded in 1889 and received its royal status in 1951. It is also one of the clubs among the rotation to host the Open Championship tournaments for both men and women. It is ranked the 18th best golf course in the world outside of the United States by Golf Digest magazine. During the 1990s, the course was completely rebuilt to improve the turf and drainage on the course. The course has a par of 72.
Planning a Short Break
Royal Birkdale offers several options for short breaks. Visitors can stay for as little as one night if they are short on time. Travel packages include dinner, bed, breakfast, and two or more rounds of golf. Because it is a private club, guests can expect to have a quiet game while out on the course.
3. Sunningdale
Sunningdale Golf Club was founded in 1900 and is located in Sunningdale, Berkshire. It features two separate 18-hole golf courses. Both courses have a par of 70 and offer completely unique experiences. The Sunningdale Old course was ranked Number 2 in England on 'The Top 100 Golf Courses in the World,' which was a poll conducted in 2009. The course is carved through woodland giving it a more country feel. The Sunningdale New course was built in 1923 and provides a more rugged atmosphere for playing. People who are planning to take a golf short break in the U.K. definitely do not want to miss playing this course.
Planning a Short Break
Because of its popularity, booking a short break at Sunningdale can be a bit of a challenge. Visitors should be sure to book their trips well in advance to ensure they secure time on the course and at their choice of accommodation. Short break packages offer food, rooms, and tee times for each course. Visitors who choose Sunningdale for a short break have a chance to play two separate courses without having to travel to a different club.
4. Woodhall Spa
The Woodhall Spa golf course is one of the best inland golf courses. The course is best known for its deep sand traps, which golfers are known to find particularly challenging. Due to the type of soil and green on the course, golfers can enjoy the links at Woodhall Spa all year round.
Planning a Short Break
One of the biggest appeals of the Woodhall Spa golf course is that the prices for playing this course are much lower than many of the other private golf clubs in the U.K. Additionally, a person who is a member of an English golf club receives even better discounts. Short break packages include stays for one, two, or three nights in hotels or bed and breakfasts in the surrounding Lincolnshire area.
5. Royal Lytham and St. Annes
A golfer who is up for a challenge should consider taking a golf short break at Royal Lytham and St. Annes. It is considered to be one of the most difficult courses in England. Most of the terrain is uneven making each shot quite tricky. There is an average of 11 bunkers per hole and a total of 205 for the entire course. Located in Lytham St. Annes, Lancashire, the course is set inland about a kilometre away from the coast. Visitors find the colourful landscape and beautiful interiors of the clubhouse particularly charming.
Planning a Short Break
Other golf courses are found in the area surrounding Royal Lytham and St. Annes. People who book a golf short break with rounds of golf at Royal Lytham and St. Annes can usually also get tee times at the surrounding courses as well. Finding a hotel that is centrally located is key. For even better value, travellers should book short break packages that include rooms, food, rounds of golf, and transportation.
What to Take on a Golf Short Break
It is important that people going on a short break to play golf are prepared. Leaving items behind only slows them down once they arrive because they have to take time to locate and purchase equipment once they arrive at the club. Additionally, items are often more expensive at the club than they would be if purchased closer to home. The table below lists some of the most important items to include when packing for a golf short break.
| | |
| --- | --- |
| Item Type | Items to Pack |
| | Golf shirts, cotton undershirts (short and long sleeve), long pants, belt, golf socks, golf shoes, rain gear |
| Golf Gear | Golf clubs, extra golf balls |
| Personal Items | Travel documents, identification, itinerary, digital camera |
Golfers are not required to have their own golf clubs. Most golf clubhouses offer rental equipment for people who do not have their own. This may be the ideal choice for people who must travel a long way or who are travelling by air. It is important that golfers are aware of the dress code before showing up at the golf course. Packing the proper clothing for playing golf is crucial. Additionally, having all of the proper documents and itineraries makes it easier to verify tee times and get players checked in at the course quickly.
How to Buy Golf Equipment on eBay
When you are preparing for your golf short break, you can find everything that you need on eBay. Whether you are looking for golf clubs, golf attire, or a digital camera to capture the scenery, eBay has it all. The buyers and sellers are able to connect with each other in this online marketplace to locate popular and hard-to-find items, all at great prices. Finding these great deals requires that you be able to navigate the site effectively and understand how the site's features work.
Searching for Golf Equipment on eBay
You can start your search for golf equipment by performing a basic search or using the advanced search feature. Both of these allow you to enter keywords to describe the items that you are looking for. Be sure to be specific with your search or you may end up with more listings that you can sort through. Once the initial set of listings is returned, you can filter the results by selecting different features and options that match the specific item you are looking for. Each listing has a description and most have pictures to give you a better idea of what is being offered. Be sure to read these listings carefully before making a purchase.
Conclusion
People in the U.K. enjoy playing golf which is why so many people enjoy taking short breaks that take in premier golf clubs. Many of these clubs were built more than a century ago and have welcomed generations of golfers. Some courses are chosen for the challenge and others are chosen for the scenery. No matter which club a golfer chooses to spend his short break in, he is sure to enjoy all that the club has to offer. It is important to book a golf short break in advance to ensure that the golfer can secure a tee time. Some clubs are so popular that they require booking several months in advance. Additionally, visitors should be aware of the rules and dress code that each club enforces to ensure that they are in compliance. Having everything prepared ahead of time ensures that there are no issues once players arrive at the course, and so players they do not have to worry about anything except shooting par. When gathering items to take on the trip, golfers can find everything that they need on eBay.