Whether you're throwing a fancy dress party and don't want your pet to miss out, or simply want to transform your fluffy friend into one of the most-loved cartoon/movie characters of all time, there are plenty of things you can do from accessorising to buying a full animal costume.

Check out these simple effective ideas and give your family pet a makeover.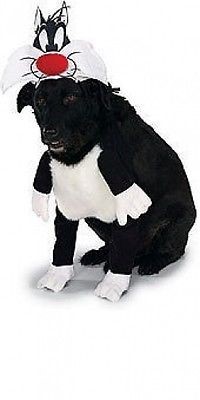 1) Buy the Costume
Believe it or not, fancy dress for pets is a growing industry with online sellers offering a wide range of fun and original outfits for dogs, cats, bunnies, guinea pigs and other creatures.

Many are based around well-known cartoon/movie pets so whether it's a Snoopy costume you're looking for or a head-to-toe Scooby Doo ensemble, you won't be short of choice.
Looney Tunes Fun
Want to turn heads? Then you could even slip your pooch into an official licensed Looney Tunes Tweety Pie dog fancy dress costumes.

This jumpsuit-style costume is yellow with orange feet and even comes with a padded Tweety Pie headpiece. Similarly, the official Looney Tunes Sylvester costume is also for dogs and comes with a Sylvester cat shaped headpiece.

Quick tip: It might sound simple, but don't forget to take a look at the measurements of each costume, as while some are sold in a range of sizes, others are only suitable for small or large dogs.
Add a caption
Creating your own costume can bring startling effects
2) Make your Own
Can't find what you're looking for or want to make something original? Then whipping up your own pet fancy dress costume could be the way forward.

There are many videos online which will show you how to make both a pattern and outfit for your pet, but if you want to keep things relatively simple, try sprucing up a hooded jumper.

While larger animals will probably fit into a jumper you already own, you might want to think about buying a smaller one for miniature dogs or cats. Again, you'll find garments especially designed for pets online.
Add a caption
Purple felt might turn your pet into the Cheshire Cat
Getting into Character
Before buying, however, think about the character you want to turn your pet into. If you decide upon the Cheshire Cat from Alice in Wonderland, for instance, purchasing a bright pink hoody will allow you to attach purple strips of felt or material to it for a more realistic look.

If your cat is quite tall and thin, you could even just leave the pink hoody as it is and call him/her the Pink Panther – just play the iconic theme tune whenever your feline walks into the room for extra effect.
3) Accessorise, Accessorise
Sometimes, accessorise are all you need to transform your pet into an iconic cartoon or movie character.

If you have a short, white pooch, for example, who acts like a human, thinks like a human and might as well be a human (many dog owners will get this), then how about turning him into the anthropomorphic dog, Brian, from Family Guy by getting hold of a red dog collar with a gold pendant?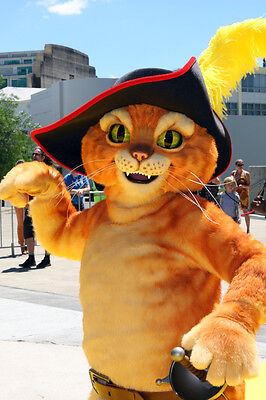 More Accessory Fun
Moreover, to turn your cat into Puss in Boots, simply get hold of four cat booties or cut the toe section out of four black, baby socks and slip them over your feline's feet.

Socks are a great option as they allow your cat to still use his/her paws and are easy to get on and off. Next, search the internet for a small wide-brimmed had suitable for your cat to wear and secure a feather to it using a hot glue gun.

Leave to dry while you get to work on the cape. To complete this final part of the costume simply measure your cat's back and cut a cape shape to fit out of black fabric. Sew the top of the cape onto the middle of a length of red ribbon (the ribbon should be long enough to tie round your cat's neck loosely) – and hey presto!
Add a caption
Get your dog groomed before giving Hollywood treatment
4) Hollywood Treatment
From brave collies such as Lassie to loveable Saint Bernards such as Beethoven, you rarely find a Hollywood movie dog who doesn't have manicured claws and clean fur.

Even mixed breed dogs such as Benji and the big, slobbery Dogue de Bordeaux from Turner & Hooch were well-groomed, so if you want your pooch to look like they've just walked off a film set, don't forget to take them to a professional dog groomers or put them in the bath.
Pampered Pussycats
Think of the various cats which have starred in movies. There's Snowbell from Stuart Little with her gleaming white fur; Crookshanks in
Harry Potter
with his beautiful ginger coat and the stunning Turkish angora who appeared in numerous James Bond movies.
All were well taken care of, so be sure to give your cat the VIP treatment too to help them look and feel like an A-lister.
5) Use Photo Apps
There have been many famous cartoon cats over the years including Tom (from Tom and Jerry),
Garfield
, Top Cat, Hello Kitty, Felix, Stimpy as well as Disney animations such as The Aristocats – all of which have captured the hearts and minds of children and adults alike.
A good cartoon can put a smile on many face, so if you want to see what your pet looks like in cartoon form why not download one of the many cartoon apps available and play around with the special features?
Add a caption
There are many apps to turn your pet into a character
Apps of Choice
Apps such as iMadeFace and Cartoon Photo allow you to enhance images with weird and wonderful effects before saving them or sending them to friends and relatives via social media.

Similarly, Cartoon Camera lets you see the special effects as you take the picture and Cartoon Frame allows you to present them in a creative way.

Transforming your beloved pet into a famous or unique cartoon character is easier than you might think, so why not give these simple yet effective tips a go and give your mad moggy, pampered pooch or other pet a taste of the high life?